Beefbar founder Riccardo Giraudi talks about his exciting new vegan venture, the Leafbar, one of four new restaurant openings in Monaco this year, while revealing what it takes to make it in an industry that is not for the faint of heart… or stomach.
Riccardo Giraudi is one of Monaco's most popular exports. Born in Genoa, Switzerland, and raised in Monaco, the 46-year-old is CEO of the Giraudi Group, a Principality-based meat import/export business created by his father Erminio Giraudi in the 1960s that now employs over 700 people worldwide.
The younger Giraudi was educated at the European Business School in London and later took an internship at a pioneering restaurant PR company working with brands like Hakkasan, Chinawhite and Nobu.
"London really changed my philosophy on a lot of things," Riccardo Giraudi tells me from his home in Monaco. "PR companies were only for fashion at the time, but it was at the start of the internet boom, it was the millennium, and restaurant brands were becoming lifestyle."
When Giraudi was called back to Monaco at age 22 to take over the management of the family business, he was less than enthused.
"I told my father I would only do it if I could have another business to motivate me and allow me to be creative. That's when I started doing restaurants here in Monaco," Giraudi remembers. "At the time, there were only Michelin star 'Frenchies' and Italian trattorias. But the customers here were very cosmopolitan, well-travelled and wealthy. They thought of Monaco as this exciting capital, but in reality, there was nothing."
So, Giraudi opened his first restaurant, the Beefbar, to huge success. Then another, and another. It was then that he realised he could in fact combine the family business of trading meat with his passion for creating restaurants.
"The restaurant taught me about the beef, not vice versa," he reveals. "I started importing hormone free Black Angus from America and Australia, and Kobe beef from Japan. I began branding beef, which didn't exist at the time, and so both companies grew hand in hand."
The new chapter in the Giraudi legacy was being written.
Anyone who has dined in Monaco will have likely eaten in a Giraudi restaurant: Beefbar, Pizz'aria, Song Qi, Mozza, Izakaya Cozza, Mezze Kitchen, Moshi Moshi, Cantinetta Antinori, Tiny Thai, Grubers… in the teeny two-square kilometre Principality, Riccardo Giraudi has established no less than 10 restaurants, and many more are in the making.
"I keep saying 'enough', but I live here so I have to test it, Monaco is my lab," he smiles.
The next big concept that this meat connoisseur will be testing is unlike anything he has tried before… a 100% vegan restaurant called Leafbar. It will sit, in complete antithesis, beside the most meatiest of restaurants and his biggest success, the Beefbar, in Fontvielle.
"In the beginning I didn't really understand it (veganism). I thought it was mostly left-wing skinny girls that don't want vaccines, but I was totally wrong of course," acknowledges Giraudi. "I realised that there are a lot of people who just want to eat better meat, and sometimes they want an alternative to protein, so that's the vision behind Leafbar. And what better place to open it than in Monaco, where it all started, and right next door to the Beefbar?"
Veganism's radical image overhaul is largely thanks to endorsements from celebrity chefs and Instagram influencers, new cookbooks and headline-grabbing vegan restaurants that are flourishing around the world.
Last year, the World Health Organisation recommended a plant-based diet for a healthy life. That backing, along with growing concerns about the impact of farming on the environment and animal cruelty, have helped fuel a plant-based gastronomic revolution.
Estimates now put the total number of vegans in the world at 79 million. By 2026, the global vegan food market is expected to reach $24.3 billion.
To a business-minded creative like Riccardo Giraudi, creating a top-quality vegan restaurant in Monaco is the obvious next step.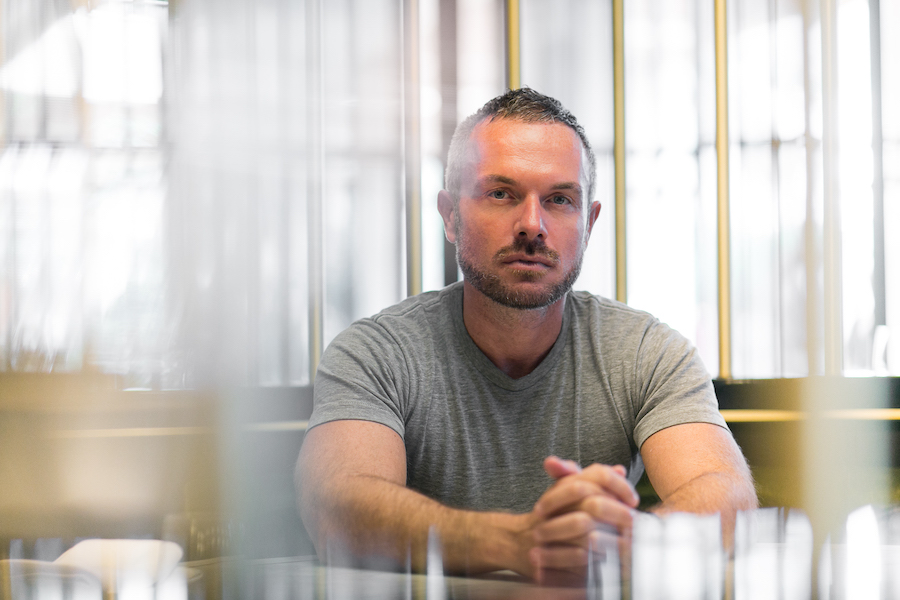 "Luxury meats and alternative meats are both niche products, they go through the same distribution channel, more or less," he reveals. "The legislation for bringing in these alternative meats is actually much simpler because they're not animal proteins, most of them are jackfruit, soy, peas and mushrooms, so it is much easier for me to bring them in and cook with them."
The Leafbar will be a "plant-loving Beefbar", says Giraudi, featuring all the favourite street food classics – tacos, bao buns, pizza, sushi rolls… but with plant-based proteins. Guests can also expect flavour explosions in Asian stir fries and Indian curries when the restaurant opens in June.
"It's hard work creating the recipes and making sure the menu makes sense. I can't mess up because we have Beefbar right next to it, and it's very successful, so we want to surprise guests more than have them say 'what the hell is on about now?'"
To ensure he's covering all bases and appetites, Giraudi is also introducing a Reefbar inside the Beefbar. Leaf, Beef and Reef. How could it go wrong?
Well, it would be intimidating for perhaps anyone who isn't Riccardo Giraudi.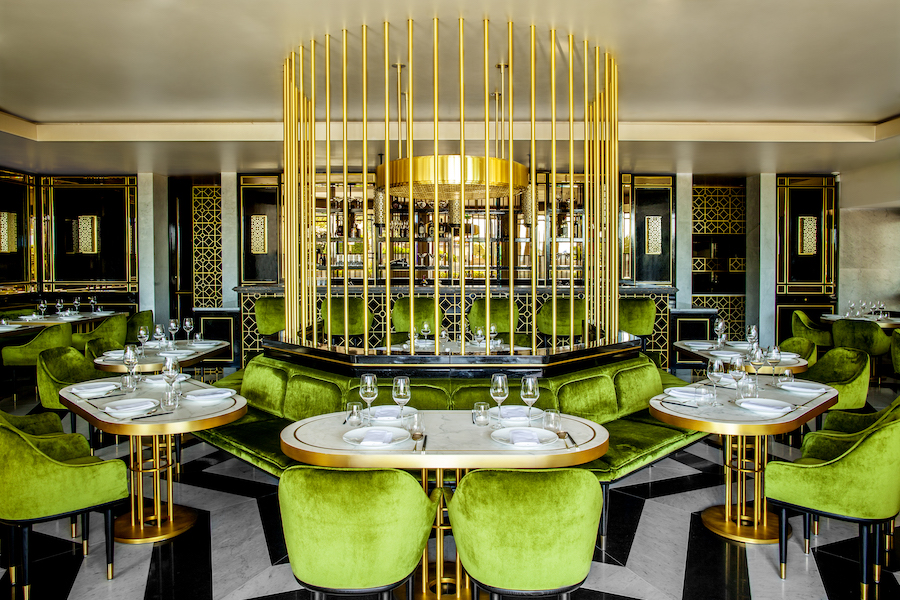 In addition to the Leafbar, Giraudi will this year be bringing the legacy of famed French chef Joël Robuchon back to Monaco with a new Mediterranean restaurant on Avenue du Portier. He's also opening a Comptoir de Nicole in the Principality featuring the eccentric Nicole herself from La Petite Maison in Nice. There's also another Italian restaurant in the works, and all this on top of the 39 restaurants that this entrepreneur has opened, franchised, or is on the verge of opening in locations such as Rome, Malta, London, Athens, Luxembourg, New York, Mykonos, Africa and the Middle East.
But it doesn't always work out as planned, Giraudi acknowledges. Take Beefbar Dubai for example.
"Our problem was that we thought the Beefbar brand was so strong, we could put it anywhere and people would come. And yes, they come for three months, but then they don't return. It was a bad location in Dubai, period."
Location accounts for about 70% of the success of a restaurant, says Giraudi. So, he made the tough decision to close Beefbar Dubai in 2019 after only 15 months of operation. "It wasn't a complete disaster, but it wasn't exactly what I wanted it to be, it wasn't wow."
Now, he and his business partners, which include billionaire Monaco resident Flavio Briatore, have reopened the restaurant in a new location along the famous Turtle Lagoon, and Giraudi is far more confident of its success.
"It took me 15 years to understand the recipe for screwing up less. You open some, you close some, you open some, you close less, then eventually you are opening many more than you are closing, so you can finally tell yourself, 'Ok, I am getting the gist of this'," he laughs. "Everybody notices all the successes you have, but they forget the failures, and I have had quite a few. There is no one single recipe for success in a restaurant, it is a combination of everything that ends up creating this sort of energy inside that restaurant. That's why, when I walk into a new restaurant, I can usually tell the first day, the first week, if there are red flags, green lights or orange warning signals."
By six months, Riccardo Giraudi generally knows whether his new venture will make it. That's enough time for people to test the restaurant and satisfy their curiosity. The question is always: will they return?
Giraudi says the other key elements to making it in the restaurant industry is having a clear concept and selecting the right people for your staff. It's also important to know where your strengths lie and to have the courage to say 'no' sometimes.
"I get proposals every day, but I make restaurants that are there for the long term and that I would want to go to every day," says the father of two.
So, what does the year 2022 look like for restaurant guru Riccardo Giraudi?
"Firstly, I hope this will be the year that we can finally say goodbye to the pandemic. I hope this year will be the bright light at the end of the tunnel. I will be keeping my ambition high, and my head down to earth."
Photos provided, portraits by Adrien Daste