A flair for fabric surely courses through the veins of Sabrina Monteleone-Oeino, the founder and CEO of Sabrina Monte Carlo… her mother was a seamstress and her father a tailor.  
Founded in 1999, Sabrina Monte-Carlo is the go-to interior design studio for anyone (or yacht) looking to add a touch of 'je ne sais quoi' to their interior or outside spaces. The company has three showrooms in Monaco and another at Saint-Jean-Cap-Ferrat which had a brand new makeover in May this year. Each offers a selection of luxury furniture, fabrics, tableware and accessories and are the kind of places design devotees might hope to go when they die. Sabrina Monte-Carlo was founded by Monteloene Oeino in 1999.
A purebred Monégasque, Sabrina Monteleone-Oeino studied fashion and business and began a retail career selling luxury clothing brands such as Burberry, Alberta Ferretti and Valentino here in Monaco.
She then branched out into selling outdoor furniture and that move is where her artful eye and talent for design began to bear fruit. She says, "I always enjoyed the world of interior design and when I looked at the outdoor furniture on terraces, at villas or on board yachts, I thought it looked very basic. So, I started selling a range of outdoor furniture and moved on from there to interiors selling fabric, table decoration and now children's furniture since November 2020." So, she started outside and then went in. The range spans the length and breadth of every corner of home or garden.
Says Monteleone, 'When we opened the kids boutiques last year our customers loved them. It gave them a chance to escape into the make-believe after a difficult year. In fact, we have been decorating and furnishing nurseries for some time but only our customers who asked us to create children's rooms knew about it. It's a niche market in furniture and there are not many boutiques that do it. Much of our furniture is custom made and created in our workshops.'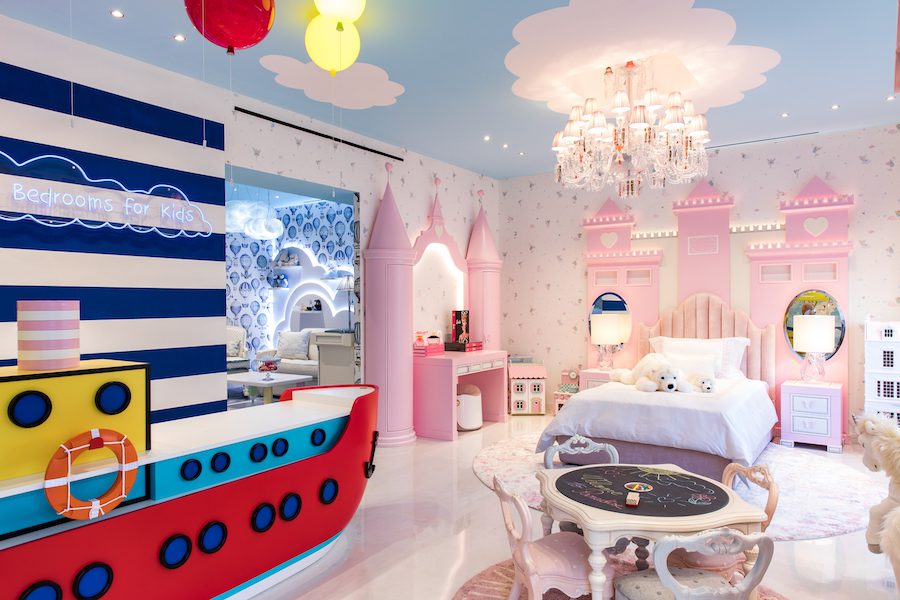 Inspiration comes from the design team's imagination: steamship desks, dolls house wardrobes, little drawing tables. She adds, "We've also created a collection of custom designed headboards for beds, things like princess castles, helicopters or fire-engines. The headboards are best sellers, not many people do them."
Sabrina Monteleone-Oeino is also well known for her talent in styling deck areas and yacht interiors, and she has notched around 150 yacht interiors including the likes of Kismet, Silver Fast, and the 70m Skat. The style and taste of the work she does onboard the boats depend, of course, on the owners' tastes, and are all very different she explains.
Sabrina Monte-Carlo helped create the laid back Mediterranean atmosphere on board the recently launched 60m MY Cloud 9 with a spray of colourful cushions, coral sculptures and Lalique vases on the main deck.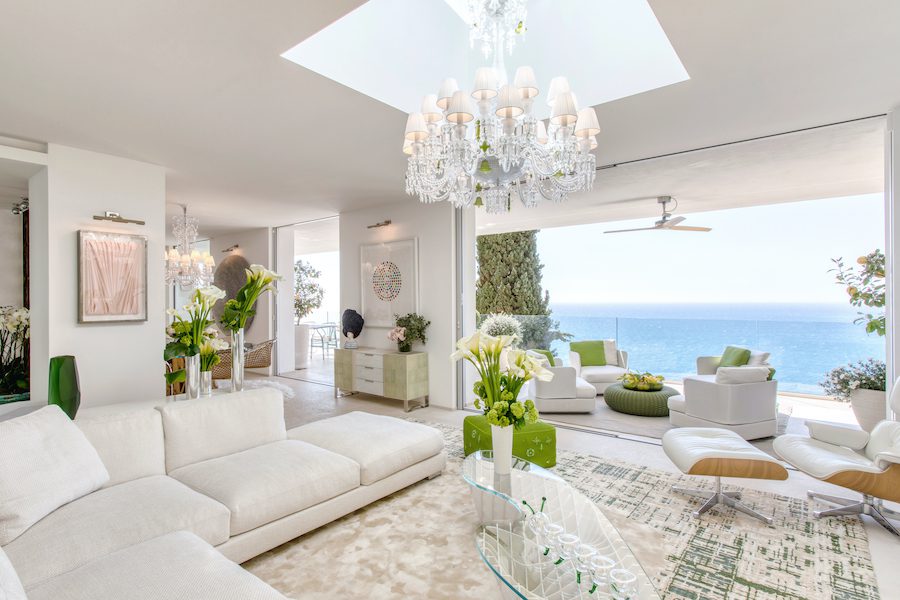 The company also selected and designed the outdoor theme and furniture at the Gala for Planetary Health 2021, memorably attended by Sharon Stone in that perfect puff of purple. 
Says Monteleone-Oeino, "I am so into really light tones at the moment, like 'off-white', 'plaster', or 'bone' combined with really cosy, warm fabrics. I would say my favourite design style is contemporary/cosy with a touch of colour and beautiful artwork."
And her favourite design period? "I adore the 60's. The 'pop' colours and wallpaper patterns. I am also using a lot of fabrics with flower and parasol patterns at the moment. Right now, we are really into designing games rooms in private residences – that's where we can really let our imagination take hold and create fabulous worlds of fantasy." 
The 30-strong team of Sabrina Monte-Carlo has evolved into very much a family affair: Sabrina's sister Sophie heads up the interior design crew and her two daughters, Manola and Carla, are respectively interior and graphic designers.  
For readers who feel somewhat lacking in the art of bringing glamour to a table, or into every possible corner of the home, Monteleone-Oeino gives the following advice: "You need to create a story. Accessorise, for example, your table with napkin rings, vases and ornaments all based on a particular theme."
She recommends a common thread, a harmony, to the story you are creating. "Add touches of colour, artworks, beautiful fabrics, plants, flowers – add life!"
Top photo by Guillaume Plisson