Sasa Obradovic praised his players for what he believes to be their best match under his management on Tuesday, as Monaco strolled to victory against Lyon-Villeurbanne 75-100, winning every quarter in the process.
Monaco hit the 100-point mark for only the second time in their Euroleague campaign on, helped largely by the free-scoring quartet of Donatas Motiejuna (22), Dwayne Bacon (21), Mike James (20) and Alpha Diallo (17).
James, who successfully carried over his incredible form from the Bayern Munich match, and Motiejunas got the Roca team off to a solid start in what was a tightly-contested first quarter (24-27).
Monaco's defence tightened up after the first quarter, limiting Lyon to just 17 points in each of the remaining three quarters, pleasing the manager who post-match said, "We concentrated for the entire 40 minutes and we defended much better from the second-quarter onwards."
Monaco's monstrous efficiency both inside and outside the key provided a sucker-punch to a Lyon side that were struggling to register points of their own. Monaco converted over 58% of their three-point attempts and over 62% of their two-pointers, compared to the 36% and 50% conversions of their adversaries on the night.
Recent meetings between the two sides have typically been tight. Monaco edged their last outing by just two points, whilst the game before that was decided by just one point as Lyon came out eventual winners.
The Roca team continued to grow their lead in the third quarter, and by the end of it had constructed an unassailable 18-point lead. This grew further in the final quarter as Monaco finished the game with an emphatic 25-point advantage over a talented Lyon side.
The result means that they jump above their opponent in the Euroleague table and just one place below the play-off spots in ninth. Many teams around them in the table do, however, have games in hand.
Obradovic was evidently pleased with his side in the post-match conference saying, "It is clearly our best match (since his arrival in December). I am very happy with the way in which we played. We stopped their best attackers."
The Serbian added, "We used our strength better. Everyone now understands their role better and this victory will give us a lot of confidence for the future."
Monaco are now on a three-game winning streak in the Euroleague, and they will be hoping to keep that run going when they face a difficult trip to Zenit St-Petersburg on Thursday.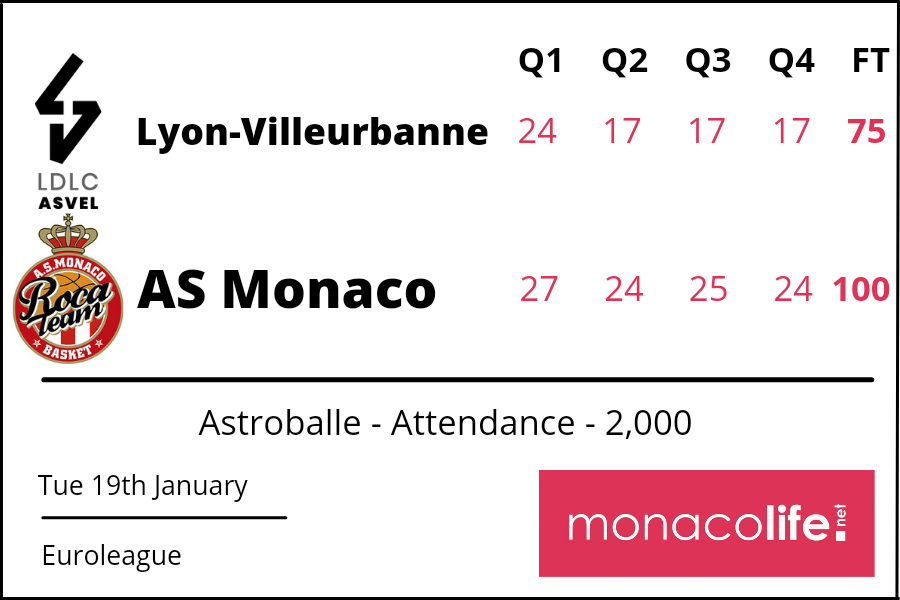 Photo source: AS Monaco Basketball