The International University of Monaco has relocated from its historic home at the Stadium in Fontvielle to the new Stella Building in La Condamine. Along with a sleek and modernised campus, the University is welcoming new executive programs, and encouraging accomplished members of the Monaco community to be more involved.
Tall and white with modern curves and stylish lines, the Stella Building at 14 Rue Hubert Clerissi is the new home for the University of Monaco. A quick and convenient walk from the Gare de Monaco, IUM's new entrance features flowers and plants framing a lovely outdoor seating area, with students and professors gathered about, enjoying the sunshine.
Within 2,000 square metres are 17 classrooms, an executive learning area, library, computer lab, student lounge, and cafeteria. The new space is modern in both design and access to technology. Besides hosting undergraduate, Masters, and MBA programs, the university has a new Executive Area which houses a new training program for financial professionals in Monaco.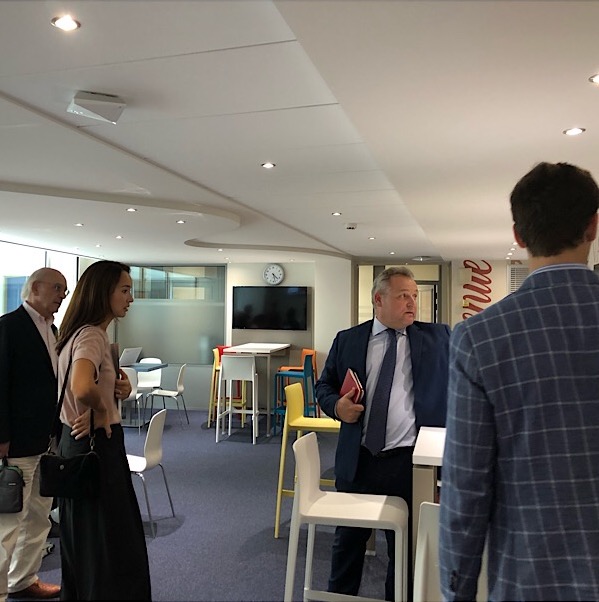 Classrooms are sleek and modern, and some are convertible into larger spaces. "The new classrooms are very flexible and comfortable with the new chairs," explains university Director Dr. Jean-Philippe Muller to his tour group, which includes John Wright, president of the Monaco Venture Capital and Private Equity Association (MVCA), along with new Junior Committee members Giacomo Bonavera and Marina Ianchauskaite. "When we open up the wall we are able to have a whole cohort of new students together in one space."
The classrooms have beautiful views and their layout, along with those of the coworking spaces, meet the needs of today's technologically savvy students and professors.
In addition to the tour, the group have come together to discuss ways the MVCA will be more involved with the university this year, such as inviting IUM MBA students and Alumni who are under 40 into the organisation as junior members, along with a plan to invite seasoned members of MVCA to be more involved as official mentors for university students. The MVCA will host a special event at IUM this autumn to gather interested junior members.
The International University of Monaco regularly seeks community members, businesses, and organisations to get involved in activities like mentoring, business days and business plan competitions. With the new facilities, IUM has the opportunity to create new partnerships such as the one with MVCA, and build greater community in Monaco's professional and academic community.
Written by Lauren Coles