AS Monaco Basketball brushed last weekend's demoralising overtime defeats aside with a controlled performance against Euroleague strugglers Panathinaikos on Tuesday. Mike James was once again unstoppable, picking up a 29-point haul.
The win keeps them on the brink of the play-off places, although the Principality side's rivals for the top-8 all have games in-hand.
In a large but sparsely occupied Greek sports hall, it seemed as if the latest chapter in Monaco's recent tale of woe was set to be written. Panathinaikos cut through the Principality side's defence with the same ease as Boulogne-Levallois had on Sunday, the Parisian side eventually racking-up 115 points in that fixture.
James would, however, come back to haunt his former side. The American point guard has spent two spells at the Greek side, and his contribution was decisive.
Post-match he revealed the inspiration for his match-winning performance, saying, "My last round game (against Real Madrid) was awful so I didn't want to play badly twice in a row."
Monaco's passivity in the defensive phase during the first-quarter (27-19), which ceded a healthy lead to the home side, was more than compensated by an emphatic second-quarter. Their 30-point haul not only made up the deficit, but also gave Monaco a healthy half-time lead.
An 11-point run from the Greek side in the third-quarter put the pressure on Sasa Obradovic's men, their inability to kill-off games offering Panathinaikos an unlikely route back into the tie.
Monaco's response was, however, emphatic. An incredible run (16-2) in which James took 13 points, including a couple of three-pointers, definitively settled the game late-on. The 83-91 defeat consigned the Greek's to their 16th Euroleague defeat of the season, whilst Monaco registered their 11th victory.
Post-match, Obradovic was very complimentary of the performance, singling out James for praise. "I am very happy with my players," he said. "We found strength in the end… Mike James nailed some shots that only he can pull off."
The Roca Team are on the road once again on Thursday as they came up against Crvena Zvezda in the Euroleague.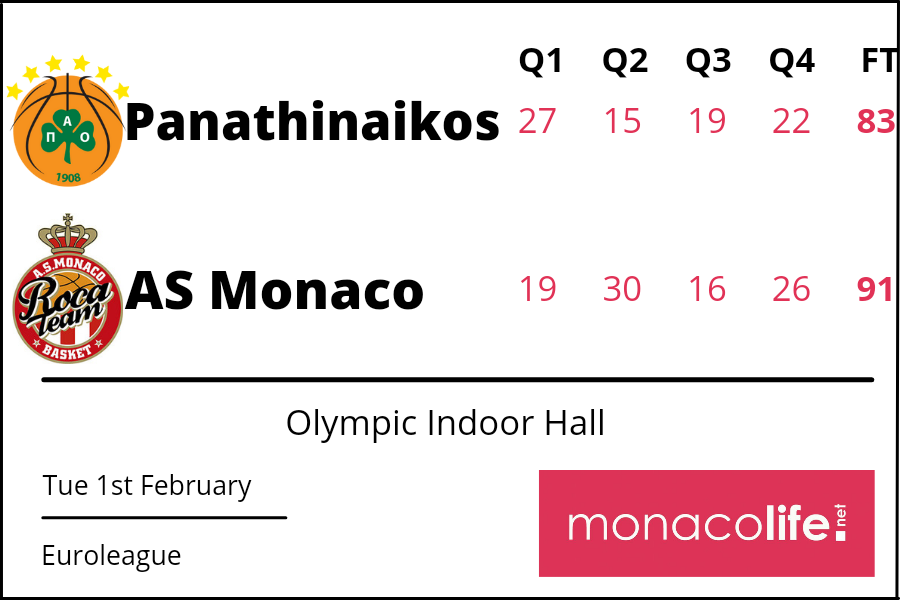 Photo source: AS Monaco Basketball