An incredible overtime victory in the final second of AS Monaco Basketball's Betclic Elite play-off second-leg against Strasbourg takes the series to a decider at the Salle Gaston Médécin on Monday.
Saturday's match in Strasbourg was a do-or-die moment in their season. Defeat would have seen them finish a promising domestic campaign with a whimper. For large swathes of the match, the game looked beyond Sasa Obradovic's men, but having taken their opponents to overtime, the class of Mike James shone through to take them over the line.
After two tight quarters, in which neither side managed to pull away, Strasbourg and Monaco went back into the dressing rooms level-pegging. The second two-quarters were more fluctuating with both sides taking the ascendancy in different moments.
It was Strasbourg who grew their lead in the third-quarter, leaving them on the brink of qualification for the Betclic Elite semi-finals, but Monaco, who finished second during the regular season, still had fight left in them.
Apart from a general increase in intensity from Obradovic's men, the most discernible difference from Wednesday's limp display at the Salle Gaston Médécin was the presence of James, whose ability can be decisive at any moment.
James' driving run into the key and pass to Will Thomas tied the scores in the final seconds of the final-quarter to take the game into overtime. Thereafter it was a James masterclass, as he scored 13 of Monaco's 19 points. Two three-pointers from the American point guard without reply opened-up a healthy gap, before another on the swivel grew the gap to nine (80-89).
Strasbourg looked down and out, but as their manager Lassi Touvi told Monaco Life on Wednesday, his team are full of "hungry and humble" underdogs, who thrive best when they are written off.
12 points behind with under 1:30 left of the clock, Strasbourg launched a full offensive assault, overwhelming Monaco. With only six seconds left on the clock, a three-pointer levelled the scores (95-95), sending the home crowd at the Rhénus Sport into raptures.
Cometh the hour, cometh the man. James, from his own baseline, dribbled the length of the court, crept into the key and launched a two-pointer, finding the hoop with just 0.4 seconds left before the final buzzer.
Victory for Monaco (95-97) means they take the series to a deciding tie at the Salle Gaston Médécin on Monday. Obradoivc's men will not only have home advantage, but also the momentum as they seek to end their season with a piece of silverware.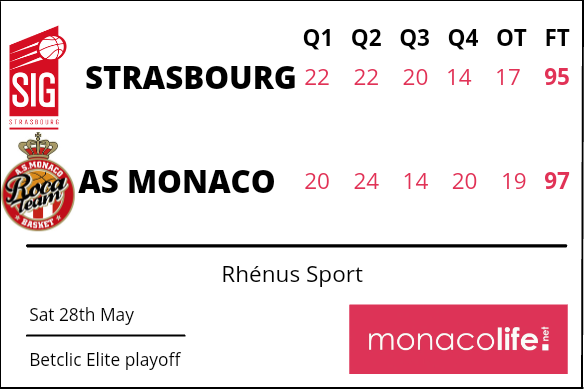 Photo source: AS Monaco Basketball