Monaco Life caught up with Jeff Fahey, star of the screen and stage, during the Monaco Streaming Film Festival to talk about his new film which dramatically tells the story of life during Covid-19 lockdown.
By his own count, Jeff Fahey has featured in over 200 films throughout his 45-year career, amongst them The Lawnmower Man, Eldorado, and Machete. That's not to mention the roles in television series such as CSI: Miami, Law & Order, Under the Dome and Hawaii Five-0, or his theatre performances like in Twelve Angry Men at the Garrick Theatre in London.
Perhaps less known is his humanitarian efforts, which have led him travel, live and work extensively throughout the developing world, focusing the past 15 years on helping the people of Afghanistan and the Western Sahara.
His latest film, A Bird Flew In, had its premier screening at the Monaco Streaming Film Festival. It is a poignant drama about the need for human intimacy during lockdown, and it follows the lives of a cast and crew who are sent home from a film set to self-isolate in their homes during the Covid-19 pandemic.
The film, Kirsty Bell's directorial debut, is an examination of what happens when we are freed from external distractions and forced to find meaning in our lives. In future years, it will serve as a powerful representation of a significant time in our history.
Monaco Life: How did you feel about the screening of 'A Bird Flew In' in Monaco last night?
Jeff Fahey: Well last night was the first time I have actually seen the film, so I am still processing it to be honest.
We did the film two years ago, in the middle of the pandemic – after the first lockdown and before the second lockdown in London. So, by the very nature of how the film was made, we were all in our own bubbles. The story begins at the last day of filming a movie, so the crew, cast, directors, and producers head off to start their isolation in their homes. With each different story, we see over a matter of months how these people, who are alone or in a couple in their homes, we see the evolution of what is happening to them.
The fascinating thing about seeing the film for the first time at this festival is that I am still figuring out the impact it has had on me. I read the script and did the film a couple of years ago, but I was not with the rest of the actors because they were doing their piece in a different location in their house. All my stuff was shot in this one little apartment with just me. So, two years later, watching this film, I forgot some of the things that happened. I only knew them as part of what I read as a screen play, so I was seeing them for the first time. To visually see how those stories came together, to see the actresses and actors playing these characters that were only in a screenplay to me, then to have the whole impact of the film – I was very much a part of that audience last night.
The screening was followed by a Q&A. How was that for you then?
It was such an emotionally impactful film, so when we did the Q&A afterwards, I wasn't ready to talk about it because I was still taking it in. I mean – boom – the film ends and you're on stage with people asking you questions about the film; thank god the producers and director were on stage, because I was still in an emotional state. I was so moved by the other actors and the work that they had done, and the journey that their characters had taken, I wasn't sure how to talk about it.
How long did the film take to make?
I think they put the whole thing together, from the idea to the start of principal photography, in about four to five months at the most, so it was experimental in many ways.
What made you agree to take part in a film like this?
All of the above. I thought that the idea of doing a film in lockdown was fascinating. By that stage, we all knew of isolation. Some of us have had great joy in this time – lives slowing down and being more reflective, but then there are others for who it has been a tragedy; it was not freedom at all but rather imprisonment and destruction.
Plus, I always enjoy that uphill climb on a little film, for the filmmakers and myself. You have a lot of creative freedom. Then again, you have that when you are working with the right people who are secure and clear enough in what they want. Robert Rodriguez is one of them (Director of Machete). There were many times that Robert would write a scene at lunch and say "let's try this", and boom, we'd do that; or let you stay within the story but "swing the cat" a little bit, have some freedom to do some jazz.
Was it important for you to be part of a film that documented such a significant moment of history, of how the story will be told to future generations?
I can honestly say that it may have subconsciously been there, but I didn't think it out to that point. I thought that it was an interesting view on isolation and character study. It wasn't something I thought about then, but it is definitely something I think about when discussing the movie now. This will be one of the films that people will be looking at – and there may be many others – but this is their interpretation of these characters. People many years from now may pull it off the shelves somewhere and say "Wow that's interesting, did that really happen? Were people really that isolated?", and someone will say "Yeah, they really were".
When you see that scene where the young girl finds out her mother is not going to make it, and the doctor tells her she cannot come and visit her – things like that were very real for so many people.
What are your thoughts on this year's Monaco Streaming Film Festival?
This is my first film festival that I have attended in around 20 years. I didn't avoid them, I was just doing other things and there were plenty of people who did the festival thing. But it is nice to be here in the early stages of the Monaco Streaming Film Festival, the second year, and it is great to be back in an arena that I haven't been in for a long time.
I am one of the students when it comes to streaming and NFTs for funding, etc., so I thought it would be a wonderful opportunity to be part of something and learn in the process, because pretty much everything that I do has been baptism by fire.
You were also presented with the Monaco Streaming Film Festival Humanitarian Award. Can you tell me about your work in that area?
They asked if I would receive the award, and I was actually very close to saying no. I mean, I love that there is someone who wants to give me an award for the work I have been doing in that world for many years, but I have always kept it under the radar, just because I got a lot more done in conflict and post-conflict areas. And then I thought, "Just accept it Jeff, if somebody wants to give you recognition for some things you've done, it is wonderful and move forward". And so how do I feel about it? I am honoured.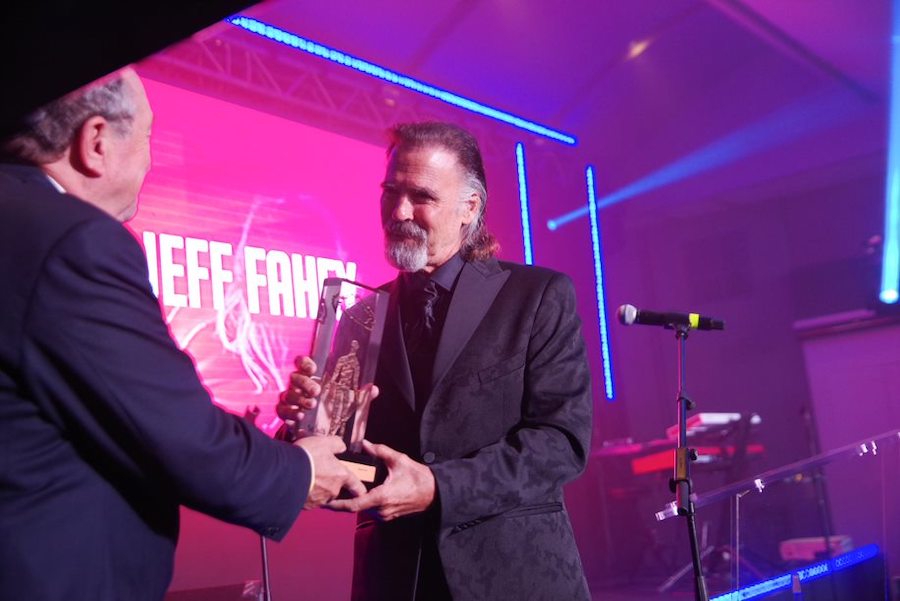 When and why did the humanitarian work begin?
It goes back to my old hippy days. I've been going in and out of Afghanistan and that part of the world since the early 70s, and have seen things change. I didn't go in as a humanitarian, but you just become involved in things, whether it is an orphanage or helping somebody meet someone, then one thing led to another and it evolved. Before I knew it, I was introducing local people in certain parts of Afghanistan to those working with the ambassador, and then in north Africa and Western Sahara, Syria, Jordan, working with different governments and embassies, and it just continues. But I don't necessarily think of it as humanitarian work, it is just putting good people together and trying to keep bad people out of it, and in the process getting some things done.
What do you love most about being an actor?
I have always been a bit of a gypsy, and I have always said that one of the great joys of being in this industry is to be able to travel the world, to be involved in different stories, working with different film makers, and working in different genres. I love walking towards new adventures, and that's what my life in this industry has allowed me to do, to stay on this adventure and make a living.
Do you have a favourite genre?
No. Well that's not true, I try not to talk of favourites, but in film I have to say westerns, because I am fascinated by that period of time.
What then do you enjoy about performing in theatre?
When you are part of a fantastic play, and doing it eight times a week for months at a time, you're always refining; you're not changing the story but you're changing the beats and the rhythms, and the pace even. And what happens is, it changes you. It's like being a musician and playing a beautiful song with a little bit of difference here and there. The audience doesn't hear a different song, but you know – through experimenting with this piece of well-written material – that you are refining it. Then, after 100, 200, 300 performances, you really have it going.
There is also an immediacy with theatre; when that curtain goes up you have to have it together, there's no take two. So, you start prepping, getting into that zone, three or four hours before the curtain rises, every day. And then what happens is, you become one with the audience. You can feel the energy of 750 people, and not the "do they like it or not?" energy, but you can feel an audience when 700 people gasp, or it goes still in that theatre. It is a fascinating thing and quite something to experience.
At almost 70 years of age, you've been in the industry for 45 years. What do you consider the key is to success?
Luck and being prepared. There are so many talented people out there who just couldn't climb that mountain, for one reason or another, because it is a tough industry. I don't mean luck just like walking down the street and it falling out of the sky, luck in staying in the game.
Top photo of Jeff Fahey by Cassandra Tanti, Monaco Life