Monaco's Princely couple has made it onto a short guest list for the 6th May Coronation of King Charles III, placing them amongst a select number of European royal families to be invited.  
The Coronation of King Charles III at Westminster Abbey was always going to be a noteworthy occasion, but for many, it will be a once-in-a-lifetime experience. This is the first such event to happen in 70 years, the last being when Charles' mother, Elizabeth II, came to the throne in 1953. 
The late Queen's coronation saw 8,000 guests invited, but the new king has opted for a far more pared-down gathering, with only 2,000 people due to attend. The list also has a noticeably less "British-only" vibe as there will be several important European royal households present in a tradition-busting move.  
BRIT PACK
Of course, the British royal family will be out in force with the Prince and Princess of Wales, William and Kate, as well as their three children in the front row, and Prince Harry – sans Meghan and their two children – Princess Anne, Prince Andrew and Prince Edward also front and centre for the big day.  
A few key politicians were invited, including current Prime Minister Rishi Sunak and a smattering of his cabinet. Spaces have also been reserved for all living former prime ministers. 
King Charles has spent the vast majority of his life in the service of causes that meant something to him. So, in another break from tradition, he has decided to invite members of the public who have distinguished themselves through community service or charitable works.  
In this capacity, over 1,250 volunteers and young people have been invited to attend either the coronation service or adjunct events. Buckingham Palace has also said that 450 "Covid heroes" who served the people of the UK during the pandemic have been invited to the service at Westminster Abbey. 
GUESTS FROM ABROAD
Royal watchers will be in heaven given the parade of international heads of state who have accepted invites.  
Included on this prestigious list are Monaco's Prince Albert II and Princess Charlene, who will be attending without their children Hereditary Prince Jacques and Princess Gabriella, although the Prince recently told People, "I'll bring them [back] any little 'trinket' I can put my hands on". 
Amongst the other royals confirmed to attend are Crown Prince Akishino and Princess Kiko of Japan, King Felipe and Queen Letizia of Spain, Prince Frederik and Princess May of Denmark, Māori King Tuheitia and his wife Makau ariki Atawhai of New Zealand, King Abdullah and Queen Rania of Jordan, Crown Prince Haakon and Princess Mette-Marit Hoiby of Norway, and King William-Alexander and Queen Maxima of the Netherlands.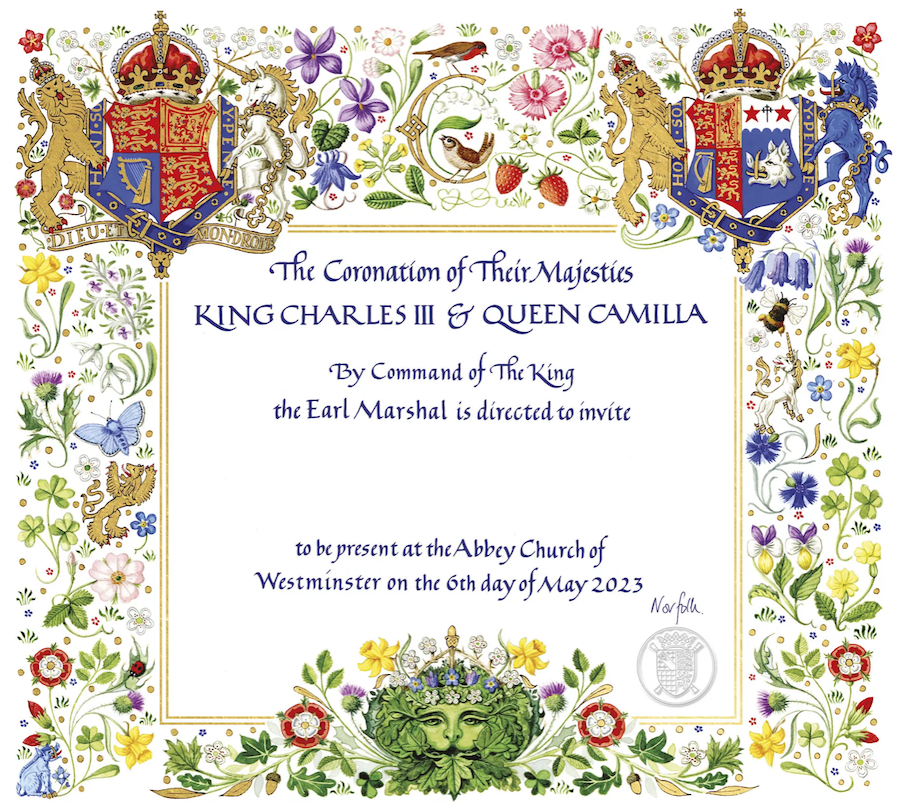 'Queen Camilla' 
The coronation invitation confirms that after the ceremony, King Charles' wife Camilla will be officially known as 'Queen Camilla' instead of 'Queen Consort'. Just over a year ago, Queen Elizabeth II gave her public endorsement for Camilla to be known  as Queen Consort, as opposed to Princess Consort.
While no members of the Camilla's have publicly confirmed their attendance, her children Tom Parker Bowles and Laura Lopes are expected to attend, her sister Annabel Elliot, her nieces and nephews, and three of her grandsons and one of her grand-nephews who will serve as pages of honour. Also in attendance will be her ex-husband, Andrew Parker Bowles.
The invitation for the coronation is full of nature references, representing the environmental campaigning of the new King. Buckingham Palace says the design is a symbol of rebirth and spring and a perfect celebration for the start of a new royal reign for King Charles III and Queen Camilla.
Where to watch King Charles III coronation?
In Monaco, the coronation will be televised at Slammers Bar from 11am, with special coronation prices on all drinks until 5pm.
Sign up for the Monaco Life newsletter. For the latest news, follow us on Facebook, Twitter, and Instagram.  
Photo credit: Eric Mathon / Palais Princier de Monaco