It's what legends are made of, a mystical medieval village perched high on a rocky cliff face, mythical beasts and a golden goat, food that allows you to travel through the centuries, and a panorama that takes you to the heavens.
But La Chèvre d'Or is no fairytale. It is a very real oasis hidden in a sweltering, tourist-filled Riviera, and it's just 20 minutes-drive from Monaco.
In 1953, investor Robert Wolf fell in love with Château de La Chèvre d'Or and turned it into a restaurant. According to local historians, Walt Disney convinced Wolf to acquire a cluster of private houses in the village and transform them into hotel rooms. The hotel later became associated with the prestigious Relais & Châteaux, and today La Chèvre d'Or has 45 rooms and suites, surrounded by beautiful, manicured layered gardens.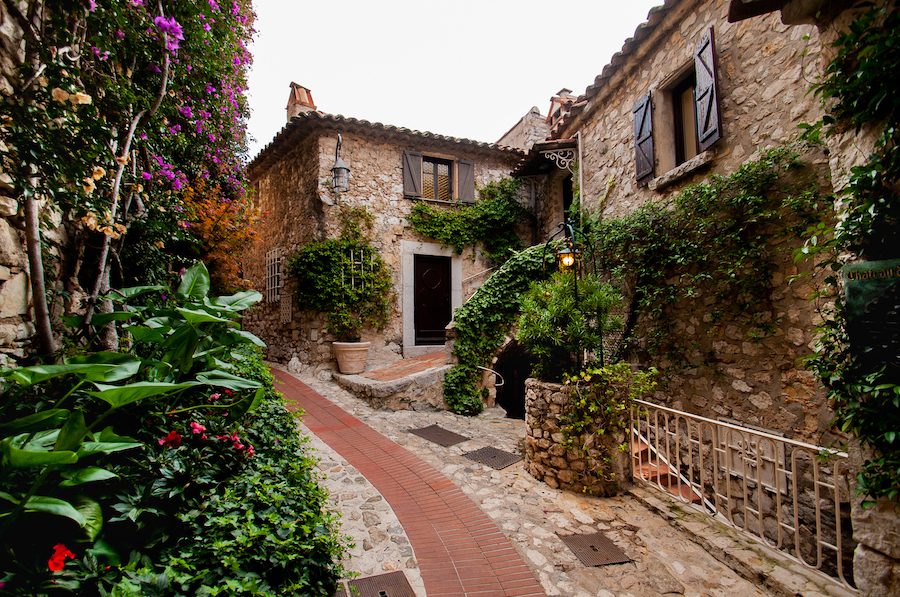 At its heart remains the restaurant of the same name, which obtained its first Michelin star in 1975 and its second in 2000. Since 2016, that distinction has been maintained by Executive Chef Arnaud Faye, who was awarded the prestigious Meilleur Ouvrier de France in 2019.
Each year from April to October, 42-year-old Arnaud creates intricate dishes that are deeply researched and considered interpretations of the Riviera's regional and historic cuisine.
"When I arrived here from the Domaine de Chantilly, my vision was the same as a tourist," Arnaud tells Monaco Life. "I toured Eze, Nice, Vence, Saint Paul de Vence… to see what guests here expect. For me, it is important to have on each plate a different touch of Riviera cuisine, but with a more modern vision."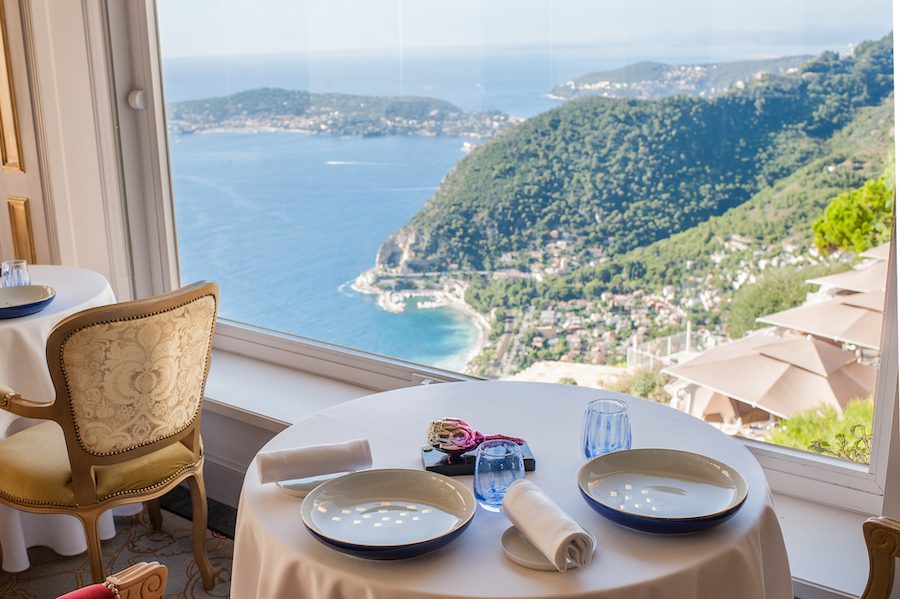 That vision manifests itself in the classic Mediterranean entrée of tomatoes and mozzarella. With this, his signature dish, Chef Arnaud Faye fills sweet cherry tomatoes with rich, creamy burrata. It is finished with a tomato infused water, fennel sorbet and fig leaves for a summer dish that is laden with history, flavour and texture.
The same theory is played out with another peasant ingredient, rabbit, a notoriously dry protein which the chef cleverly manages to turn sumptuous through a technique of sous vide and roasting on a bed of wild herbs. This is served with smoked octopus, eggplant prepared two ways, and jus with girolles, lending depth, richness and fragrance.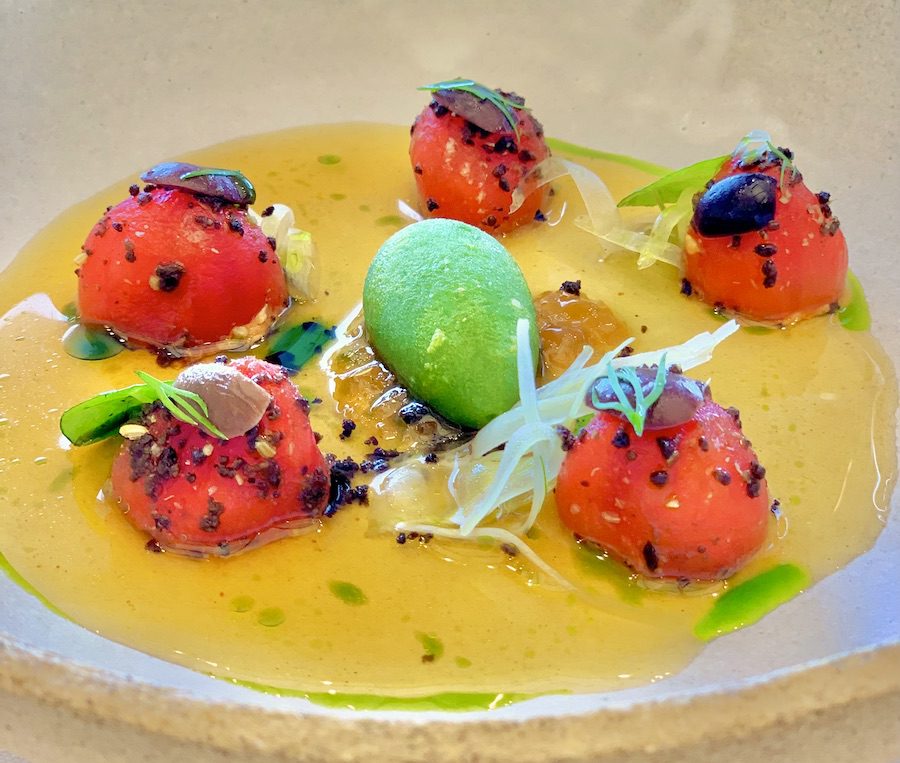 In magnifying the produce of the Riviera, Arnaud pays particular attention to the vegetables, something he developed a passion for while working the gardens of his grandparents in Auvergne, central France, as a child.
"For me, this is very important, because it is always possible to cook beef or veal, but what I find really interesting is the vegetables," says Arnaud. "I work the vegetables to create different textures, tastes and aromas. I only use seasonal produce from local producers, so I have a farmer near Villefranche who grows my cherry tomatoes, for example, and I get my courgettes from Nice."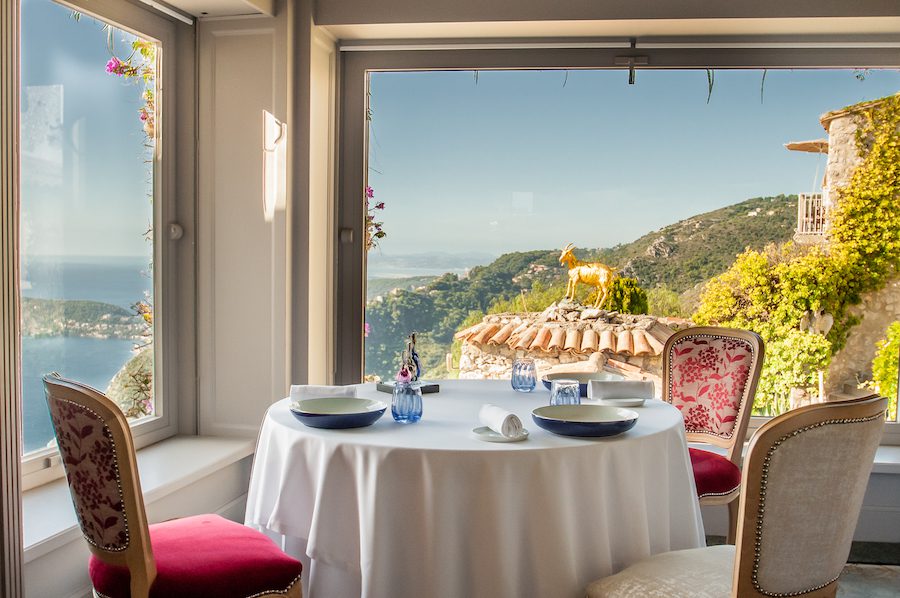 Arnaud's cuisine is an obvious celebration of the terroir that stretches from the rocky foothills of the Mercantour to the intense blue waters of the Mediterranean Sea.
Lamb, he adds, is sourced from the local countryside, while the 'catch of the day' depends on what the fisherman have brought in on their boats that morning.
Each dish shines with technique, soul and authenticity.
The play on textures is also embraced by Pastry Chef Julien Dugourd, whose dessert of white and yellow peaches with verbena is a sophisticated masterpiece. A wide variety of Chef Julien's exquisite desserts can also be enjoyed in Les Remparts, a terrace restaurant where guests can choose from an extensive Mediterranean menu prepared by Chef Benjamin Zannier, in collaboration with Executive Chef Arnaud Faye, surrounded by arcades of jasmine, ivy and bougainvillea, and immersed in that extraordinary view.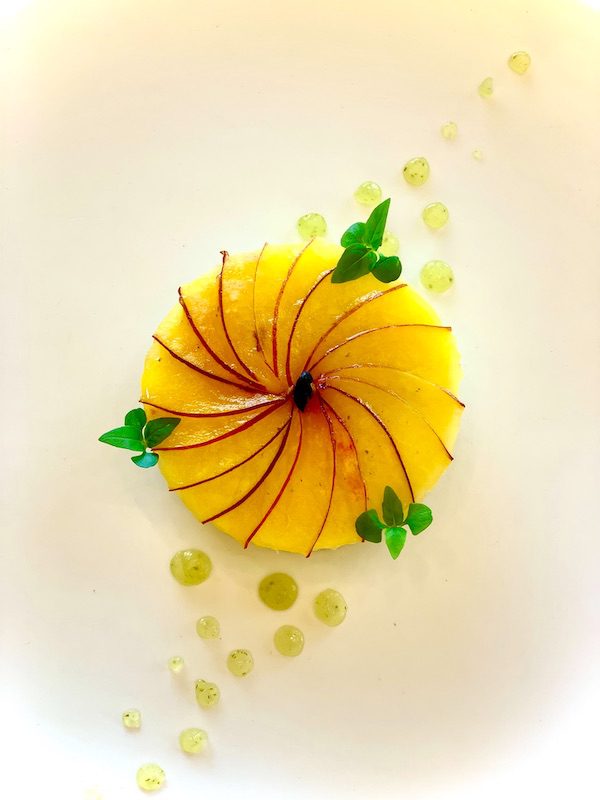 There is no outdoor terrace at the two Michelin starred restaurant La Chèvre d'Or. Instead, large floor to ceiling windows frame the azure waters that is dotted with luxury superyachts, capturing an image of the Riviera as if it were frozen in time. It also adds to the intimate, elegant ambiance of the restaurant, which seats a maximum of only 48.
As anyone who frequents La Chèvre d'Or will tell you – especially habitual guest U2 frontman Bono – visiting this restaurant is like being welcomed in to a home, despite the perfection that comes with being a two-starred establishment.
Restaurant Director Marc Piquet is a seasoned professional, whose warmth and knowledge sets the tone for a truly memorable experience. Maître d'Hôtel Pauline Gachet won the prestigious Georges Baptiste Cup in 2019, and Chief Sommelier Phillipe Magne has been perfecting his craft at La Chèvre d'Or for 32 years. His charm is matched only by his extensive knowledge of champagne and wine. When the restaurant closes in October for six months, Phillipe tours the country in search of fine labels to serve his guests, accumulating a reserve that now remarkably boasts 26,000 bottles.
"I always propose different houses, the large and famous ones like Moët & Chandon and Taittinger, but also smaller producers who are sometimes better than the big houses," Phillipe Magne tells me from behind his intriguing display of chilled champagnes.
Guests can choose from an extensive wine list that extraordinarily includes 45 wines by the glass, or they can, like myself, put their trust in Phillipe to make the perfect pairing.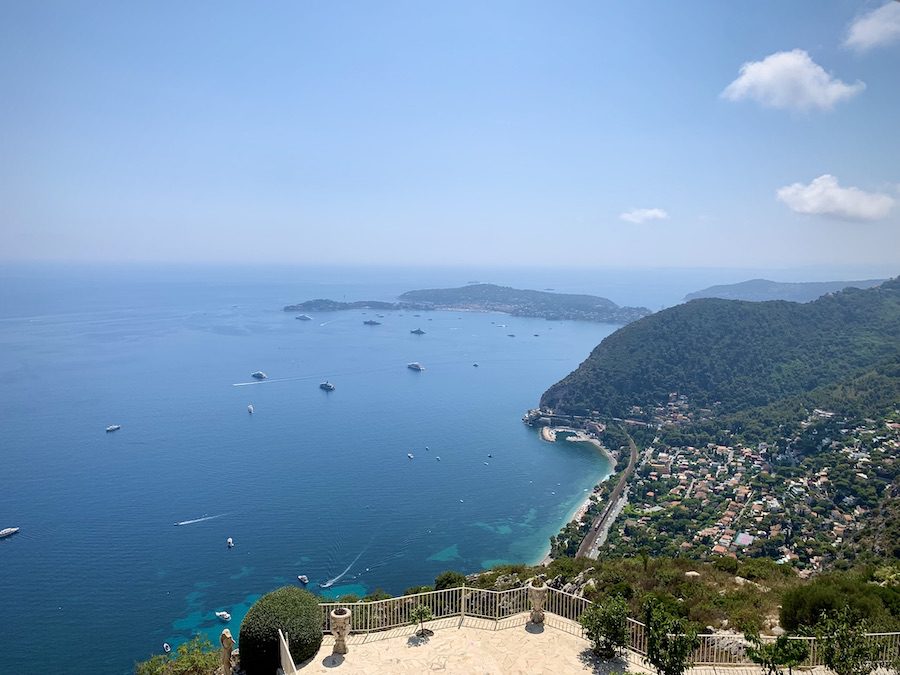 In the end, it is easy to understand why La Chèvre d'Or is honoured among celebrities, politicians, royalty and the elite.
But it is a destination for all who wish to experience the true flavours, heart and hospitality of the French Riviera, a vibrant reminder of how powerful time, place and story is when it comes to food.
The 'From rocks and waves' lunch menu is a five-course gastronomic experience for 160€ per person, or 90€ for three courses. The eight-course 'From rocks and waves' dinner menu includes langoustine, crab and pigeon, and is priced at 260€, paired down to five courses for 220€ (prices exclude wine).
Top photo of Executive Chef Arnaud Faye by Cassandra Tanti for Monaco Life, all rights reserved. 
See our gallery below for more pictures: