An inexplicably lethargic AS Monaco Basketball lost against Strasbourg (87-100) on Wednesday in the first-leg of their Betclic Elite playoff. A loss in the return fixture will consign them to a shock exit, and Obradovic was not happy.
Perhaps it was a hangover from that soul-sapping defeat to Olympiacos in the Euroleague playoffs a fortnight ago, or the absence of star man Mike James who Sasa Obradovic revealed post-match had a sprained finger. Either way, this Roca Team was unrecognisable to the side that have dominated both on the continent and domestically in recent weeks and months.
"Wake up!"
Monaco were defensively inattentive from the off. In the opening seconds of the counter, Strasbourg manufactured a free two-pointer attempt under the board, as runs went completely unchecked.
Strasbourg went into an early lead before Obradovic's men eventually found their range, at least in an attacking sense to draw level at the end of the first-quarter (24-24). The returning Alpha Diallo (22 pts) didn't show any signs of lack of match sharpness as he picked up where he left off.
But the problem wasn't in offence, but in defence. Strasbourg continued to work openings with astonishing ease, their intensity going unmatched by a weary Monaco. Obradovic tried to galvanise them and lift them out of their slumber as he screamed at his players to "wake up" throughout the second-quarter.
Those words had little effect. Monaco continued to sleepwalk towards a surprise defeat as sloppiness and frustration crept into their play in the second-half. The game was over as a contest way before the final buzzer, the underdogs had come to the Salle Gaston Medecin and prevailed (87-100).
Storm Obradovic: Roca Team coach unleashes his fury
Post-match, questioned by Monaco Life as to the secret behind beating Monaco, Strasbourg coach Lassi Tuovi replied, "I don't necessarily know the secret. We've just built a group with an underdog mentality, who are hungry and humble."
Obradovic responded to that saying, "You asked what is the secret, the secret is the attitude. The underdog was here fighting and if you don't have the same approach, anyone can beat you."
He added, "When you've worked all season to be in this game, you don't need any extra motivation. You can't be tired from the season, you can't be searching for excuses to justify the way we performed. It's not fair to the fans who came to watch us, it's as simple as that. They gave their full energy in the Euroleague and then they came and gave 50%."
Responding to Monaco Life, Roca Team captain Leo Westermann reflected on their lack of intensity throughout the fixture. "They had more desire and were in the right mode and we weren't," he said. "In the next match, we really need to show another side to ourselves and get into that play-off mode. We'll see what we're made of."
The second-leg of the tie takes place in Strasbourg on Saturday. Only a win will do for the Roca Team, which would mean one final, winner-takes-all tie at the Salle Gaston Medecin next week.
Follow Monaco Life on Instagram to get live updates, videos and all the excitement from AS Monaco Basketball home games!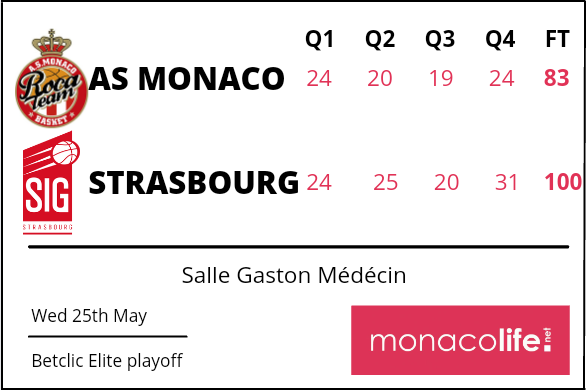 Photo by Luke Entwistle, Monaco Life