Amidst humid conditions in the Sunshine State, the on-track action took a while to heat up on Sunday as Max Verstappen fought off a late Charles Leclerc surge to take an historic victory.
Despite Verstappen's victory, Charles Leclerc still retains a comfortable championship lead, with 19 points separating the rivals. Red Bull's pace must nonetheless be a concern for the Monegasque driver.
Leclerc revealed he was "understandably disappointed to miss out on first place". Up until Sunday's main event, it was a weekend of contrasting fortunes for the two rivals. Whilst Leclerc managed to get plenty of laps in during the practice sessions, reliability concerns once again limited Red Bull to just a handful of laps. Not ideal when you're trying to familiarise yourself with a brand new circuit.
It was only logical therefore that Leclerc took pole from team-mate Carlos Sainz, with Verstappen taking third. The Dutchman, however, wasted no time making up for Saturday's disappointing showing as he overtook Sainz at turn 1. With Leclerc's rear-gunner out of the picture, another Leclerc-Verstappen classic beckoned.
To the surprise of many, it was the Red Bull who seemed to have the superior race pace and Verstappen made light work of taking the lead, passing Leclerc with a simple DRS move on lap nine. In an attempt to keep pace with Verstappen, Leclerc began to make rudimentary errors as he lost touch with the leader whilst wearing-out his tyres in the process.
The race seemed to be trundling along to its natural conclusion without too much on-track excitement, but a collision between Lando Norris and Pierre Gasly towards the end of the race brought out the safety car and bunched the pack back together.
The main benefactor was George Russell, as he made his first and only pit-stop during this window; the Brit eventually sealed fifth in a stunning drive from 12th on the grid to finish ahead of his team-mate Lewis Hamilton, who once again bemoaned the team's "unkind" strategy.
11 laps remained when the safety car came in and Leclerc immediately went on the offensive. Suddenly, his hard tyres had switched on, and he managed to get within DRS range of Verstappen. But that was as good as it got. Verstappen managed to hold position and even create a gap in the last laps as he capped his perfect Sunday win with a fastest lap.
Behind the front two, it was Sainz who held onto third from Carlos Perez, who could have got on the podium if not for an impatient lunge down the Spaniards' inside at turn one, which subsequently cost Perez time and grip.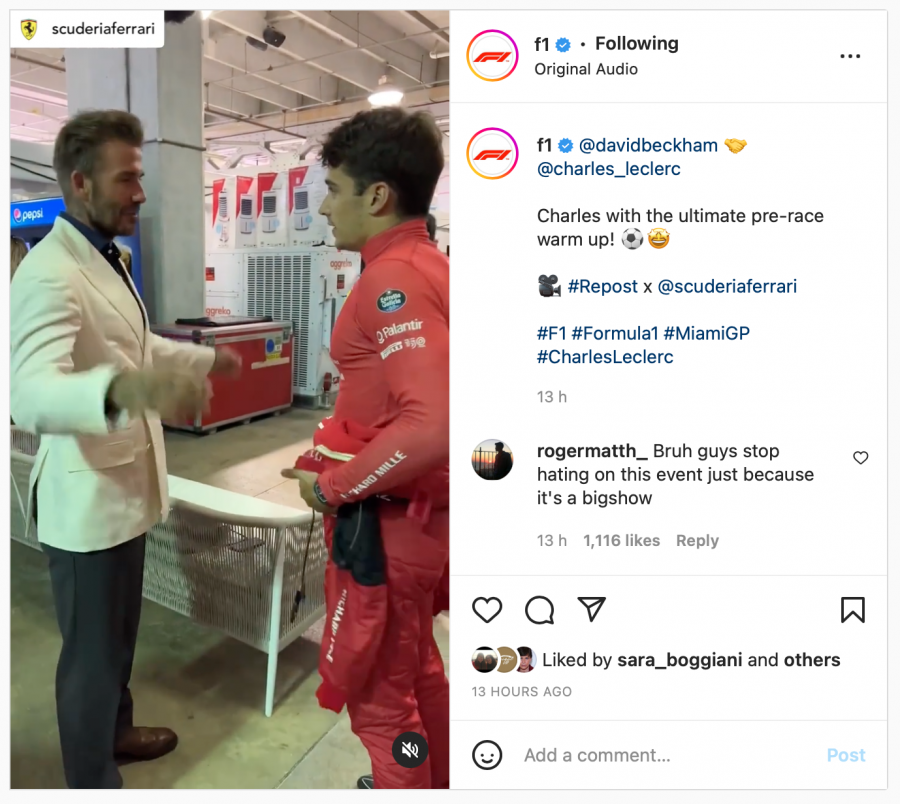 For large swathes of the race, the cameras instead followed around the many celebrities in attendance at the Miami circuit. David Beckham was amongst the A-listers in Florida, and the former England international enjoyed a pre-race kick-about with Leclerc (click on image above to watch).
"I thought the atmosphere was amazing this weekend," said Leclerc. "There was a really great show around the race and I'm looking forward to coming back."
It remains to be seen as to whether, when he does return next year, he will do so as the World Champion. It certainly looks as though Verstappen will give him a close ride.
Photo source: Scuderia Ferrari Media Centre