Charles Leclerc secured a well-earned fourth place in difficult conditions at the Turkey Grand Prix on Sunday. Despite Leclerc leading the pack for a portion of the race, it was Bottas who secured the victory at a sodden Istanbul Park.
Qualifying in third place, Leclerc managed to keep his nose clean and maintain his position on the opening lap in greasy, slippery conditions. In contrast, Pierre Gasly received a penalty when he was adjudged to be culpable for Alonso's first corner spin, which saw him relegated to the mid-field.
Throughout the field, there was very little overtaking, with drivers finding it difficult in the dirty air. Mercedes' Lewis Hamilton and Leclerc's team-mate Carlos Sainz were the exceptions to the rule, both of them fighting through the field after grid penalties had seen them relegated to 11th and 20th place respectively.
Hamilton pulled off a series of impressive overtakes to reach fifth place, whilst Sainz miraculously worked his way into the points from the back of the grid.
Amongst quicker cars, Leclerc managed to hold his own, clinging onto the back of Verstappen's Red Bull whilst simultaneously creating a comfortable gap to Perez behind.
Whereas many of his rivals changed for a fresh set of intermediate tyres, Leclerc opted to stay out in the hope that his worn tyres could last the race. The decision initially seemed an astute one; Leclerc opened up a healthy lead, and many of those that pitted were complaining of graining.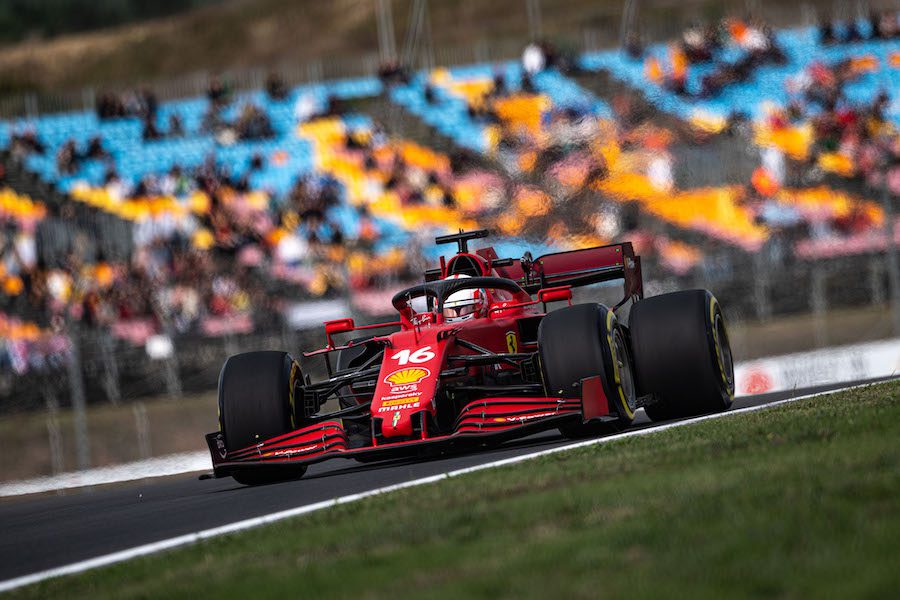 However, as the condition of Leclerc's tyres deteriorated, he struggled to keep the car on track, and two lock-ups at turn 12 saw his lead slashed. Bottas passed Leclerc to retake the lead, and with other rivals rapidly closing in, Leclerc was forced to pit.
The Monegasque driver rejoined in fourth position, narrowly ahead of Sergio Perez. However, with Leclerc complaining of a lack of rear grip, he was a sitting duck for the superior Red Bull car, who made a simple pass.
Leclerc was then under pressure from championship leader Hamilton, who was flying on a fresh set of intermediate tyres after a late pitstop. However, with an overtake seemingly inevitable, Hamilton's new tyres began to grain and the drop-off in performance meant he had to settle for fifth.
Leclerc therefore maintained his fourth place, and Bottas, the outgoing Mercedes driver, took the chequered flag in emphatic style to secure his first victory of the season.
Verstappen's second place was enough for him to retake the championship lead from Hamilton and take a six-point lead with only six races remaining.
An upbeat Leclerc found the positives in his fourth place result, despite his disappointment at narrowly missing out on a podium. "We were very competitive, especially in the first stint and the car felt good… it's a shame that we lost out on a podium finish, but the performance was there which was a positive."
Leclerc will go into the American GP in two weeks time in seventh place in the championship, half a point behind his team-mate Sainz.


Photos source: Scuderia Ferrari Press Office