The new flagship boat of Monaco's Maritime and Airport Police Division, 'Princess Gabriella', has been inaugurated by the little princess whose name it bears.
How many six-year-olds can say they have a boat named after them?
Princess Gabriella can now count herself amongst the few in that exclusive club, as Monaco's newest police patrolling boat has been baptised by none other than the namesake herself.
The 'Princess Gabriella' is Monaco's new Maritime and Airport Police Division patrolling vessel and was officially presented on Wednesday with the Princess herself doing the honour of baptising the boat by the traditional means of breaking a bottle of champagne across the hull.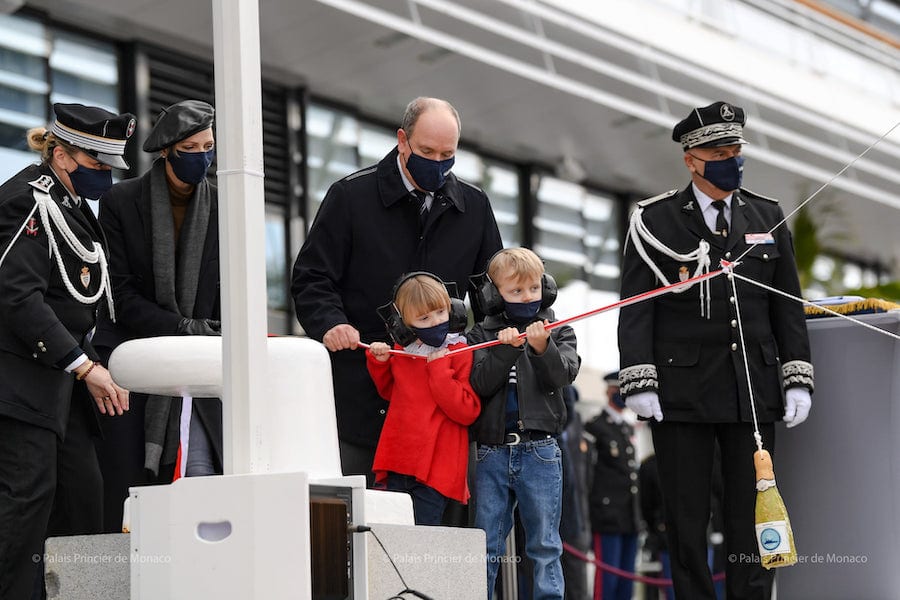 Sirens and fog horns sounded around the port and the Monegasque anthem was played on trumpet, adding a festive air to the event.
Her twin brother Prince Jacques and parents Prince Albert II and Princess Charlene, who is sporting a new 80's inspired hairstyle, accompanied Princess Gabriella at the ceremony, which also included the presence of many Monegasque authorities and a blessing by Monseigneur Davis, the Archbishop of Monaco. 
After the ceremony, the Princely family were invited aboard the speedboat.
The 'Princess Gabriella' is a state of the art 24-metre, 60 tonne vessel, and will be used in sea rescues, research, the fight against marine pollution and polluters as well as cross-border and port security and patrols. The boat can reach speeds up to 30 knots and is equipped with a satellite link, two radars and a firefighting system. Additionally, it has a gun mount and a crane with the ability to lift 400 kilos.

Photos: Eric Mathon / Prince's Palace and Manu Vitali and Michael Alesi / Communication Department