The eighth meeting of the local cross-border commission for Franco-Monegasque cooperation was held on 11 January 2019 at the Ministry of State of the Principality of Monaco.
Created in 2005, this commission is held annually alternately in Monaco and Nice. Its purpose is to deal with neighborhood issues between the Principality of Monaco and the local authorities of the Alpes-Maritimes, particularly in the areas of social affairs, health, transport, planning and the environment in the spirit of "Community of destiny" that drives both countries.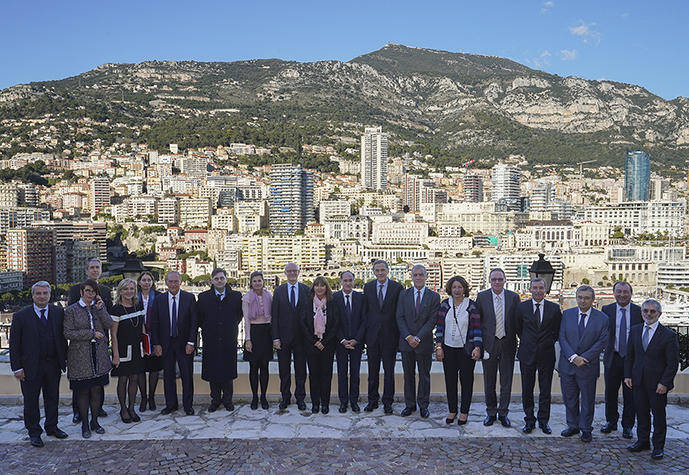 The meeting was co-chaired by HE Mr Serge Telle, Minister of State of the Principality of Monaco, HE Mrs Marine de Carné-Trecesson, Ambassador of France in Monaco and Mr Georges-François Leclerc, Prefect of the Alpes-Maritimes.
The Monegasque delegation included the members of the Prince's Government. The French delegation was composed of representatives of the French Embassy in Monaco, the Prefecture of the Alpes-Maritimes and elected officials.
Among the topics on the agenda, the issue of service to Monaco, which is a central concern for which the authorities discussed together the possibilities for improvement, was discussed.
In this respect, progress has been made on the reopening of the Beausoleil motorway exit ramp, as well as those relating to the development of intersections on the medium corniche. Exchanges also focused on alternative modes of transport such as the creation of a maritime link and improved coordination of national police and gendarmerie services in the area of ​​peak hour traffic management.
In addition, the committee had constructive discussions on the La Cruella quarry development project, the housing of assets or the implementation of teleworking for employees of Monegasque companies residing in France.
The committee welcomed the good progress made on the technical aspects of securing the Rainier III tunnel and delegations agreed on accelerating its validation at the governmental level to improve passenger safety.
Various topics concerning the activities developed by the Principality's companies on French territory were also discussed, as was the integration of the Monaco Nursing Training Institute into Parcoursup for the year 2019-2020.
The committee welcomed the successful implementation of the digital partnership signed in 2015 between the Principality of Monaco and the Nice Côte d'Azur Metropolis and discussed other cross-border cooperation projects.
In addition, the status of the MOU extension project has been presented, the work initiated in 2016 is continuing and should be fully completed by 2025.
Many topics have made significant progress and those that can not be resolved at the local level will be examined by the French-Monegasque National Cooperation Commission, which will meet in Paris in 2019.
The two delegations agreed to hold the next session of the Local Committee in 2020 in Nice.