More than 350 economic players came together for the first MEB Members Meeting of the year, during which a full calendar of events for 2020 was unveiled.
MEB members gathered under the gilding of the Salle des Arts, a faithful reproduction of the ceremonial hall of the former Sporting d'Hiver, and in the ultra-contemporary spaces adjoining it.
The event was an opportunity for MEB Executive Director General Guillaume Rose to launch a major survey of the 540 member companies under the slogan 'The Monaco Economic Board, at your service'. Featuring both multiple choice questions and more open questions, the survey aims to give members an opportunity to raise improvement points on the proposed actions, garner expectations (new types of operations, new destinations, etc.) and validate the objectives of the association. The results of this survey will be announced at the general assembly on 19th March.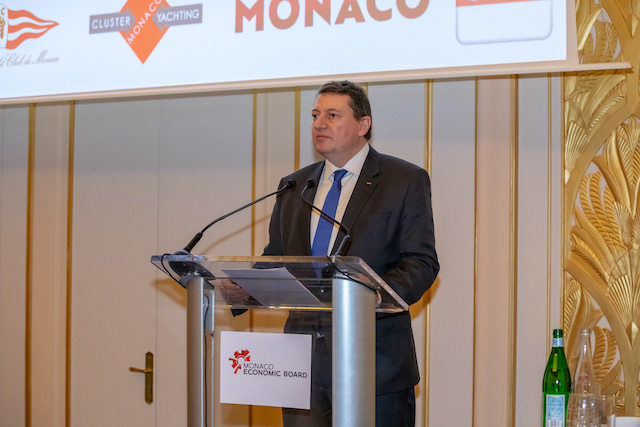 Mr Rose then presented the 2020 agenda, which includes an impressive number of overseas operations.
During the first semester, economic missions will be organised in Novosibirsk, the third largest city in Russia, with the Ballets de Monte-Carlo from 19th to 21st February, then in Versailles on 30th and 31st March for a performance by Cecilia Bartoli and the Musiciens du Prince – Monaco at the Opéra du château.
The MEB will then be in Rome and Florence on 26th and 27th May, followed by Montenegro, Saint Petersburg, Antibes and Budapest. At the end of the year, Toronto, Montreal, Milan, Tokyo and Amsterdam are on the program. As for the Monegasque pavilion at the Dubai International Expo, the MEB plans to make several targeted trips.
In terms of economic promotion, and in collaboration with AMAF, the MEB considers the United Kingdom, Benelux and Switzerland as preferred destinations, while the world of luxury yachting will be further explored in Singapore and Dubai. An operation will also be organised in Washington in collaboration with Monaco Private Label.
The MEB will continue to be very active in the Principality with economic conferences planned with leading speakers, including Chief Economist of Coface Julien Marcilly on 3rd March, in welcoming delegations, such as Austria on 26th March, and organising training and events with its partners.
"More than ever, driven by the will of the Prince's Government, the Monaco Economic Board wishes to be in tune with the expectations and aspirations of the Principality's economic forces," said Mr Rose. "The constant development of its networks, the strengthening of its partnerships and the dedication of its team are all assets to succeed in its missions."
Photos: Courtesy MEB
Read more:
Interview: Justin Highman on the success of the China expo