Beginning this week, Art Gallery 44 will be hosting a feast for modern art lovers at the Espace 22 that features household names such as Andy Warhol, Basquiat and Jeff Koons as well as up-and-comers from around the globe.  
Saint Paul de Vence's Art Gallery 44 is exhibiting prevailing masters of the genre alongside emerging talent at the Exhibition of Modern and Contemporary Art in Monaco's Espace 22 from 13th April to 13th May.  
In all, there will be upward of 30 works on display from known artists including Arman, Cesar, Andy Warhol, Keith Haring, Basquiat, Jean Miotte, Joan Mirò, Marc Chagall, Soulages, Yoko Ono and Jeff Koons, who will share the gallery with newer talent from France, China, Japan and Thailand.  
The pieces come from private collectors, and many will be up for grabs during the month-long event.  
"We have already organised this type of event in Monaco at the Café de Paris," Charles Lemeny, the director of Art Gallery 44, told La Gazette de Monaco recently. "It turned out to be a success. And if we encounter the same dynamic here, at L'Espace 22, we want to multiply the experience several times a year." 
The exhibit is free and open to the public daily, so even casual visitors can appreciate the beauty and genius of each artists' works.  
For more information, click here.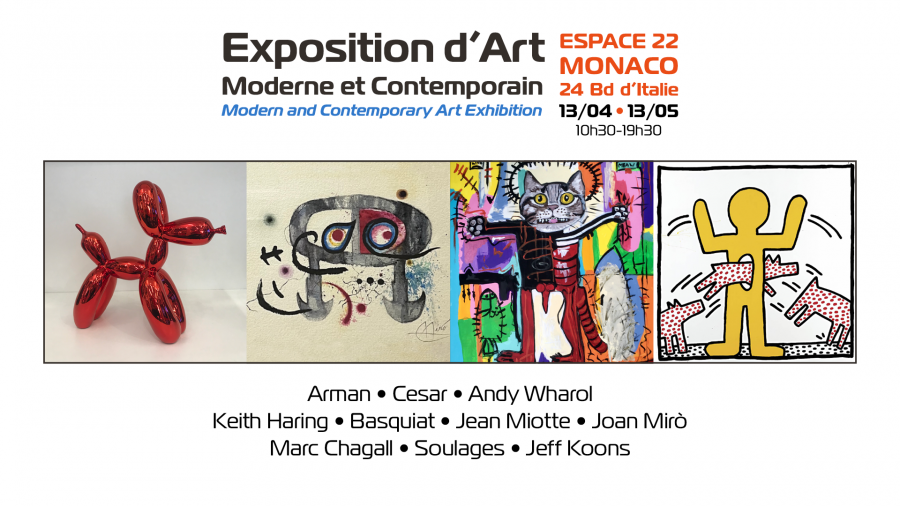 Do you have an event in Monaco or the French Riviera that you would like us to include in our What's On section and events calendar? Please email editor@monacolife.net.  
Images from Art Gallery 44