A mass has been held to celebrate the lives of two firefighters, Sergeant Stéphan Hertier and firefighter Matis Canavese, killed in a traffic accident near Puget-Théniers on 31st August.
On Wednesday morning at 10am, the lives of Stéphan Hertier and Matis Canavese, two local firefighters who died tragically just over a week ago near Puget-Théniers, were honoured in a religious ceremony held in the Monaco Cathedral.
Of the many heartfelt words spoken of the men, one of the more touching came from Prince Albert II who, though unable to attend as he was travelling in Germany, sent condolences through a proxy.
"I come to assure you that I am close to you through thought and prayer in these painful moments," said the Prince in a written message read by Secretary of State Jacques Boisson. "To the families and relatives of Sergeant Stephan Hertier and Sapper Matis Canavese, I would like to reiterate here the part I take in their immense sorrow. All were selfless and exceptionally dedicated. As such, they were exemplary. The best tribute we can pay them is to keep alive in our minds and hearts, these two qualities having forged their personality. Any death is overwhelming, but the current disappearances are even more so. Our accompaniment this morning will not end with this ceremony."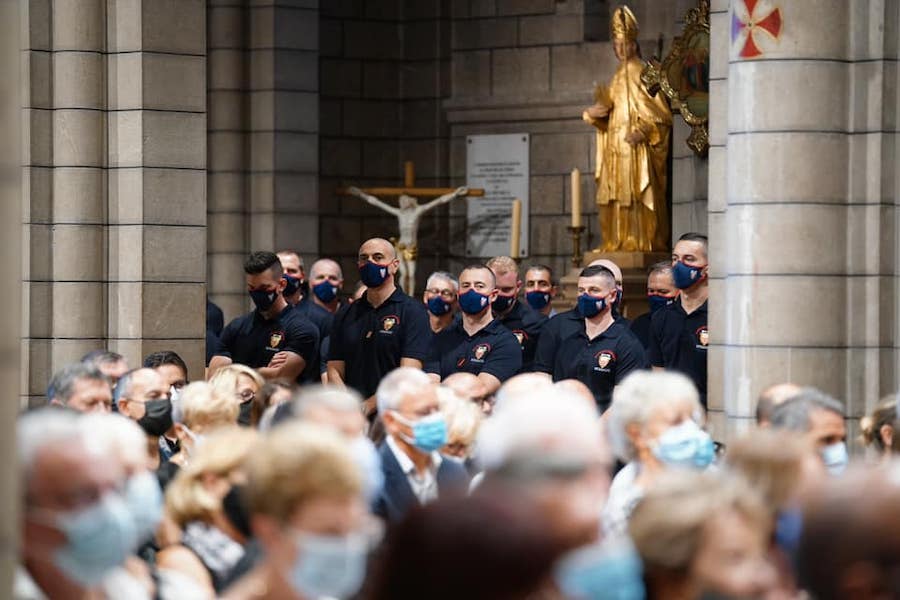 Feelings ran high throughout the ceremony, and Colonel Norbert Fassiaux, Chief of the Monaco Fire Brigade, summed up the effect on his crew, saying, "On behalf of all the military, I would like to say a final farewell to our late Stephan and Matis. Tell them our immense grief and how upset we are, dumbfounded, at their passing. Of course, words never measure up to this tragedy. The circumstances and consequences of the accident are terrible, unfair and can only arouse indignation and anger. The emotion is immense, the pain inconsolable, the emptiness unbearable."
This is the second tragedy for the fire brigade this summer, the first being the sudden passing of 40-year-old David Eyermann in July.
The National Council also shared their sadness with the population of Monaco, saying on social media, "Today, the entire Monegasque community united, in thought, in the last and moving tribute paid to the two firefighters tragically killed in a road accident on 31st August. Deeply affected by this tragedy, the elected representatives renew the expression of their compassion, their solidarity and their most sincere condolences to the families of Matis Canavese and Stephan Hertier, to their loved ones, as well as to the Corps of Firefighters of Monaco." 
The packed cathedral was presided over by Monseigneur Guillaume Paris, vicar general of the diocese, who stood in for Archbishop of Monaco Dominique-Marie David, who was in Rome on business.
The driver of the vehicle that killed the two firemen and injured two others has been remanded to custody. He drove his car into the four men, who were on motorcycles, resulting in the deaths.


Top photo by Michael Alesi, Government Communication Department