Prince Albert was joined by his sister Princess Stephanie and several family members at the Dubai Expo on the weekend for National Day celebrations that included a circus show and performances by the Ballets de Monte-Carlo.
Prince Albert II of Monaco was accompanied by Princess Stephanie, her son and daughter-in-law Louis Ducruet and Marie Chevallier, and her daughter Camillie Gottlieb for what shaped up to be a real royal family affair in Dubai.
The Prince and his extended family were there to officially open the pavilion and to celebrate Monaco's National Day as well as to cement the relationship between Monaco, the United Arab Emirates and other countries around the world.
"International expos are, in general, a key platform for international exchanges and dialogue, as well as to provide various opportunities to move forward," said Prince Albert during the official flag raising ceremony. "Expo 2020 Dubai is also a great opportunity for us to enhance our cooperation with the UAE and establish links with other countries."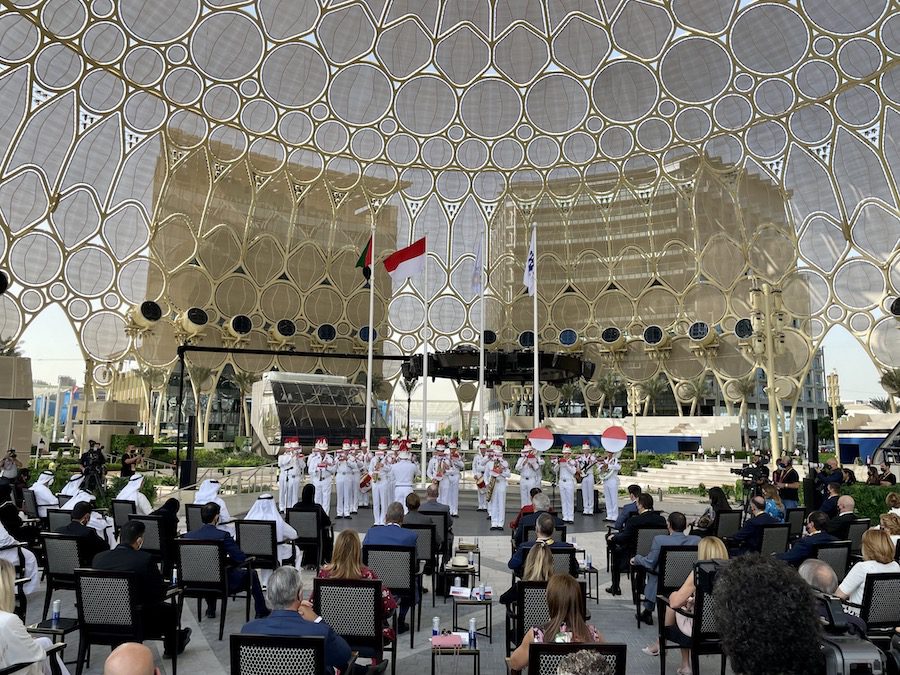 The Prince highlighted the attractiveness of Monaco as a centre for tourism, innovation, international exchange and global action to protect the environment as well as a place that is finding new ways to produce and save energy.
He went on to speak of the opportunities for the UAE and the Principality to work together, including in the realms of technology, sustainability, culture and sports.
Prince Albert was the first head of state to visit the expo for his country's national day, an event that clearly put Monaco in the spotlight. Crown Prince of Dubai Sheikh Hamdan bin Mohammed bin Rashid Al Maktoum accompanied Prince Albert on a tour of the expo, and was also present for the signing of a tax treaty between the two countries.
https://www.instagram.com/p/CWSttrrs0oy/?utm_source=ig_web_copy_link
Other high-ranking officials present from Monaco included Minister of State Pierre Dartout, President of the National Council Stephane Valeri, and Finance Minister Jean Castellini.
In addition to the official ceremony and flag raising under the AL Wasl dome, festivities included a show by the Monte-Carlo Circus Festival, of which Princess Stephanie is president, which featured the most recent winners of the festival.
There were also two performances of Core Meu by the Ballets de Monte Carlo, choreographed and created by Artistic Director Jean-Christophe Maillot.
Princess Charlene was notably absent from the trip, although Prince Albert had earlier indicated that her attendance would be dependant on her health situation. The Princess was only reunited with her family in Monaco on Monday 8th November after spending eight months in her native South Africa due to a severe sinus problem.


In the six weeks since the start of the expo, 230,000 guests have passed through the Monaco Pavilion, equalling roughly 7% of total Expo visitors. The event runs until 31st March 2022.
A total of 58 Monegasque representatives from the Principality and surrounding villages have decamped to Dubai for six months to run the pavilion, taking on roles in hospitality, communication and reception.
Click on the photo gallery below to see more pictures of the National Day celebrations. Photos credit: Igor Pliner Photography…


SEE ALSO: 
Monaco enters into tax treaty with UAE