The most frequent service of the Town Hall, the Civil Status – Nationality accompanies the users throughout their life. It represents both the memory of the Principality with registers dating from the sixteenth century and the symbol of modernity including through the electronic identity card or, more recently, the request for online acts.
The Civil Registry's mission is to record the main events that mark the life of each individual, namely births, marriages and deaths. It is aimed at Monegasques as well as people of foreign nationality born, married and / or divorced in the Principality.
The Monaco City Council presented the figures of the Civil Status – Nationality for the year 2018.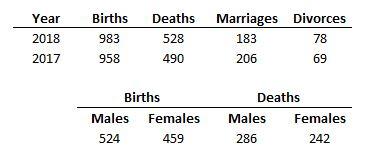 Of these 983 births, 982 were born at the Princess Grace Hospital Maternity Hospital (CHPG) and one in another location. 495 births are from marital unions (called "legitimate"), and 488 children are born out of wedlock. Concerning the place of residence, 227 families were domiciled in Monaco, while the 756 other births concerned parents domiciled outside the Principality – mostly in the communes of Menton (261), Roquebrune-Cap-Martin (103) and Beausoleil (132).
Finally, the top 5 of the most awarded first names in 2018 positions Léa, Victoria, Chloé, Emma and Sofia for the girls and Gabriel, Andrea, Lucas, Aaron and Adam for the boys.
More than 85% of deaths occurred in hospital (82%) or clinic (6%). Of those who died, 253 were domiciled in Monaco and 275 in neighbouring communes.
Finally, 183 marriages were celebrated in the Principality in 2018. Concerning the marriages of persons of Monegasque nationality:
7 marriages united two persons of Monegasque nationality
45 Monegasque men married a foreign woman
33 Monegasque women choose a foreign husband
The number of divorces has slightly increased, with 78 registered divorces in 2018 (compared with 69 in 2017), all nationalities combined.