In a country of spoils, there is always comfort in finding authenticity, tradition and family values on a plate, and that's exactly what you get at Em Sherif in the Hôtel de Paris, with that famous Monte-Carlo touch, of course.
There has been barely an empty seat in Em Sherif since it opened its doors for the first time on 2nd April. Not only does Monaco revel in a new gastronomic experience, if it is to be had in the exquisite Hôtel de Paris, all the better.
To the left of the hotel's grand staircase, Em Sherif welcomes you through a corridor filled with Graff diamonds – an unmistakable reminder of the two worlds that are coming together at this Beirut-born restaurant.
Mireille Hayek opened her first Em Sherif in Lebanon's capital in 2011, the traditional restaurant concept celebrating a culture experienced through taste, sight, hearing and feeling.
She has since opened 12 more restaurants in the Middle East, and most  recently in London at Harrods. This opening in Monaco is the company's first foray into Europe and is part of Monte-Carlo Société des Bains de Mer's (SBM) aim of adding strong, international brands to its range of restaurants to appeal to a discerning clientele.
Mireille Hayek has entrusted the running of Em Sherif Monte-Carlo to daughter Yasmina, a charismatic and confident young woman who has trained at the prestigious Paul Bocuse Institute and worked under Mathieu Pacaud, who owns several Michelin starred restaurants in Paris, as well as two-starred Jean-François Piège and three Michelin star Chef and winner of the Bocuse d'Or Rasmus Kofoed in Denmark.
"People in Monaco have very high expectations, and we are in the world of Alain Ducasse at the same time, so there are very high Michelin standards here, and we have to meet those standards," Yasmina Hayek tells Monaco Life.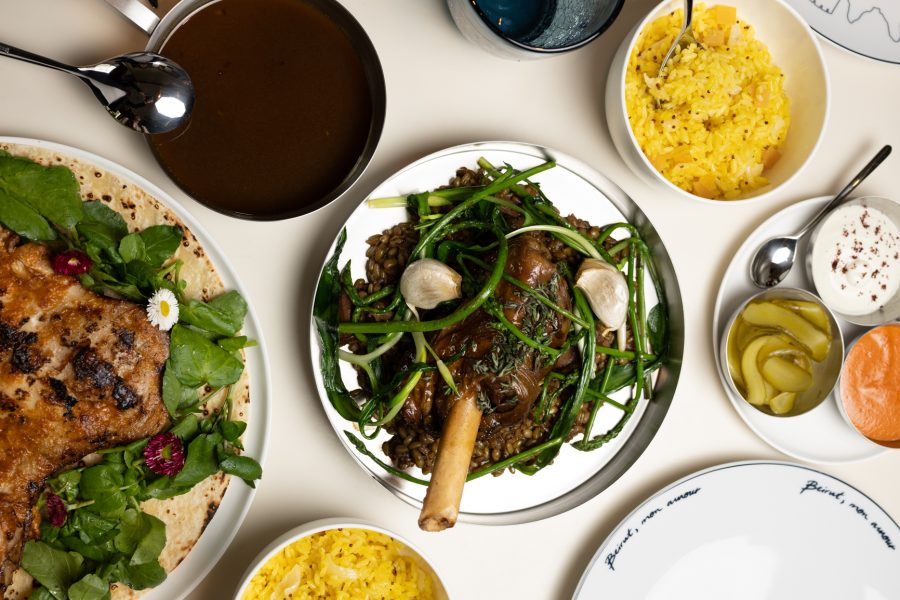 Em Sherif embraces the precious Middle Eastern culture of meal times, that of communal experiences in which family and friends eat together, not with separate plates but from a shared dish. And the sheer number of dishes here means that guests should definitely arrive hungry.
"It was nice to find a middle ground between this limit of what gastronomy you can do with Lebanese cuisine, and how to keep it at the same time generous with that sharing experience," adds the 25-year-old head chef.
The hot and cold mezze selection includes four different types of hummus, including one with melt-in-your-mouth Wagyu; mutabbal of smoked eggplant, tahini and pomegranate; yalanji of rice-filled chard leaves; fattet kraydiss – crispy prawns with yoghurt and kadaif; and smake beyroutiyeh – sea bass fillet with beyroutiyeh sauce.
In addition to the 21 mezze plates, there are five main dishes including shawarma lahme with beef fillet, and siyyadiyeh – a deliciously steamed whole sea bass stuffed with caramelised rice and aromatic herbs.
Two grilled dishes of whole chicken and beef round out the savoury menu, while a colourful array of desserts are designed to cleanse the palate with fruity flavours and floral aromas, like the orange blossom and rose milk pudding, while traditional pastries indulge the senses.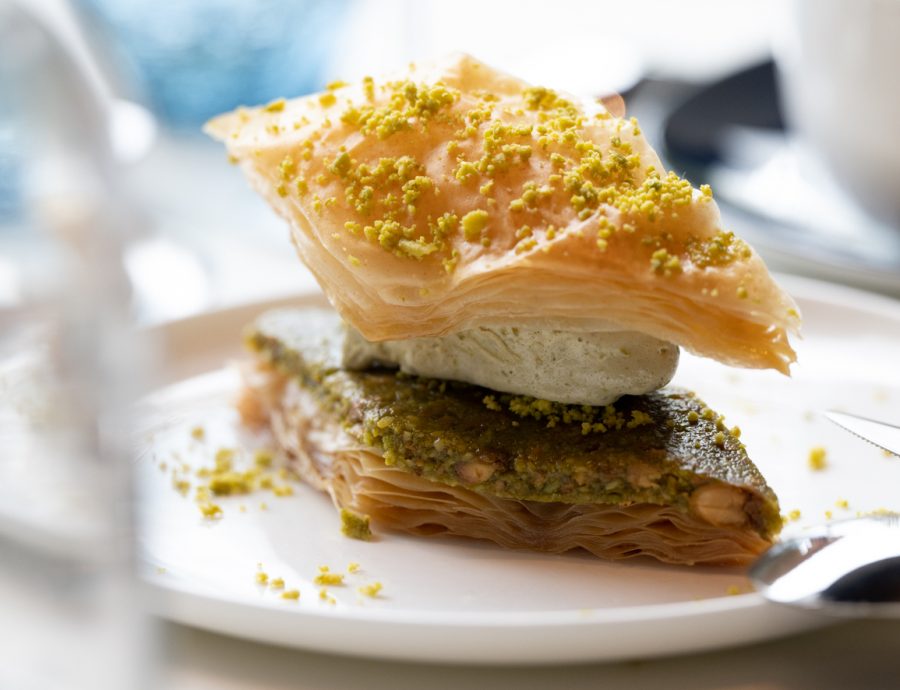 "Pasty in France is important, so we refined all of our pastries at Em Sherif Monte-Carlo," reveals Hayek. "We want to please clients who prefer the original while accommodating other clients who are looking for something more. Everything in Monaco needs to be elevated. It can't be too greasy, for example, so instead of gee we use pure butter for our baklava. These are the type of edges that we try to do here in Monte-Carlo."
Despite a string of new Em Sherif openings ahead in Paris, Greece and the United States, Yasmina Hayek plans on staying put in Monte-Carlo, excited at the opportunity to continue to share her family legacy with the people and guests of the Principality.
"I think that presence is very important here," she says affectionately. "People love meeting the chefs, and every day we have guests wanting to visit us in the kitchen. We have already had so many people who came back to the restaurant, so it is beautiful to see the same faces."
The journey of the senses continues outside in the Mediterranean garden where, surrounded by lemon trees, kumquat and wild sage, guests will be able to enjoy a chic Chicha Lounge Bar in the afternoons and evenings.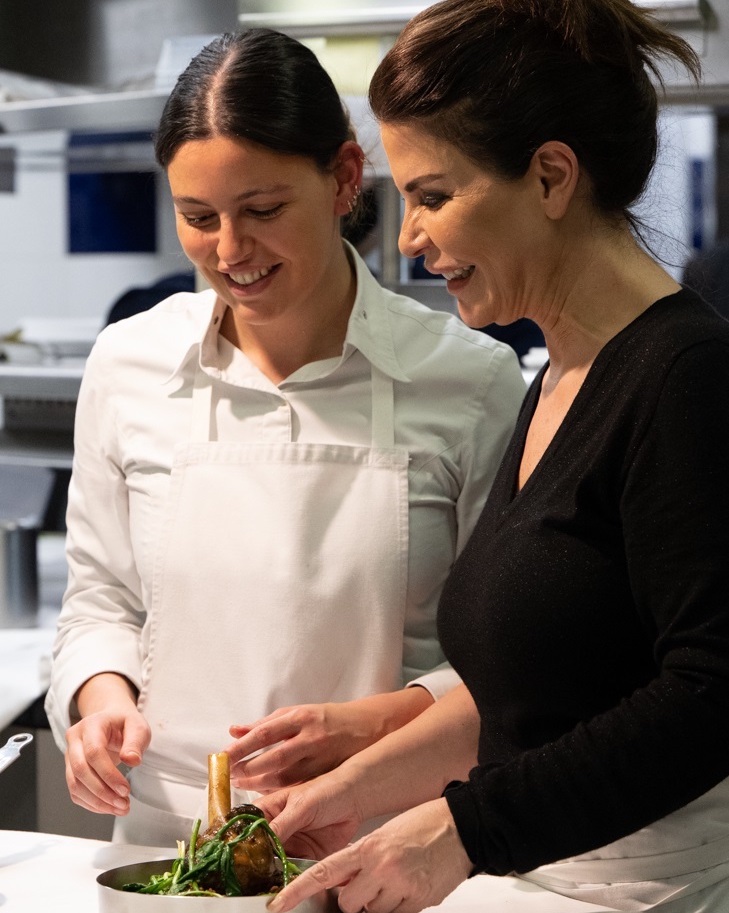 "Lebanon gifted me the culture I am so proud of. It's what constantly inspires Em Sherif and it's what has allowed me to succeed," says the restaurant's founder Mireille Hayek. "Bringing this culture to Monaco in a place as legendary as the Hôtel de Paris Monte-Carlo is such a joy. It gives me the opportunity to transmit my love for my country."
Em Sherif Monte-Carlo is open from Wednesday to Sunday for lunch and dinner. The Chicha Lounge bar will open from 4pm to 1am from Monday 18th April.
See more photos of Em Sherif in our Instagram post below…
https://www.instagram.com/p/CcYT4OUMJFN/?igshid=YmMyMTA2M2Y=
Top photo of Yasmina Hayek by Monaco Life