A national tribute was made on Friday to Sergeant Thierry Pérard, the brave firefighter who tragically lost his life in an apartment blaze on Avenue Princesse Grace on 19th June. "We miss him already", said Fire Chief Maxime Yvrard at the emotional ceremony.
It was an emotional day, but one also filled with celebration of the life of a man well-loved by family and friends and well-respected by his team.
Firefighter Thierry Pérard, aged 51, died in the line of duty on Father's Day, as a fire raged at 21 Avenue Princesse Grace on 19th June.
"Two occupants are trapped," said Fire Chief Lieutenant-Colonel Maxime Yvrard during the eulogy for his fallen co-worker. "The rescues are ordered. Sergeant Pérard engages, listening only to his courage and this despite the extreme danger. Two people will be saved. He will not come out."
According to a report by Monaco Matin, fellow firefighters in dress uniform, alongside family, friends, and the civil, religious and military authorities of Monaco, gathered to pay tribute to this brave man.
"You, family and friends. We, brothers in arms. We have just lost too soon, too violently, a loved one. Unquestionably, we will miss him. We miss him already," the Fire Chief reportedly said.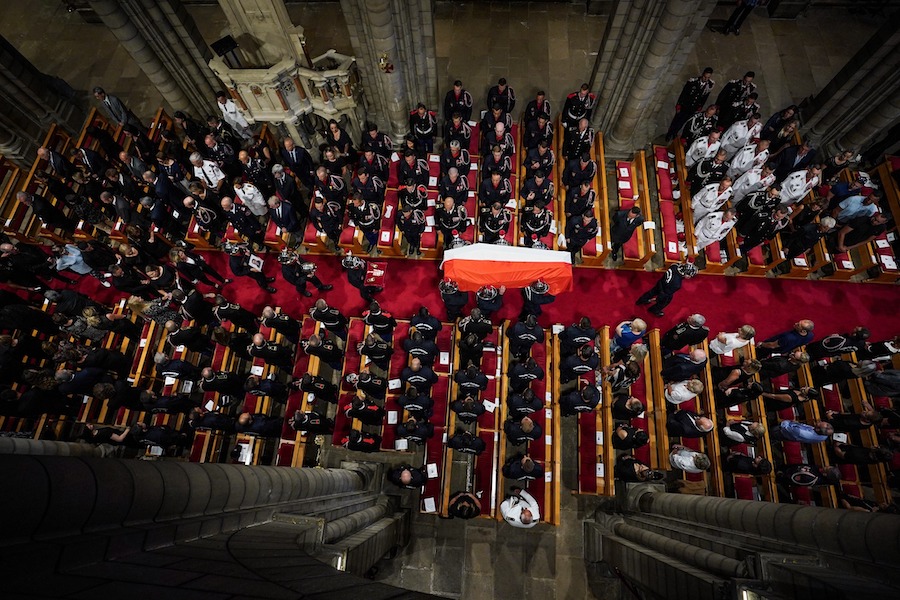 The Chief went on to speak about Pérard the man, a native of the Rhône Valley, who saw first-hand the difference firefighters make watching his father go out on calls as a volunteer fireman. He started with the fire brigade in 1985 in Saint-Martin-de-Crau before joining the French Navy to do his military service as a marine firefighter based in Brest. In 1995, he made the move to Monaco and quickly became a standout. "As soon as he joined Monaco, he quickly distinguished himself by his excellent results, his desire to serve, his desire to succeed," said the Fire Chief of Pérard's work ethics.  
He rose through the ranks and "showed us great human qualities and an extraordinary sense of duty. He was a man of action, thoughtful, reassuring in all circumstances and calm in the face of danger, which characterizes experienced firefighters."
Pérard was awarded for his interventions in other violent apartment fires around the Principality. In May 2012, for example, at 20 Boulevard d'Italie, then at 56 Avenue du Trois-Septembre in Cap-d'Ail in December 2016, he went above and beyond showing how seriously he took the job. "His life was to give himself for others, to give himself to help, rescue and serve, to give of himself out of love for his family, for his daughter Mathilde."
The Chief ended by addressing his men saying, "At each intervention, you will remember and bring to life the courage of this fire fighter for whom only the mission counted. His last exemplary commitment, which led him to leave his life for others, will remain engraved in the memories of the Corps and obliges us to remain ever more faithful to it."
Unable to attend the ceremony because of prior commitments confirmed in Norway, Prince Albert was represented by his sister, Caroline, Princess of Hanover. In a statement released by the Palace on Friday it was revealed that Sergeant Thierry Perard will be posthumously risen to the rank of staff-sergent and appointed Chevalier in the Order of Saint-Charles.
Photo by Manuel Vitali, Government Communication Department