Monaco's environmentally-friendly, digitally advanced Christmas decorations were officially switched on last week, signaling the start of the festive season in the Principality. This year, the decorations are hiding some interesting surprises.
There are now 112 decorative lights extending across the streets of Monaco and 615 motifs on posts, as well as 19 'scenographies' positioned at key points including the Place du in Canton.
As it has done for several years now, the Monaco Council uses decorations that are exclusively LED-equipped, reducing energy consumption. The majority have also been made with 100% biodegradable structures derived from sugar cane, recycled materials and recyclable aluminium meaning that the decorations can be recycled or disposed of 'greenly' after their use. Meanwhile, a fault detection system has been installed to ensure better energy monitoring.
Mayor Georges Marsan, members of the local council, and Monegasque seniors were present for the official ceremony which took place on Friday 22nd November at the Place d'Armes.
"The environment has become a major concern throughout our institution, and Marjorie Crovetto Harroch, who is in charge of that sector, is implementing many actions with great enthusiasm and conviction," said Mayor Marsan.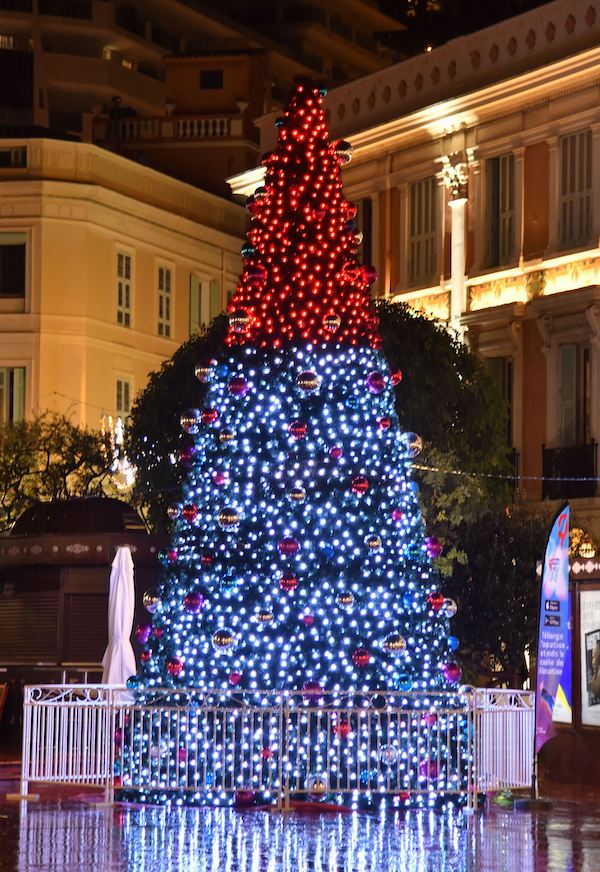 Monaco's Christmas decorations have a new interactive dimension this year, falling within the Digital Transition framework. Using mobile applications, people will able to interact with the lights in various locations throughout the Principality. For example, on Promenade Honoré II, the augmented reality app Playmagic Monaco (available on iOS and Android) is customised for the Monaco City Council and will offer interactive and 3D games mixing virtual and reality for an entertaining and unusual experience.
Another app, Monaco Magic Colors (also available on iOS and Android), will change decorations on Christmas trees at the Place d'Armes and the Christmas Village. With a simple click, it will be possible to alternate the colour of the trees and also add animations, such as a comet or a flag. Other interactive installations include control desks in front of certain decorations, including Santa Claus at the Boulevard des Moulins, where young and old will be able to press to trigger and be surprised by lights and sound.
After the official lighting ceremony, senior citizens were taken through the streets of Monaco in a designated bus to view the illuminations.
The decorations will remain in all areas of Monaco until 5th January 2020, while the district of Fontvieille will remain in the spotlight until 2nd February for the 44th International Circus Festival of Monte Carlo and the 9th New Generation Festival.
Top photo: Mayor Georges Marsan, members of the local council, and Monegasque seniors at the Place d'Armes. Photo copyright – Mairie de Monaco