There were a number of important developments to come out of this year's IUCN congress in Marseille thanks to Prince Albert and his Foundation. Here are the highlights.
As Monaco Life reported on Wednesday, Prince Albert was attending the International Union for Conservation of Nature (IUCN) World Conservation Congress, being hosted in the south of France from 3rd to 11thSeptember, to take part in several sessions related to the preservation of the ocean and calling for urgent, collective action.
He was joined by Vice President and CEO of the Prince Albert II of Monaco Foundation Olivier Wenden.
Prince Albert first spoke at a conference on 6th September organised by the Global Fund for Coral Reefs. This initiative, launched by his Foundation and the Paul G. Allen Family Foundation, has become a global partnership that includes Member States, philanthropic organisations, United Nations agencies and financial institutions.
In his speech, the Prince recalled that the fund is composed of "two main vectors: the first, based on traditional philanthropy, dedicated to technical issues, as well as to the evaluation and management of initiatives. The second, more directly financial in nature, is dedicated to public investment in specific and guaranteed projects that will enable concrete action to be taken in favour of coral reefs, particularly in developing countries."
French Minister of Europe and Foreign Affairs Jean-Michel Le Drian then announced France's support for the Global Fund with a contribution of €3 million to participate in international coral reef restoration and conservation efforts.
After attending the conclusions of the Prince Albert II of Monaco Foundation's Scientific and Technical Committee, which was meeting within the Congress, Prince Albert took part in an event organised by his Foundation, the Government of Monaco, the Centre Scientifique de Monaco and the Oceanographic Institute. This evening, attended by around 100 guests, was an opportunity for the Monegasque delegation to present, through an exhibition, the Principality's numerous commitments and actions in terms of preserving biodiversity, both marine and terrestrial.

On 7th September, Bernard Fautrier, Minister Plenipotentiary and Special Adviser to the Sovereign Prince for environmental issues, spoke on the International Coral Reef Initiative (ICRI), of which the Principality has held the co-presidency alongside Australia and Indonesia since 2018. During this conference, the ICRI unveiled the first trends and recommendations from its Global Coral Reef Health Study (GCRMN). The report is the first observation of the state of the world's coral reefs since 2008 by the Global Coral Reef Monitoring Network and the first that is based on a quantitative analysis of a global dataset produced from the contributions of several hundred scientists and organisations from 73 reef-hosting countries. The work will support decision-making and reinforce the ambition to protect coral reef ecosystems.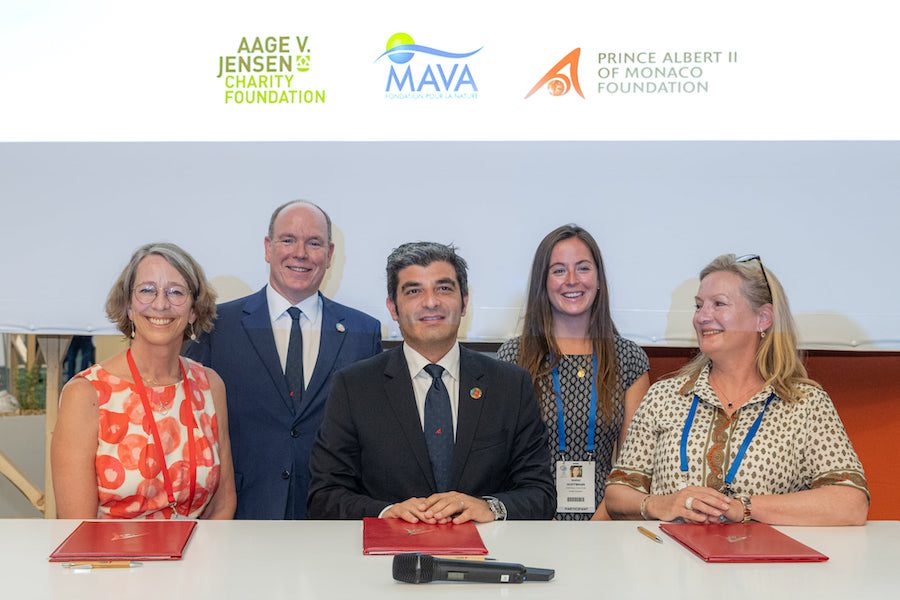 Afterwards, Prince Albert II of Monaco attended the signature of two important partnerships, one with The MedFund in favour of marine protected areas (MPA) in the Mediterranean, the second with his Foundation for the strengthening of freshwater preservation.
Highly protected MPAs are effective tools for protecting biodiversity, provided that they have sustainable human and financial resources, which is unfortunately not the case for many Mediterranean MPAs. In order to increase the number of Highly Protected MPAs in the Mediterranean, a partnership between the MAVA Foundation and The MedFund initiative was ratified, to launch the Highly Protected Mediterranean Initiative. The MedFund will launch a first call for applications dedicated to this initiative at the end of 2021 for support from 2022.
To address the challenges that impact freshwater ecosystems, the MAVA Foundation, Aage V. Jensen Charity Foundation and the Prince Albert II of Monaco Foundation have decided to join forces to create the Donors Initiative for Mediterranean Freshwater Ecosystems (DIMFE), an initiative dedicated to the protection and restoration of freshwater ecosystems in the Mediterranean basin: rivers, lakes, marshes, wetlands, and peatlands. This collaboration between donors will enable action to be taken particularly in the Western Balkans and North Africa.
At the end of the day, during the Closing Session dedicated to the Ocean entitled A Blue Breakthrough, the Prince underlined the importance of the IUCN Congress as an opportunity to re-mobilise all conservation stakeholders, as well as political decision-makers and public opinion, around this major challenge for our future and that of our planet: the preservation of our seas.
"To better protect our planet from climate catastrophe, it is therefore essential that we look at the oceans and their resources and learn how to manage them sustainably. (…) This is why we must remain determined, on this subject as well as on everything else that affects the oceans and has a direct impact on our world. It is an immense challenge, scientific, economic and political, of course, but also philosophical, because we must learn to see beyond our borders, beyond our daily lives," said Prince Albert II of Monaco.



Monaco Life with Prince Albert II of Monaco Foundation press release, top photo by Axel Bastello/Palais Princier