Who wouldn't want to work in the world-famous Principality of Monaco? Apparently, not enough people in this post-Covid world. So, the government on Tuesday said it is stepping in with a new recruitment plan to help out Monaco's employers.
Three years since the coronavirus pandemic upended the labour market, restaurants, bars, hotels and casinos remain short-staffed.
Economists call it a "deep, profound" shift away from service sector work, which has altered the job-market in Monaco – and the world – possibly for the long-term.
But it is not only the hospitality sector where Monaco employers are struggling to recruit, there are also voids in healthcare, banking and several digital professions including cybersecurity, artificial intelligence and digital marketing.
Monaco will not sit idly by
"Even if Monaco offers appreciable salaries, these recruitment problems are the result of a number of factors, namely societal," said Minister of State Pierre Dartout to assembled press on Tuesday 27th June at the Ministry of State. "It is indisputable that Covid has changed the way some people, particularly the young, approach work."
The government announced that it is therefore initiating a 'Monaco pour l'Emploi' (Recruit Monaco) programme. It will be centred around a large employment forum at the Grimaldi Forum, the first of which will be held on 15th September. All the necessary players will be there: employers seeking new staff, training organisations, the state services in charge of employment and, most importantly, people looking for a job.
The second edition of the forum is already planned for March 2024, the "recruitment window" to hire seasonal workers for the summer.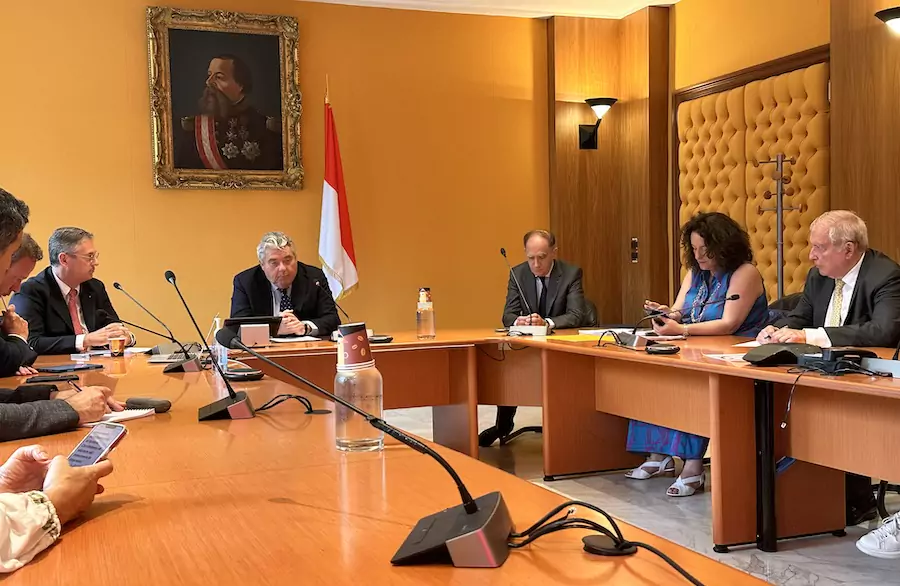 Understanding why there is an employment issue in Monaco
To better gauge the employment situation in Monaco, the government is also hosting a round table twice a year that "will allow the government and its representatives to meet employers to discuss the problems they encounter, the employment situation, and the solutions that we could consider together with the support of the government," said Christophe Robino, Monaco's Minister of Social Affairs and Health. "But importantly, it will be with the participation of employers since it is, above all, for them that we are trying to implement this new strategy."
On 20th June, the government met with 75 employer representatives at the Novotel to present its initiative. This meeting confirmed, said Robino, that the government "had to create this forum, and that we had to develop a support for employment in the Principality".
The communication campaign for the forum will be in three languages to target French, English and Italian speaking candidates.
Promoting career opportunities in Monaco
The aim, said Delegate in charge of Attractiveness and Digital Transition Frédéric Genta, is to fulfill three objectives: to ensure supply meets demand, to promote the field of possibilities in Monaco and the benefits of working here, and to show people that careers can be made in Monaco, as they are in large capital cities.
Genta says digital communication will be heavily utilised to communicate its employment drive and to sell the benefits of working in the Principality.
Building sector is also struggling
As Finance Minister Jean Castellini pointed out, the Monaco economy as a whole has rebounded significantly since Covid, with 60,000 workers employed in the private sector, but "tensions remain in some sectors, particularly construction, accommodation and catering".
Trade workers, said the minister, are proving difficult to come by, which is a big problem for a state like Monaco that is constantly under construction.
Robino announced that an agreement was about to be signed with the Chambre Patronale du Bâtiment for the co-financing of training in areas such as ironwork.
Making it easier for prospective workers
Among the biggest issues relayed by employers during the 20th June meeting: transporting and housing cross-border workers, being able to find employment for both spouses in the small state that is Monaco as well as education for children and – something which came as a surprise to the government – providing attractive salaries for bilingual workers that are currently being offered in larger cities.
"This initiative will give us the full opportunity to show that yes, it is possible to have a career in Monaco, and for us to better understand the situation between supply and demand," said Castellini.
New employment partnership
The government is working with the Pole Emploi (employment service) to offer a digital portal on which all job offers will appear, and on which anyone can register digitally. It will allow the employment services to manage applications from outside of the Principality, even if they are not a registered job seeker in Monaco.
It means that prospective workers who might not normally apply for a job in Monaco, because of their location or distance from Monaco, will be able to let the employment services know that they are willing to travel to the Principality to work.
Sign up for the Monaco Life newsletter. For the latest news, follow us on Facebook, Twitter, Instagram and LinkedIn.  
Featured image by Monaco Life.