As electric vehicles increase in popularity, Monaco has introduced a new processing unit that will help protect first responders and the population in the case of a fire.
In this brave new world of alternative energy vehicles, there are a huge amount of positives. These energy-efficient, low-emission cars, trucks, two wheelers and boats are the way forward, but this doesn't mean they have zero risk associated.
In the case of an emergency situation, notably when a battery pack catches fire or otherwise malfunctions, special procedures need to be followed to prevent a threat to not only the people working to fix the problem, but to the public-at-large.
Now, if there is a problem with a battery pack on a public or private vehicle, Monaco has the ability to handle the incident safely and quickly thanks to a treatment box which has been installed temporarily at the Fontvieille Rescue Centre.
Developed by the Monaco Fire Brigade in collaboration with Sulitec Group, the box was designed on the basis of a maritime container and responds to the operational concept that can be summed up using the theme of Isolate – Check – Treat. This chamber, unique in the world, is instrumented and intelligent and is insulated to withstand temperatures of up to 1,100°C.
The way it works is that when a problem occurs, an insulating cover is used to protect workers from electrical risks, as well as isolating the possible poisonous gasses emitting from the vehicle.
The vehicle is then transported by tow truck to the isolation box using a winch. The box makes it possible to treat the gases released by the faulty batteries as well as any liquid effluents resulting from the incident.
In this box, equipped with thermal insulation walls and multiple sensors, an automatic extinguishing device based on solid microparticles is triggered at a predefined temperature in order to stop any runaway chemical reaction.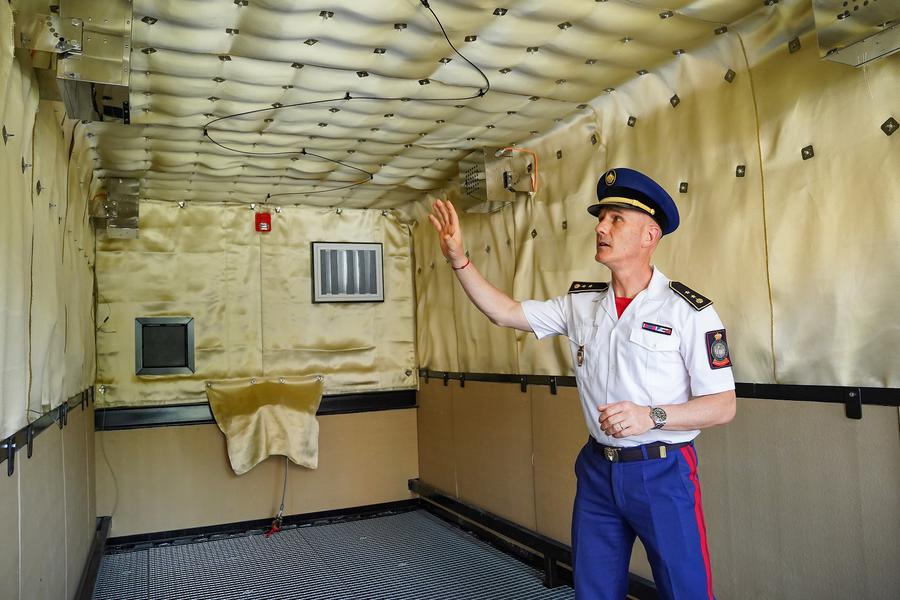 The unveiling ceremony was held on 25th May with Minister of the Interior Patrice Cellario, Senior Public Force Commander Colonel Tony Varo, Head of the Fire Brigade of Monaco Lieutenant-Colonel Maxime Yvrard, and Serge Deschamps, Technical and Commercial Manager of the Sulitec Group.
Its commissioning is fully in line with the local precept of "Safe-City" and responds to the risks associated with the development of alternative energy vehicles in the Principality, which currently represents 12% of the registered car fleet.
It will contribute to maintaining a high level of security while promoting the energy transition. During Grand Prix periods, this concept makes it possible to offer an operational response to the specific risk presented by hybrid vehicles and therefore to raise the level of safety during events that have no equal on other circuits.
Now that Grand Prix is over, the box is to be relocated to a new permanent home in the Principality for convenient use throughout the country.
Top photo by Manuel Vitali, Government Communication Department