The sixth edition of the Monaco Solar Energy Boat Challenge will take place from July 2nd to 6th in the Principality. The Monaco Yacht Club has unveiled the highlights of this major event of clean Yachting.
The objective of the event is to promote and optimise clean energy marine propulsion systems.
Launched in 2014, the Monaco Solar Energy Boat Challenge is open to the public and it is unique in the world. It brings together young engineers and industrialists to imagine the propulsion of yachting through sustainable energy.
Jointly organised by the Prince Albert II of Monaco Foundation, the Hydros Foundation and the International Union Powerboating (UIM), the Yacht Club of Monaco has unveiled its main lines.
In line with the commitment to the Principality, the challenge to competitors is significant –  to ban all fossil energy to get as close as possible to "zero emissions".
The Yacht Club is leading by example, having signed a partnership with Torqeedo, whose boats are now equipped with 100% electric propulsion systems.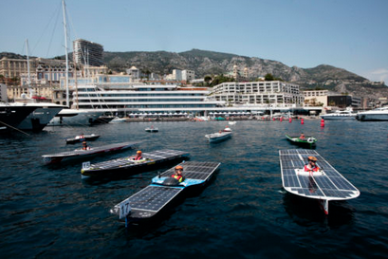 Trials will tackle three categories of boats: Solar, Offshore and Energy Class. Races in the bay of Monaco will allow all fans to admire these pearls of Yachting for a week under the sign of clean energy in the Principality.
Twenty competitors will enter the historic category of Solar Class. All equipped with the most inventive technologies, these boats are true Formula 1 seas, up to 20 knots without making a noise!
Two offshore races will also be offered from Monaco to Ventimille. Will participate the boats equipped with the new generation of electric tenders developed recently by the Yachting industry. Technology that allows them to travel up to 36 nautical miles (67 km) without fossil fuel!
Finally, created by the Yacht Club of Monaco in 2018, the Energy Class is a one-design catamaran race powered by electric or hydrogen engines. The aim is to compare the most efficient and enduring propulsion system based on clean energies. And hydrogen seems to be popular this year because of the 8 boats registered so far, three wish to work on this track of reflection that aims for energy autonomy, without emission of greenhouse gases or fine particles.
From July 2nd to 6th, the principality will once again be under the spotlight for its commitment to a clean planet. The event meets a growing craze, especially internationally. For this 2019 edition, an Indonesian team, Hydros Team Universitas Indonesia, has entered the Energy Class.