Monaco has launched the premier stage of its Smart City campaign, installing the first digital bus shelter in the Principality. The initiative will eventually be rolled out across all of Monaco providing passengers with benefits like smartphone connections and bus arrival information in real time.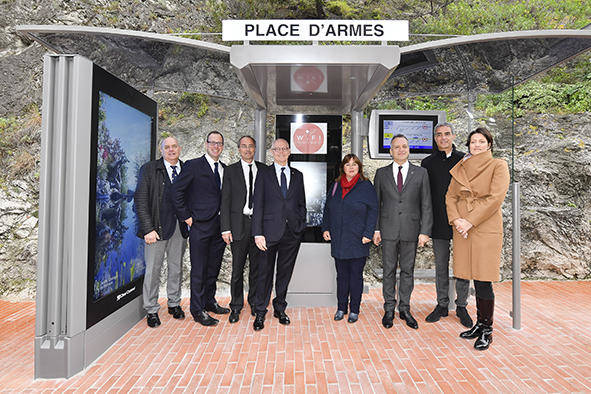 The first test shelter was unveiled at Place d'Armes on Monday 4th March in the presence of the Minister of State Serge Telle and Mayor Georges Marsan.
"Today is the first step in the development of our Smart City," said the Minister of State. "These new shelters illustrate the Administrations' commitment that it wants to maintain with users."
"These new shelters keep their primary use for passengers waiting for a bus but are also aesthetic and high tech," added Councilor Marie-Pierre Gramaglia. "They mark the evolution of the furniture of our urban landscape, which must be practical but also form part of the Smart City process."
Created by Clear Channel, the new bus shelters will have charging stations for smartphones, a double-sided advertising screen, real-time information about the arrival of buses (CAM screen), a 32-inch digital touch interface offering users access to 3 levels of services: mobility, environment and entertainment, as well as sensors to provide the government with data such as air quality. Finally, bus shelters will provide free wifi.
Out of a total of 57 shelters, 33 will be equipped with the new technology. The idea is that they will become a reference point in the city, developing a new way of interacting with users whether they are residents, tourists or commuters.
"These shelters are the first totems of Monaco's Smart City and are essential platforms to communicate and interact with the population," said Frédéric Genta. "They will have a strong impact on the transport experience, measuring the quality of life and connecting the city."
Full deployment of the new smart bus shelters will be completed by September 2019.