AS Monaco Women bounced back from last weekend's first-leg defeat against Bourges to progress to a play-off final against Toulouse, the first leg of which will take place in Beausoleil next weekend.
On a sweltering Sunday on the Riviera, fans packed into the Stade du Prince Héréditaire Jacques to spur on a side that have rarely tasted defeat this season, but did so in the first leg of the crucial play-off tie. Coming in with a one goal deficit against Bourges, the home side needed to score at least twice to progress.
The Ultras were in attendance at the match and provided a great atmosphere throughout, as the start of the match was accompanied by a smokey pyrotechnic display from their corner. Only minutes later, Monaco took the lead. Through on goal, Laura Domecq's cut back was neatly converted by Kenza Chircop to level the scores on aggregate.
Monaco got a scare just seconds later as Bourges had the ball in the net, only for the Bourges attacker to be adjudged to be in an offside position.
The pivotal moment in the game came midway through the first-half. Through on goal, Domecq was tripped by Bourges' Meta Camara, leaving the referee no choice but to brandish a red card. A player up and a goal up, Monaco were now firm favourites to grab the goal that would see them progress.
But they would have to wait for it. As Monaco midfielder Maddie Weston told Monaco Life, "You have to be patient, sometimes the easiest goals won't go in, but then the craziest ones do go in. When we do have those chances, I think we have to work harder and better to make sure they are finished because as we advance further into the playoffs, perhaps those chances don't come as often."
Domecq hit the bar from just six yards out, before Chircop's poorly hit strike from within the six yard box hit the post before dribbling agonisingly across the line and hitting the other post.
Monaco did eventually get their second mid-way through the second-half. As the 10 players of Bourges tired in the heat, the Principality side profited from their numerical advantage to create overloads. Domecq got on the scoresheet, converting Bree Fuller's cutback before Moeko Morse added a third to give the home side margin for error.
They would be grateful for it, as Monaco had to endure a nervy finish. Christelle Léger's long-range effort beat the goalkeeper and left Monaco hanging on in the dying seconds of the tie. But hold on they did, and victory leaves them within two games of promotion to D2.
Post-match manager Stéphane Guigo reflected on their comeback victory. He told Monaco Life, "We don't have the habit of losing. That gave them a shot in the arm, we got our heads right again this week and we worked hard to get the result today." AS Monaco Women's development manager Thomas Martini added, "It was a logical defeat in the first leg, we have to be honest. Today we saw more of what we've seen since the start of the season: effort and efficiency. We found a collective and that's what we lacked in the first match."
Weston added, "Losing isn't a known feeling to us, but as great as that is, it lit a fire in us. It's okay that it happens and we learn from it. It taught us to be more patient in this game and not force the ball over the top."
She continued, "We got the job done today, but we're not finished. We have two more games to win to get to our ultimate goal of getting up to D2."
Guigo is expecting a tough match against Toulouse, stating, "I think we're the underdog. It's a former professional side. They have an ambitious project. We'll welcome next week with a lot of humility. On the play-off final, Martini added, "Toulouse will be a level up. They are a team that likes to play from the back. It will be a very different scenario. In terms of quality, I think it will be 50/50. It will be the team that approaches the game the best that will go up to D2."
The fixture seems finely poised, and Monaco will be hoping to get off to a good start when they host Toulouse in Beausoleil next weekend.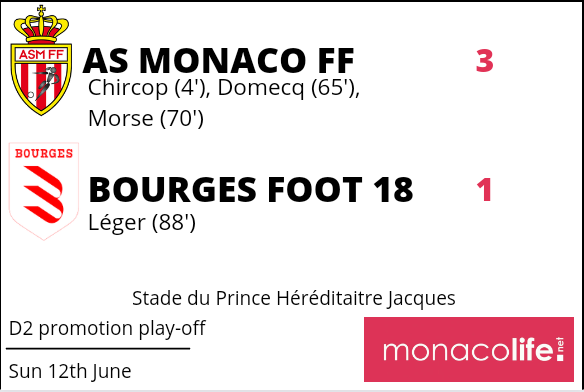 Photo by Luke Entwistle, Monaco Life