The Monte-Carlo eRally, a race exclusively for zero-emission vehicles, has begun with a bit of a soggy start, but that hasn't dampened the spirits of an event that is only growing in popularity.  
The seventh edition of the Monte-Carlo eRally, which runs until 22nd October, started from the Place du Casino at 2pm on 18th October, and serves as the eighth round of the 2023 Bridgestone FIA ecoRally Cup.  
SIGN OF THE TIMES
Even before the event had begun, its prestige and surging popularity had been proven by the fact that the organisers, the Automobile Club of Monaco, had to turn away entries this year. In the end, the rally has welcomed 60 teams from 15 countries, and 36 car models from 19 manufacturers.  
The competition will be stiff, with almost all former eRally winners participating, as well as the 2022 FIA ecoRally Cup winners, Spanish duo Eneko Conde and Lukas Sergnese in their Kia e-Niro. Additionally, the leaders of the 2023 championship, Michal Zdarsky and Jakub Nabelek of Czechia and racing for Hyundai Kona, will also be in the mix. Belgian Bruno Thiry, the European rally champion, and Italian Stefano Modena, a former F1 driver who placed third in the Monaco Grand Prix in 1989, will also take part.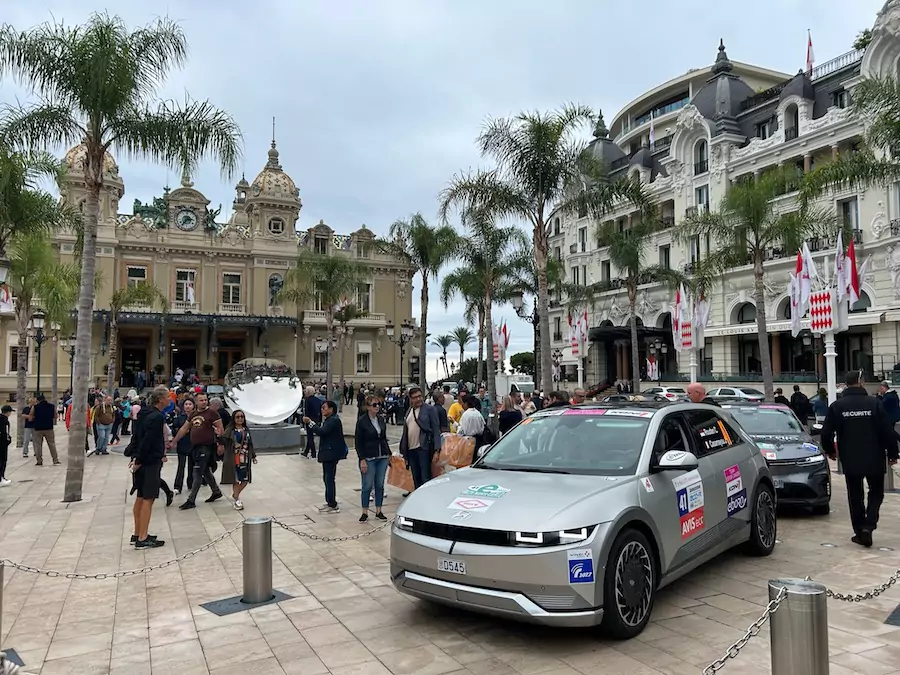 FIVE DAYS OF ACTION
The five-day race features 15 stages covering 1,000 kilometres, but this year, there is a twist. The route has been kept under wraps from the racers for the first time ever, adding a bit of zing to the event, and the special night stages will keep everyone on their toes.  
Energy management will be key to ensuring the cars have enough juice to complete stages. The rally features the usual overnight charging stations, but has added "roaming" terminals that can be used during the day as well to complement the fixed stations along the route.
The prize giving ceremony is set to take place just after lunchtime on Sunday 22nd October at the Yacht Club de Monaco.  
Make sure you're never left out of the conversation.
Sign up for the Monaco Life newsletter, and follow us on Facebook, Twitter, Instagram and LinkedIn.   
Main photo by Monaco Life