The course to set in order to become a superyacht owner representative is uncharted territory, but at journey's end, the one abiding rule is to understand the owner inside and out and to know the yacht off by heart.
There's no easy way to get there, but Owner Representative (OR) Volga Diaugo started off as a stewardess, working on 25 to 50 metre yachts for nine years. "That's how I learnt about boatsn from the inside," she explains.
She is now co-owner of The Doc Yachts Services based in Imperia, Italy. The OR's role, she says, is to cover the owner's back in every which way and do every single thing to make sure they do not encounter (or even know about) any problems on board: "With crew, with technical problems, with management, etc."
And so how, one wonders, is this different from a yacht manager? Diaugo explains, "I am in direct contact with the owner, I am their eyes, their ears. My office is right in front of their boat. The Owner Rep gives 360° support of every aspect of the yacht, whereas yacht management involves 280°. We cover everything from design stage, construction, and after sales, managing itineraries, port bookings, provisioning, technical support, everything."
Diaugo is owner representative for five vessels. She moved from Belorussia to Italy in 2005 and, as a Russian speaker, most of her owners are Russian speaking.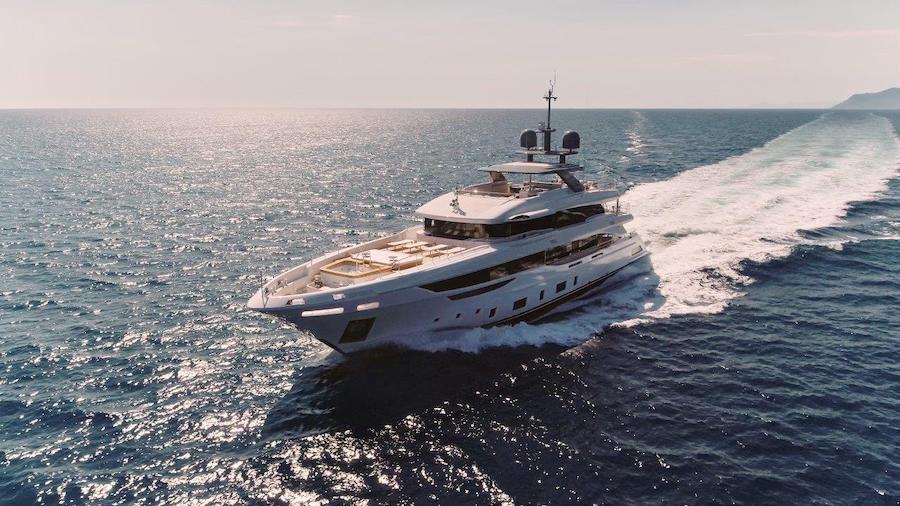 This year at the Monaco Yacht Show she represented the new flagship Class category yacht from the Benetti shipyard, the Benetti Diamond 44m. With exterior design by Giorgio M. Cassetta, the interior is the work of Benetti's Interior Style Department. With a fibreglass hull and 469 gross tonnes in weight, the yacht sleeps 10 guests in five cabins with a crew of nine. At 11 knots, she has a range of 5,000 nautical miles.
The owner, an experienced yachtsman, was heavily involved in the project build and advised the yard on the need for generous space for crew as well as owner and guests, with maximum silence and build standards.
The yacht launched in January 2020 and was delivered in Viareggio in July 2020. She is considered to be a contemporary take on a Benetti's traditional classic style.
Says Diaugo, "It all began in December 2018 when the construction contract was signed. Along with the captain, I attended shipyard meetings to source any problems and give the owner's opinions and ideas. Benetti are very professional and it was a positive experience."
Covid of course halted the build process in 2020, but not for long, and the yacht was delivered only shortly after schedule that July.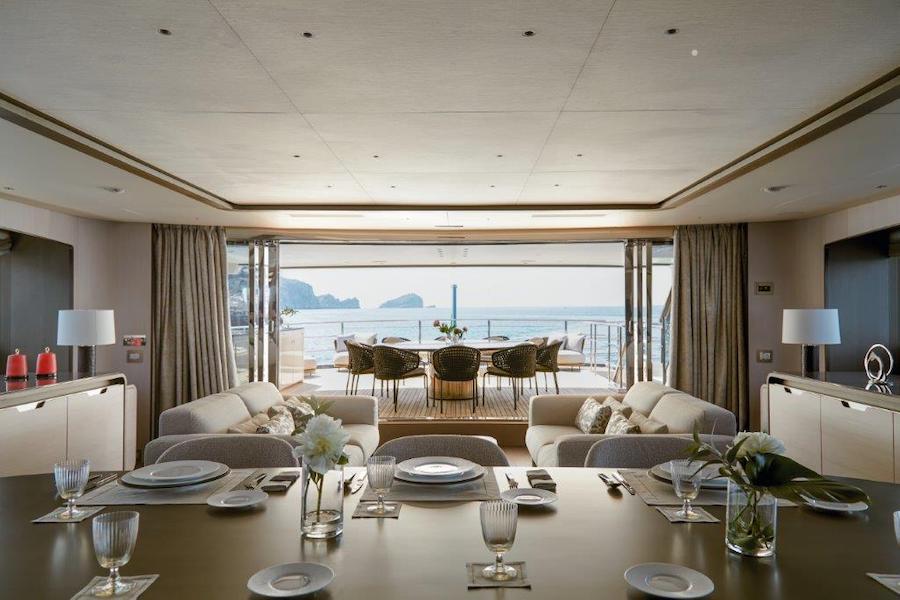 Diaugo is particularly impressed by the natural light inside the boat and the volume. "She feels like a 50m, not a 44m," she says. "She's like a daughter to me. I love everything about her. Every place you go, you find particular things, special materials. You know, on board yachts, people are always getting bruises from sharp corners when the boat is moving. But the owner and his family decided to have all corners rounded off. There are no sharp edges onboard!"
Crew and guest flows are devised to ensure maximum privacy. The 102sqm sun deck offers dining, lounging and sunbathing areas. Other features include a pool on the upper deck bow and an expansive 60m full-beam owner's apartment in the bow on the main deck. In the central section of the deck, the day area is furnished exclusively with a series of sofas and low tables.
Now with that project under her belt and constant beady eye, Volga Diaugo is working on the construction of a 76' sailing yacht by CNB shipyard, due for delivery at the beginning of 2022.

At close quarters with Volga Diaugo:
Where were you born and where did you grow up?
In Minsk, the capital of Belarus. I moved to Italy in 2005.
A happy memory?
Going to football matches with my father. I remember standing in the rain at the 1982 Russian Championships. I was six and I was happy.
If you weren't an owner representative, what would you be?
This is my dream job. I trained as a physical education teacher and I have a degree in psychology. Both are useful now, for jumping through hoops.
Your advice to someone looking for a career like yours?
Be honest, and you have to know every single aspect of the job in case the owner asks you. I had a great captain who taught me that whatever I am asked, the answer is always "Yes". And if it is not "Yes" today, it is "Yes" for tomorrow.
A difficult part of your job?
Never enough sleep. If you are not sleeping, you are always thinking of the next thing. Last year I did 60,000 km in my car – meetings with shipyards etc. – all over Italy.
The best part of your job?
Seeing the owner happy.
Of what are you most proud?
Moving to Italy. It was a decision that changed my life. I started from zero and did not speak a word of Italian.
A favourite meal?
Any Italian cooked fish. I love all Italian food.
A figure you admire?
Captain Heins Krodel, my first Captain on MY ZoomZoomZoom.
A favourite place or restaurant in Monaco?
Cipriani.