As the doors burst open on the Monaco Yacht Show 2021, you can hear the persistent pop of Champagne corks – the Show's very own music sheet, a suitable background sonata to the greetings "at a distance" and elbow "handshakes" of an industry that hasn't met up together in two long years.
As the fizz starts to flow, the elbow bumps will be replaced with backslaps, bear hugs and les bises. As a gambling gal, that's what I say anyway.
The Champagne du Comte de Monte-Carlo is the official tipple at this year's Monaco Yacht Show, and the man behind the bubbles is not the Comte de Monte-Carlo, but Philippe Melliard, President of Monte-Carlo Lifestyle.
The Comte de Monte-Carlo does not exist, but Baron Christian Louis de Massy does. He is the son of Princess Antoinette of Monaco, the Baroness de Massy and tennis champion Alexandre-Athenase Noghés, the man who created the Grand Prix.
The Baron, first cousin to Prince Albert II, created a portfolio of 34 brands under the banner of 'Monte-Carlo Lifestyle', which he sold to Monsieur Melliard. The Champagne du Comte de Monte-Carlo is part of this portfolio that was created in 2019. "Le Comte does not exist, but if he did he would be refined, elegant and ethical in all his dealings be they financial or philanthropic," saysMelliard. "We have selected Champagne from the best creators to offer unique wines belonging to a noble terroir."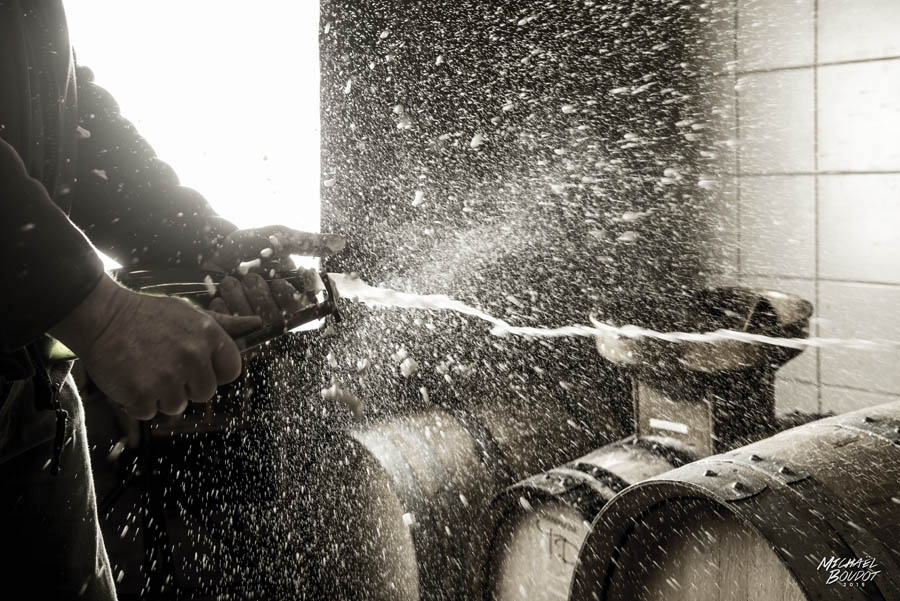 This is the first time our imaginary friend, Le Comte, and his Champagne attend the MYS with the aim of ricocheting Le Comte du Monte-Carlo Champagne into top position as the premier cru Champagne of choice. Says Melliard, "We only make premier cru Champagnes, unlike other well-known Champagne houses."
Premier cru relates to an old-fashioned system of land evaluation and potential grape growth called L'Echelle des crus. All premier cru Champagnes must be made with grapes from premier cru villages/vineyards in Champagne, of which there are 44. There are 17 grand cru villages in the region. But according to the experts, don't be dazzled by labels, let your tastebuds decide.
Melliard and the Monte-Carlo Lifestyle company have selected two particular winemakers to supply the premier cru Champagne: Olivier Herbert, whose family has been cultivating vines in the mountains of Reims for over a century, and Pierre Trichet, also from a long line of winegrowers in the Champagne-Ardenne region. "Concerned about environmental issues, the selected winegrowers have cultivated their land with love and passion for generations, committing themselves to preserving their land through sustainable viticulture methods," explains Melliard. "Our chosen partner Champagne houses all have HVE3 certification: High Environmental Value, based on results indicators relating to biodiversity."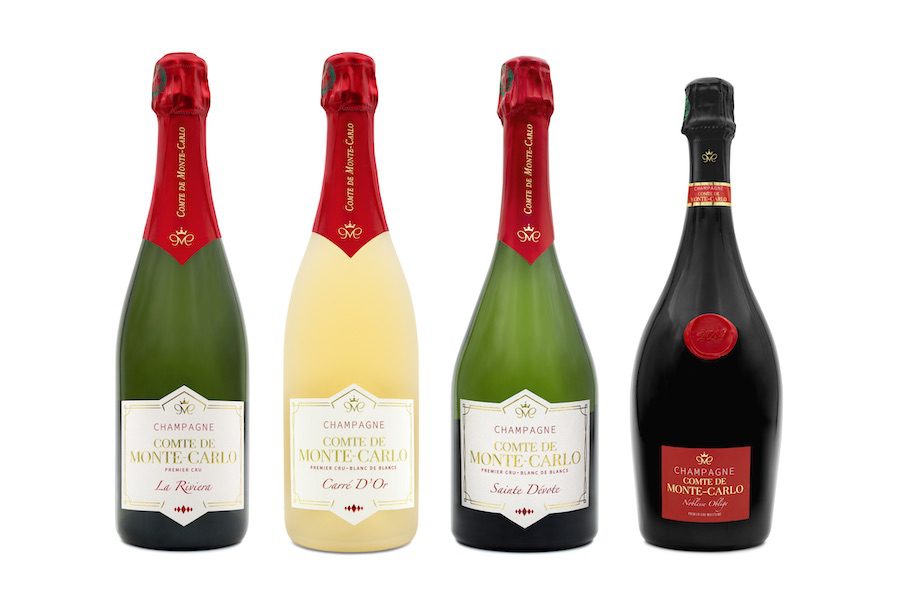 Le Comte de Monte-Carlo Champagnes and the wine-growing partners offer up four different Champagnes, each one named after iconic locations relating to Monte Carlo.
La Riviera (The Classic)
La Riviera is a blend of Chardonnay, Pinot Noir and Meunier. It is aged for four years on lees and dosed with eight grams of liqueur. Golden yellow with aromas of brioche and apricot, gingerbread and cinnamon on the palette. "It is smooth, round, a very pleasant aperitif and on any occasion," explains Melliard. Grape variety: 40% Chardonnay, 30% Pinot Noir, 30% Pinot Meunier. It was bottled by Olivier Herbert in March 2015, with four years on slats.
Le Sainte Dévote (The Bright)
Le Sainte Dévote is a 'Blanc de Blancs', thus 100% Chardonnay, and comes from the Pierre Trichet vineyard. It's been aged four years and dosed with 7.8 grams of liqueur. This one is fresh, light with notes of citrus and violet, lemon and vanilla.
Le Carré d'Or (The Radiant)
"Le Carré d'Or is a low pressure 'Blanc de Blancs' Champagne, 100% Chardonnay. Aged for three years by Pierre Trichet, the Champagne was made using a second fermentation at below three bars of pressure. It's delicate, pale in colour with lovely bubbles," explains this Champagne aficionado and businessman.
Champagne Noblesse Oblige (The Epic)
Created by Olivier Herbert, this is a blend of Pinot Noir and Chardonnay from 2010 and dosed with seven grams of traditional liqueur. Noblesse Oblige is complex and gourmet, says Melliard, with notes of truffle and walnut oil, good as an aperitif or can stand up to the gastronomy of great starred restaurants. "It's lively, greedy and complex which makes it an unforgettable experience."
If you dig a little deeper to get just a hint of the secrets of Champagne production, Mr Melliard is giving nothing away: "Then it wouldn't be a secret!", he says. But he will say that the Comte du Monte-Carlo will launch a limited Champagne collection at this year's Monaco Yacht Show. So, Santé!
At Close Quarters with Philippe Melliard
Where were you born?
I was born in Lausanne, Switzerland, but I spent all of my childhood at Villars-sur Ollon in the Swiss Vaud Alps.
A happy memory?
Walking in the mountains with my dog, Mico.
If you weren't President of Monte-Carlo Lifestyle, what would you be?
A mechanic.
Your advice for someone seeking a career like yours?
Tenacity.
The worst time of your career?
The financial crisis of 2008.
The hardest part of your job?
Having to choose between different Champagnes!
The best?
Tasting the Champagne.
Of what are you most proud?
I'm proud of my extraordinary Champagne, worthy of any table.
A favourite meal?
Rösti
A person you admire?
Churchill!
A favourite restaurant or place in Monaco?
Maya Bay or restaurant Avenue 31.