Glorious food is a far-reaching fundamental on a superyacht and a talent for tickling the taste buds is essential. It's not surprising then that yacht chefs vie for top spot as the 'most important person onboard' (and quite often are).
Will Fiddy is Head Chef on board 82m MY Grace. His passion for food is what eventually shipped him on to superyachts after training at Norwich Catering College in the UK, followed by a stint working in private catering.
"I started washing dishes for my local restaurant at weekends," explains Fiddy. "I loved watching the passion and hard work the chefs put into the food and I wanted to be apart of it."
He learnt about yachting whilst working a winter season as a chef in a ski resort: "It was something I was always keen on and when my wife left university, we took the risk and headed out to Antibes to find a job."
Fiddy has been in the industry eight years and previous yachts include MY New Hampshire and MY Mary Jean II. Memorable highlights include cruising the Amalfi coast and going through the Panama Canal.
Fiddy get his kicks from the enjoyment people have while eating food and he loves to be able to provide them with that experience. And with constant changes to food trends, there is always a new set of skills to learn that keeps the job exciting and challenging.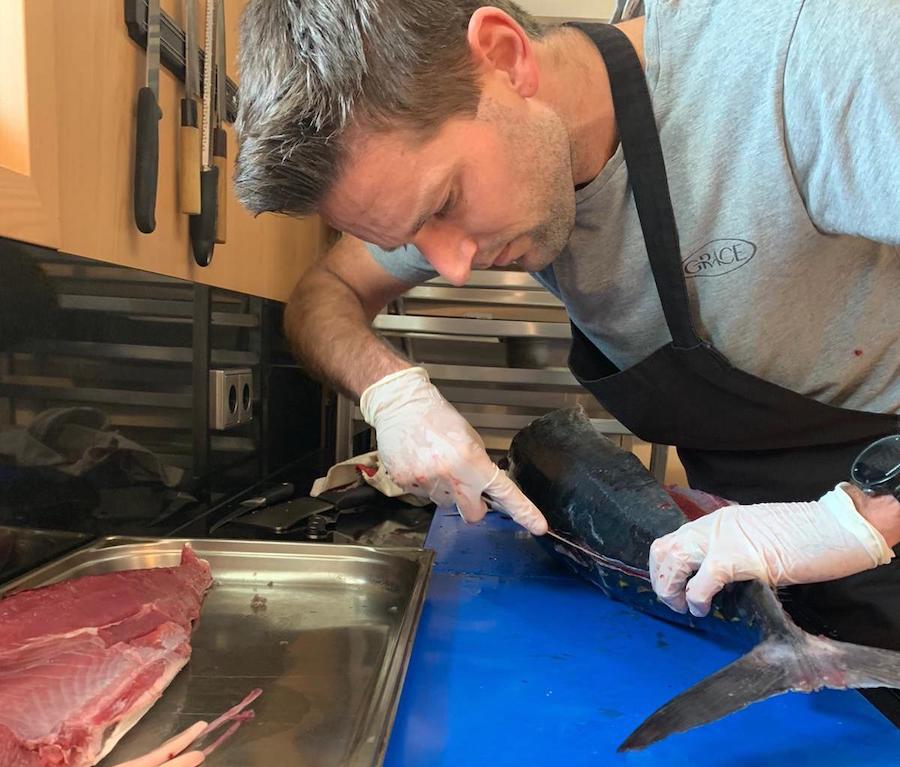 The Covid pandemic was a particular challenge to yacht chefs and threw up problems with provisioning, travelling, recruiting and doing courses. That aside, in general, chefs need to adapt, adjust, create and be ready for ever-changing dietary requirements of guests and crew.
"As an example," he says, " Vegan/vegetarian food is continuously evolving and you have to adapt, learn and change the way you look at this. Michelin starred restaurants are leading the way in this area. They are using more vegetables as the star ingredient to showcase what can be done with them, instead of an expensive piece of meat or fish. One three-star restaurant has changed its whole menu to vegan because they believe it's possible to achieve this standard of food with this cuisine."
So, as superyacht chefs get ready for the onslaught of non-stop parties and soirées at the Monaco Yacht Show, Head Chef Fiddy throws his top canapés tips into the ring: Curried Beluga Lentil Panpuri or Wild Mushroom Scotch Quail Eggs. His recipe for eight little warm chocolate fondants is below.
And what is his favourite recipe to cook? "A teppanyaki night would be my favourite as it's a great way to interact and cook in front of the guests, and sushi is always a winner for the crew."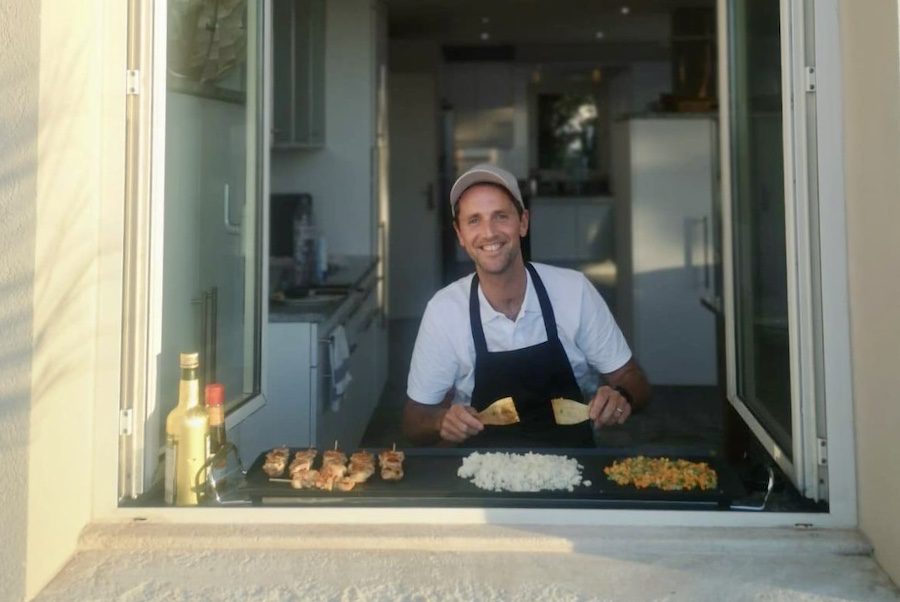 At Close Quarters with Head Chef Will Fiddy
If you weren't a yacht chef, what would you be?
Probably a butcher as it's the family business and something I've always been passionate about.
What is your advice to someone wanting to have a career like yours?
When becoming a yacht chef, enjoy the experience, it's very different to being a land-based chef. Work with an experienced yacht chef, go to the markets and see the local produce, eat out and experience the local cuisine when you have the opportunity. Most importantly, be a good crew member, you will work very closely with the crew and having a good relationship with them is essential to having a successful charter. Oh, and if you are sea sick then the galley isn't a good place to be so maybe this isn't the job for you!
What was the worst moment of your career?
I wouldn't say worst, but the most challenging would be my first two seasons on smaller boats. Working in a new environment which had very little space and different charter guests each week was difficult.
The most difficult part of your job?
On a personal note, being away from my family for long periods of time. From a work perspective, it would be provisioning, especially in remote locations. Having a good agent/supplier and well-stocked stores is vital to having a smooth trip. Cooking in rough seas and the endless amount of time washing dishes also makes the job a little bit more challenging.
The best part?
Having a great sous chef. Having worked on other boats as sole chef, it's a game changer having another chef on larger boats. Also, being lucky enough to work with the finest produce available to create the ultimate culinary experience.
What are you most proud of?
Taking the risk and deciding to do yachting. It was a massive moment in my career and it took me out of my comfort zone. I also got to experience the first four years doing the job I love alongside my wife.
Your favourite meal?
Every chef's worst question, it's impossible for me to have a favourite meal. I love too many.
A figure you admire?
My dad, he has shown me that with hard work and dedication to your trade you can achieve what you want in life. He still works just as hard now as he did 30 years ago because he's passionate about what he does.

Will Fiddy's Chocolate Fondant
3 Egg Yolks
3 Whole Eggs
200gr Caster Sugar
75gr Plain Flour
150gr 70% Dark Chocolate
150gr Unsalted Butter

Method
In a bowl over simmering water melt the chocolate and butter together.
In a kitchen aid with a paddle attachment slowly combine the eggs and sugar together until well incorporated.
Slowly add the melted chocolate and butter to the eggs and sugar and mix well on a medium speed.
Stop the machine and sieve the flour into the mix.
On a slow speed fold in the flour but be careful not to over mix the mixture.
Chill the mixture in the fridge for 1 hour and then weigh 80gr of mixture into 8 pre buttered and cocoa powdered tin moulds.
Bake at 180c for 9 minutes.
Use a pallet knife to loosen the side and then dust with cocoa and serve with vanilla ice cream.