In 2019, shortly before the world locked up and we all thought someone had thrown away the key, two people were busy co-founding a business designed to track and trace more than 1,000 invisible pathogens by monitoring both air and surfaces.
Entrepreneur and scientist Sam Molyneux and entrepreneur and technology expert Elizabeth Caley founded Poppy in the USA along with a team of experts in the fields of infectious disease, health security, bioaerosol physics and microbiome metagenomics.
Meanwhile, on the other side of the Atlantic, Will Faimatea, Founder and Director of the technology management and consultancy firm BondTM, was looking into air quality on yachts. "I read that humidity and temperature were measured on board yachts and I figured more could be done," says Faimatea.
One day, a mutual friend put Sam Molyneux and Will Faimatea in touch and after one phone call, they knew they were onto something. Says Molyneux, "That was a game-changing moment. We'd already thought of cruise ships but not yachts and the conversation with Will was transformative."
Bond TM and Poppy are now partners in bringing the pathogen testing device to the Côte d'Azur and the superyacht industry. "Our presence at the Monaco Yacht Show represents our first launch outside America so it is very important for us," explains Poppy Co-CEO Elizabeth Caley. "We're very keen to make the invisible visible to the yachting industry."
This year will be Will Faimatea's eighth year at the MYS and he is pleased the show is going ahead: "We'll just have to work around the restrictions, but it couldn't be more topical this year with the pandemic and with Poppy. From that perspective, I'm very enthusiastic about moving forward."
Says Molyneux, "There's an urgent need to improve safety in indoor spaces, and Elizabeth and I are looking forward to introducing Monaco and the yacht industry to our pathogen security system and telling the story of what is possible when you bring biotechnology to indoor spaces, whether they are at sea or on land. We are also keen to learn how we can support the region and yachting in general. I'm positive there will be a lot of receptivity from yachts hoping to create safer voyages."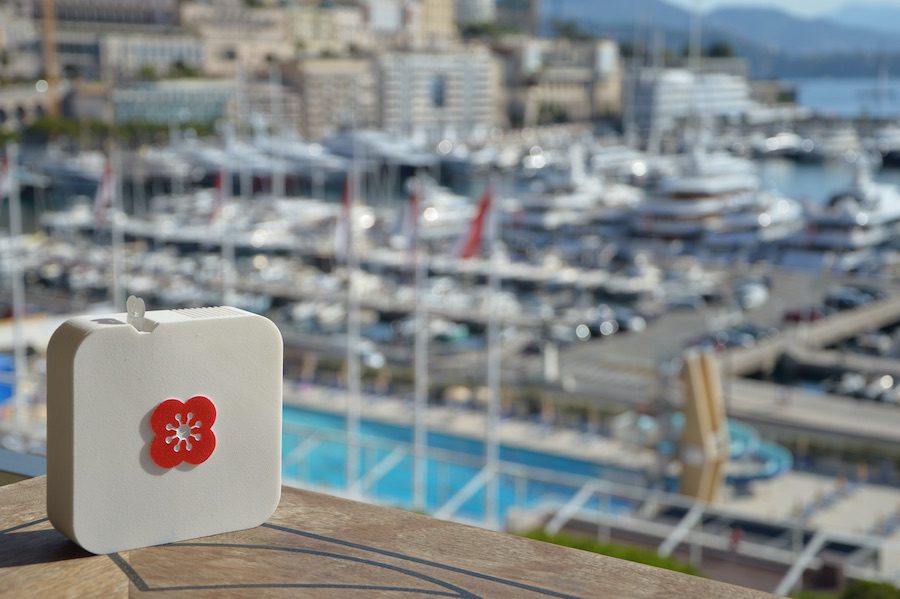 So, what is Poppy? Simply put, the aim of the Poppy device is to make the invisible visible, which the company already does for a variety of spaces such as offices, airports and large performance spaces in America.
The same technology is now available to ships and yachts at a time when it has never been more challenging to navigate airborne infection risks. The detect and monitor device can also be used to identify molds, pests, food-borne bacteria and pathogens like salmonella. "Our ultimate goal," says Molyneux, "is to produce something that we can call infection-resistant ships that ensure safe voyages for guests, crew and vessel."
This is done by installing a 'collector' device on the yacht that takes samples from the air. The device spits out a DNA tracer created by the Poppy scientists that circulates the yacht in the same way that human breath and pathogens do. "With our technology, such as genetic sequencing and computational analysis, we can map and measure how pathogens move in invisible ways throughout the indoor space," explains Molyneux. This gives analysts a perfect image of airborne pathogens and it also reflects how ventilation and other safety measures are working onboard.
The second part of the process involves collecting samples of the air in cartridges on an ongoing basis and when the yacht comes to port a biotechnology lab will analyse the presence, identity and changes of 1,000 health related organisms.
The first lab will be based in Monaco and, in close collaboration with BondTM, will eventually role out across the Mediterranean.
A presentation of the track and trace device will take place at the Luxury Lounge next to Steak and Shake on the evening of Friday 24th September.

At close quarters with: Will Faimatea, Founder of BondTM
Where were you born?
Revesby, near Sydney, Australia.
If you weren't Founder of BondTM, what would you be?
If rotation existed back when I worked on yachts, I'd still be an Electro Technical Officer on a superyacht.
What's your advice for someone looking for a career like yours?
Be inquisitive, and do what you do better than it's been done before.
Worst career moment?
When you start your own business, you have to get out there and do public engagements. I remember dreading the Superyacht Forum, but I'm much better now.
Most difficult part of your job?
Weaving through the business of politics. Sometimes there is a curtain, and you don't know what's behind it.
Best part?
Working with great partners like Elizabeth and Sam!
What are you most proud of?
I'm proud of developing BondTM to a place where a company like Poppy would consider us as a partner.
Favourite meal?
Veal milanese.
A figure you admire?
Michael Jordan and his single-mindedness.
Favourite restaurant in Monaco?
Caffé Milano or the Quai des Artistes.


Top photo: Will Faimatea on the left, Sam Molyneux on the right