Since Thursday, April 4, the Israeli company El Al serves the Nice Côte d'Azur airport, with three frequencies per week – Tuesdays, Thursdays and Sundays. The connections are made by B737-900, with 172 seats including 16 Business, or by B737-800, with 154 seats, including 16 Business.
The arrival of the first flight on the azure tarmac gave rise to a traditional "Water salute".
This third regular airline on the Tel Aviv destination highlights the very strong dynamism of trade between Nice and Israel . After a 31% increase in the number of passengers on this route in 2017, a record + 53% was recorded in 2018 to nearly 60,000 passengers.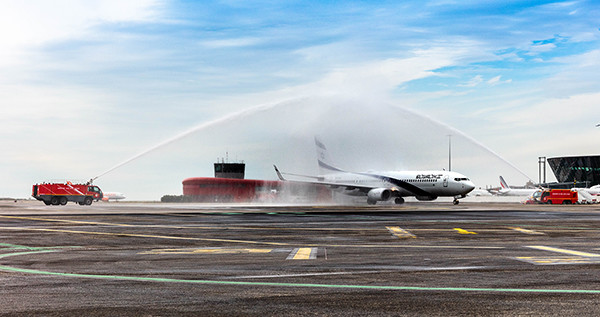 The reasons for travel are mainly tourism (40%) and visiting relatives (55%), while business trips represent 5% of traffic.
With a short-term potential market estimate of 100,000 passengers per year, the link looks promising.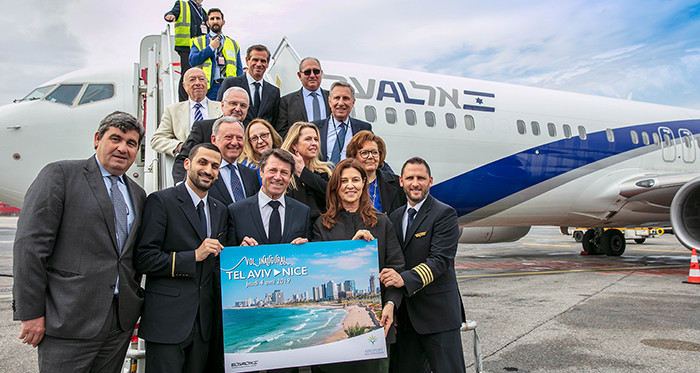 Dominique Thillaud, CEO of Airports of the Côte d'Azur, said, "The arrival of El Al on our platform, in the presence of Her Excellency Aliza Ben Noun, Israel's ambassador to France, is a mark of confidence that we thank her for.
"She joined our ambition of ever more densely connect our region to the world, and more broadly to build bridges between all territories by offering travelers a quality alternative to major North European hubs."