Sasa Obradovic's first game back as coach ended in victory, as AS Monaco Basketball secured a dramatic overtime win in the Euroleague, beating Lithuanian side Zalgiris 98-107.
Wednesday night's victory in the Euroleague brought two unwanted runs to an end, as the Roca secured their first win in six attempts in the competition, whilst also registering their first away win in any competition since late October.
The Roca side showed great character to secure the win, having conceded a demoralising, on-the-buzzer equaliser, which gave the Lithuanian side the momentum going into overtime. This mental fortitude greatly impressed the new coach, as Obradovic said after the game: "It is difficult mentally to come back and play well in overtime after having conceded the equaliser in the last second… They showed very good character."
It was largely thanks to Mike James who was formidable throughout the night, scoring 20 points and getting Monaco off to the perfect start with an early field goal. Rob Gray and Dwayne Bacon then chipped-in with their own field goals to open-up a healthy, early lead, from which the Lithuanian side ultimately couldn't recover.
Monaco's 12-3 overtime victory followed the pattern of the second-half, in which both teams had dominant quarters. This was in stark contrast to a first-half that was tightly contested throughout and in which no side managed to open up a sizeable lead.
Coming into the second-half with a minor deficit to overturn, Zalgiris, with an exhibition in outside of the key finishing, not only overturned the deficit but also began to build a lead. Janis Strelnieks was pivotal to the comeback, the Latvian converting an impressive 5/7 3-pointers.
Having the lead going into the second-half, Monaco now had a nine-point deficit to overturn. Playmaker James, who was on fire following his return from injury, immediately set about pulling the Roca team back into the game, nailing a three-pointer early-on. A mixture of indiscipline on Zalgiris' behalf, and the influential play-making efforts of James who was spraying decisive passes around the court, overturned the deficit and opened up an 81-87 lead with five minutes to go.
As the buzzer approached, Zalgiris came back into the game and, with only a second to spare, benefited from Gray's missed free-throw to convert a field goal of their own to take it into overtime. But Zalgiris' late rally was in vain, as Monaco's new-found resilience was enough to take them over the line.
Giving his first post-match press conference since his return, Obradovic was pleased with the win regardless of how it was obtained, saying, "I am very happy with this victory. The way in which we won is secondary… We dominated in overtime and we deserved to win."
Obradovic will now be looking forward to his return to the Salle Gaston Médecin on Friday night where he is certain to receive a warm welcome from the home fans as his side come up against a strong Zenit.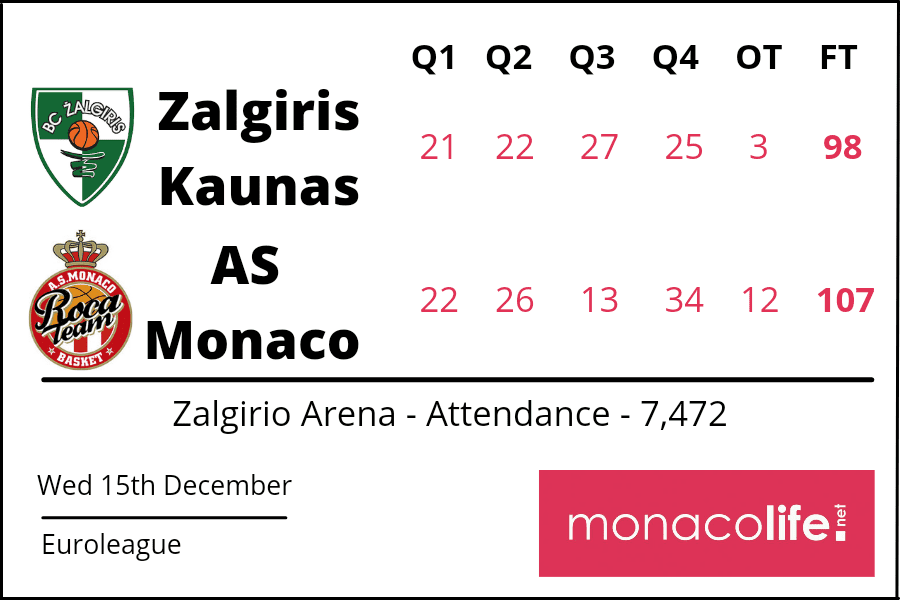 Photo source: AS Monaco Basketball