An imposing AS Monaco Basketball secured a high-scoring victory against Chalons-Reims (90-107) on Tuesday, stretching their seven-match winning streak in the Betclic Elite, whilst securing their 11th victory in 12 in all competitions.
It was an attacking performance from a Roca Team, who could once again count on the expertise and guidance of coach Sasa Obradovic, who made a return to the bench having been ruled out by illness over the weekend.
This game, however, was decided by a stout defensive performance in the third-quarter, which allowed the visiting side to create a lead that couldn't be overturned by a Chalons-Reims side that fought valiantly throughout as they battle to remain in the division.
Obradovic's men didn't register fewer than 24 points in any quarter, but it was their defensive fragility that allowed Reims to stay in the hunt in the opening two-quarters. Donatas Motiejūnas (17) was his prolific self within the key, whilst in the absence of Mike James, Paris Lee stepped up to become Monaco's leading source of creativity (9 assists) and of points (21).
It was not until after the return from the changing rooms after half-time that the Roca Team's offensive barrage would manifest into a lead. A 16-0 from Monaco early in the third-quarter provided a fatal blow. It was the usual suspects Lee and Motiejunas who were the architects of that run, whilst Ibrahima Fall Faye also made his presence felt on the court.
Although that defensive sturdiness wasn't carried into the final-quarter, the offensive might of the Roca Team was enough to grow the gap further (26-31) as they came away with another comfortable victory (90-107). Obradovic's men remain hot-on-the-heels of Boulogne-Levallois at the top of the Betclic Elite, with only points difference separating the sides.
Monaco next face Alba Berlin at the Salle Gaston Medecin on Friday in the Euroleague, with play-off qualification already achieved, the pressure is off the Roca Team, who will nonetheless be pushing to extend that impressive recent record.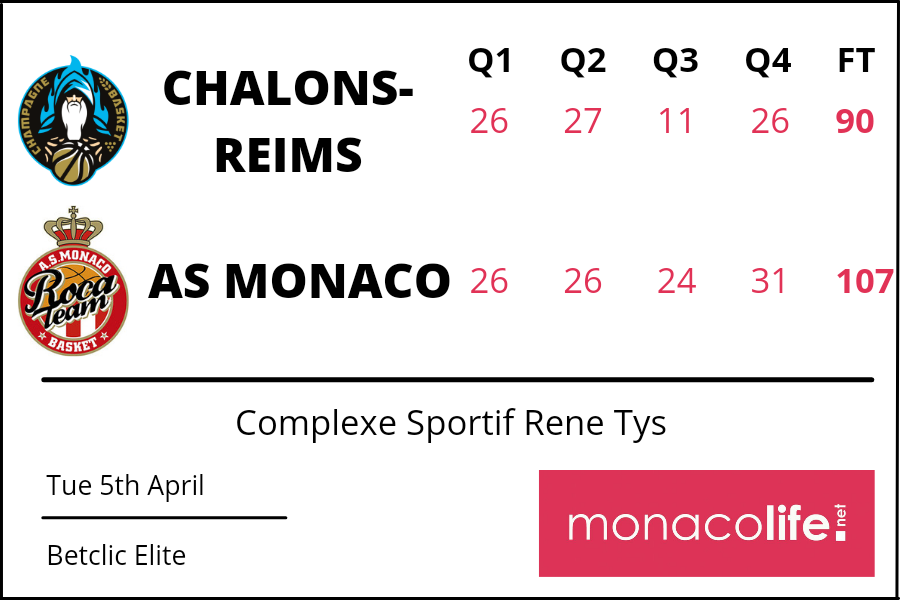 Photo source: AS Monaco Basketball