At the invitation of Mr. Ram Nath Kovind, President of the Republic of India, HSH Prince Albert II traveled to New Delhi on 4 and 5 February 2019 to make an official visit combining economic and environmental meetings. and diplomatic relations with the highest authorities of the state.
On Monday, February 4, early in the afternoon, the Sovereign Prince hosted the Indian Federation of Chambers of Commerce and Industry (FICCI) and the Monaco Economic Board (MEB) which brought together business leaders of the two countries (about thirty Monegasque entrepreneurs), in the presence of Mr. Suresh Prabhu, Indian Minister of Commerce and Industry and Civil Aviation and Mr. Gilles Tonelli, Government Counselor – Minister of External Relations and Cooperation of the Principality. A Memorandum of Understanding (MOU) has been signed between FICCI and MEB on increased cooperation and exchanges between the two entities.
In the late afternoon, HSH the Prince and the leaders of His Foundation (FPA2) participated in a conference on the theme "Energy and Climate" organized by The Energy and Resources Institutes of New Delhi (TERI). A MOU was also signed at the end of this meeting.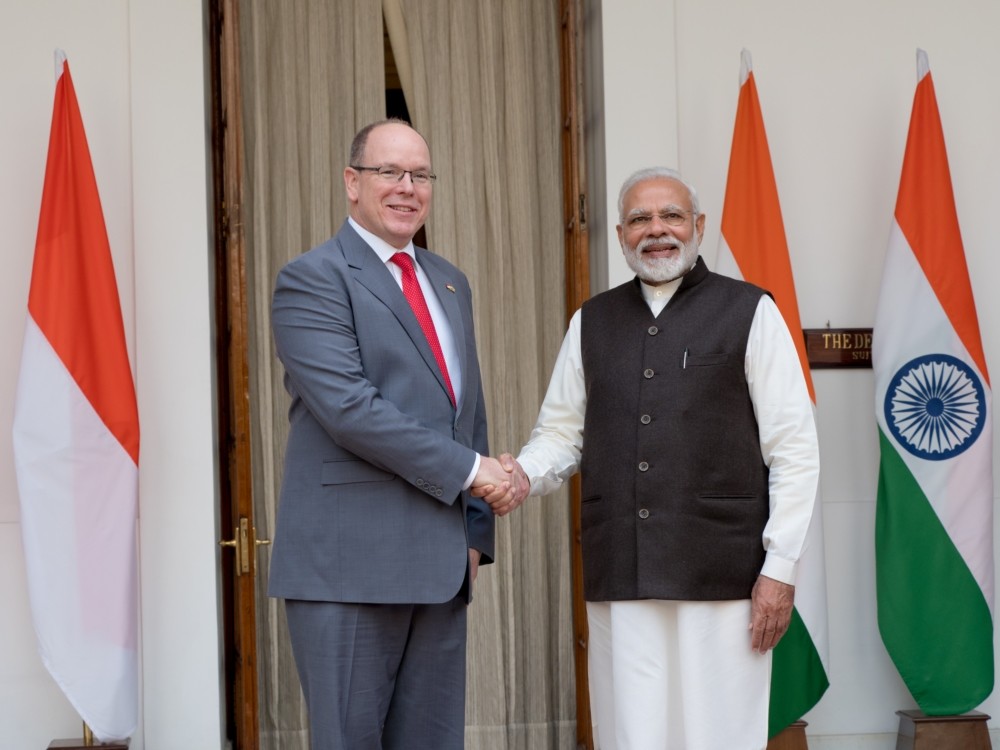 In the evening, a private dinner in honor of His Serene Highness was offered by Mr. Raja Randhir Singh, Honorary Member of the International Olympic Committee.
On Tuesday, February 5, in the morning, HSH Prince Albert II visited the Raj Ghat, memorial dedicated to Mahatma Gandhi, the father of the Indian nation. The Prince, accompanied by his delegation, took refuge there and then laid a wreath in tribute.
The Sovereign Prince then met the highest authorities of the country. He was first received in audience by Sushma Swaraj, Minister of Foreign Affairs, and Prime Minister Narendra Modi. Then, the Sovereign went to the Presidential Palace called "Rashtrapati Bhavan", residence of Mr. Ram Nath Kovind, President of the Republic of India since 2017. After an audience with the Indian President, the Prince planted, in the beautiful garden of the residence, a rose "Princess Grace". At the end, a lunch was offered by President Kovind to the delegations of the two countries who were able to exchange on this occasion.
In the afternoon, the Prince went to the National Gandhi Museum and then presided over a reception organized by the Monaco Embassy in India where a hundred Indian and Monegasque personalities were invited.