A mid-race mechanical failure ruined Charles Leclerc's otherwise flawless weekend in Spain, as Max Verstappen took victory on Sunday and moved into pole position in the drivers' standings.
Leclerc looked to be cruising to the chequered flag in Barcelona. Having taken pole, he also had the race pace to match as he cut off a Verstappen charge off the line, before growing a lead. Leclerc's Ferrari team-mate Carlos Sainz didn't have such a serene run off the line as he immediately lost places to George Russell and Carlos Perez, who both collided at the first corner, without consequence for either driver.
Lewis Hamilton, meanwhile, had a disastrous start, colliding with the Haas of Kevin Magnussen, receiving a puncture, and limping back to the pits in 19th position. Sainz's poor start was then compounded by a spin on lap seven, which demoted him to 11th.
Leclerc's lead looked definitive on lap nine when Verstappen spun at the same corner as Sainz had just two laps earlier, which saw him fall behind Russell and team-mate Perez. With Verstappen out of the picture, Leclerc grew a lead of 30 seconds before coming into the pits.
It was looking like a comfortable victory for Leclerc, which would not only substantially grow his championship lead but also deal a psychological blow to his rivals before he heads to his home race in Monaco next week.
That all changed at the halfway mark, as Leclerc slowed on the track, the terminal words, "I have lost power" confirming his retirement – the face of the race, and of the championship, significantly altered by a moment of cruel misfortune.
Verstappen was now reinvigorated and smelt his chance. He immediately went for the undercut. Putting on the softs, he began his charge into the lead. He comfortably took Valterri Bottas to claim third, and following pit stops from Russell and Perez, he took the lead.
Verstappen still needed to make another stop, but came out ahead of Russell. Having closed in on Perez, his teammate let him breeze past to take the lead of the race; a leap which he never looked like relinquishing.
Perez held onto second and Russell onto third. The remarkable drive of the day belonged to Hamilton, whose charge from the back of the pack was rewarded with a fifth-place finish. He had temporarily passed Sainz, but due to a technical issue, had to ease off at the end of the race, allowing the Spaniard, competing in his home race, to re-take fourth.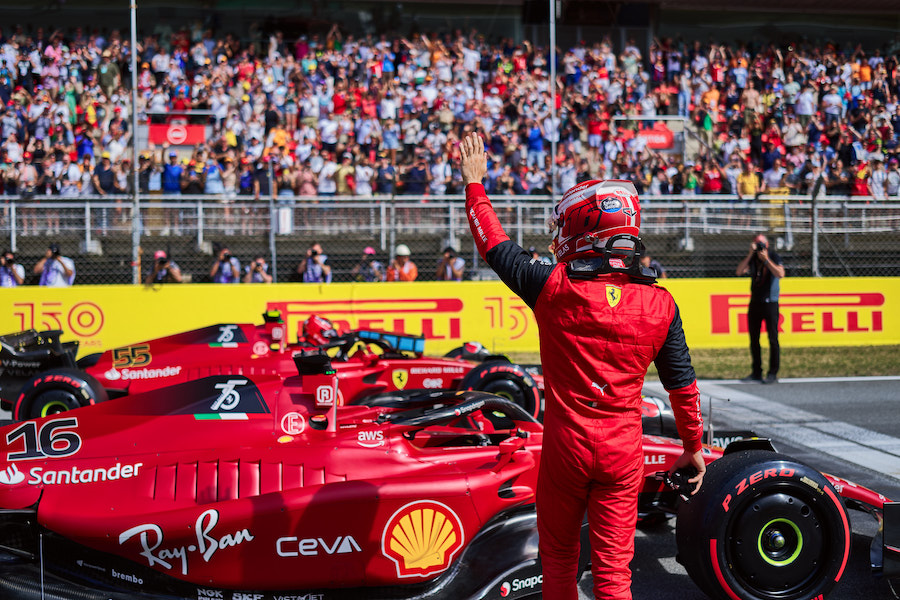 Leclerc, for the first time this season, has now, through no fault of his own, ceded his championship lead. Verstappen now leads by six points from Leclerc, and the Dutch driver has four wins to Leclerc's two.
However, post-race Leclerc was determined to stay positive. "So far this year, the team has been doing an incredible job in terms of reliability. Of course, this one hurts because we were in front all weekend and worked really well," the Monégasque began. "I know that things like this can happen sometimes and in moments like these, it is important to look at the positives. Our pace was very strong in qualifying and in the race and the feeling in the car was really good," said Leclerc.
But things aren't all positive. Ferrari may have had pace here in Spain, but it is important to profit from it when the pendulum seems to swing between the Red Bull and Ferrari on a weekly basis. The Red Bull, as they have throughout the season thus far, will likely hit back in the next races, as they bring upgrades of their own. The Mercedes, meanwhile, looks like it may finally be joining the party. They may not be immediately in the hunt for race wins, but at the least, they are challengers for the podium positions. Russell in particular is only 30 points behind Leclerc, whilst you would expect the experience of Hamilton to allow him to close in on the leading pack.
To re-affirm himself as the title favourite, a solid showing on home turf is a must for Leclerc, and he is relishing the task, despite lacking luck at Monte-Carlo in recent times. "Next up is my home race in Monaco, so I'm really looking forward to it and I hope that it will be a good one," concluded Leclerc.
Stay tuned to Monaco Life as we interview Charles Leclerc ahead of the weekend's Monaco Grand Prix!
Photos source: Scuderia Ferrari Press Office