Monaco's youngest citizens have been treated like little princes and princesses at the annual kids Christmas bash at the Palace, a tradition started by Princes Grace more than 50 years ago.
More than 600 children, ranging in ages from five to 12 years old, were invited to the Palace on Wednesday 18th December to celebrate an early Christmas with the Sovereign Prince, Princess Charlene and Princess Stephanie's daughter and son, Camille Gottlieb and Louis Ducruet.  
The children, all adorned in white elf hats, were first treated to a show by a group of young dancers dressed in traditional Monegasque costumes with little fur trimmed capes, to add a holiday touch. Then they got to see a hip-hop dance performance in the Throne Room, a decidedly modern addition to this traditional event, which dates back to the 1950's.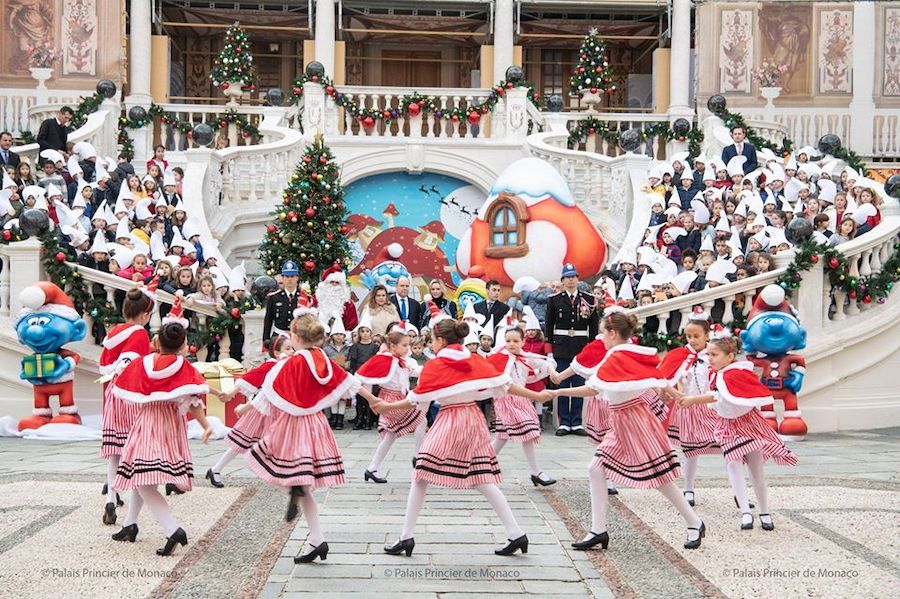 The kids moved onto the main event, where they received gifts and treats from the Sovereign Prince, the Princess, Ms Gottlieb and Mr Ducruet.
This custom is unique amongst European royals and is certainly one of the most-beloved. Princess Grace started the tradition when she was still new to Monaco and opened the Palace to underprivileged children for a special afternoon. It was a hit with the kids, no surprise there, and she and Prince Rainier III decided to make it a yearly event.  
The whole Palace springs into action weeks before the event, preparing gifts and entertainment – which has progressed from Princess Grace pulling strings in Hollywood to obtain old Disney cartoons to show, to today's live spectacles.
The Grimaldi family has also sent out Christmas cards, this year featuring Princess Charlene in a stunning red gown, the Prince looking casually smart and the twins as cherubically adorable as ever.
Photos: Prince's Palace Facbook page, © Eric Mathon/Palais Princier