As players return to training, AS Monaco sporting director Paul Mitchell speaks to the media about the record fee for Tchouaméni, other transfer objectives, and the club's pre-season activities.
Monaco's exploits in the 2021/22 season still linger fresh in the memory, but an early start to the season due to a Champions League play-off tie in early August means players have already returned to training. Monaco Life attended Philippe Clement's men's pre-season preparations in La Turbie on Tuesday, before sporting director Paul Mitchell fielded questions from the media.
Now that Aurélien Tchouaméni has been sold, are AS Monaco going to be making moves in the transfer market?
It feels like it hasn't been a long break, we were here only a few weeks ago discussing the end of the season, and we're already in a new season. At that point we were discussing Aurélien Tchouaméni. I think we all saw how fast and aggressive Real Madrid came to acquire his services. As an old season closes, a new season begins, and we're always active and looking to strengthen what is a very good and ambitious young squad.
Monaco Life: Are you happy with the fee you achieved for Tchouaméni and what type of player are you targeting to replace him?
In terms of market value, I think usually a value of this kind and of this volume is created by the champions league. Unfortunately, over the last two years we haven't managed to force ourselves into that competition. We're looking forward to trying to do that again this summer. I'd suggest that it's a value of the highest regard. Usually what this club has shown when it has accumulated similar values in the past, it has been done by doing extremely well and getting to the knockout stages of the Champions League and individuals doing well within that competition. To be able to do that and receive what we have, I think is a great job by all.
I think Aurélien deserves a great opportunity. I would say we're happy all round from an organisational point of view. We will look for the same profile. There are reasons why players go for the price that they do and it's because they're very hard to replace like-for-like. I think there is competition internally with Eliot Matazo with young Soungoutou Magasa and young Mamadou Coulibaly, who is also a very exciting prospect. Youssouf Fofana had another excellent season from January to May and we also have Jean Lucas.
We'll be active in the market. We'll be looking at more of a defensive six element, which is what Aurélien gave us. The idea as always is to strengthen the holistic, the whole squad. We've got so much football to play and the squad have come back in great physical condition. We need to make sure we have a great squad this summer, not just great individuals.
It's a packed schedule to begin the season, what needs to be done this year to prevent the errors made last season?
I think we need to be prepared and be in our best mental and physical condition. I think we have to learn from last season's experiences: how we prepared, the games we played in preseason, the volume of work we did in pre-season, and utilise the experience that this group now has. It's two years older than when I first arrived. It went through something similar last year, which will help us this year to approach these preparations better and show the best qualities we can. We finished the season in such a strong way, and we need to pick up where we left off.
As you got such a big fee for Tchouaméni, does that mean that you can resist approaches for other players such as Benoît Badiashile?
I think we have a very ambitious shareholder (Dmitry Rybolovlev). I think we were very clear towards the end of the season that it would take an important offer to lose any of our players and we feel that Real Madrid created that important offer, with the size and volume of what they did. That will be the same for every player. The shareholder wants to be successful, he wants to also be sustainable and we have to balance both of those elements the best we can. If people are genuinely interested in our players, and I think we have some exciting profiles in the European market, they will also have to come with an important offer to make him part ways with his talent.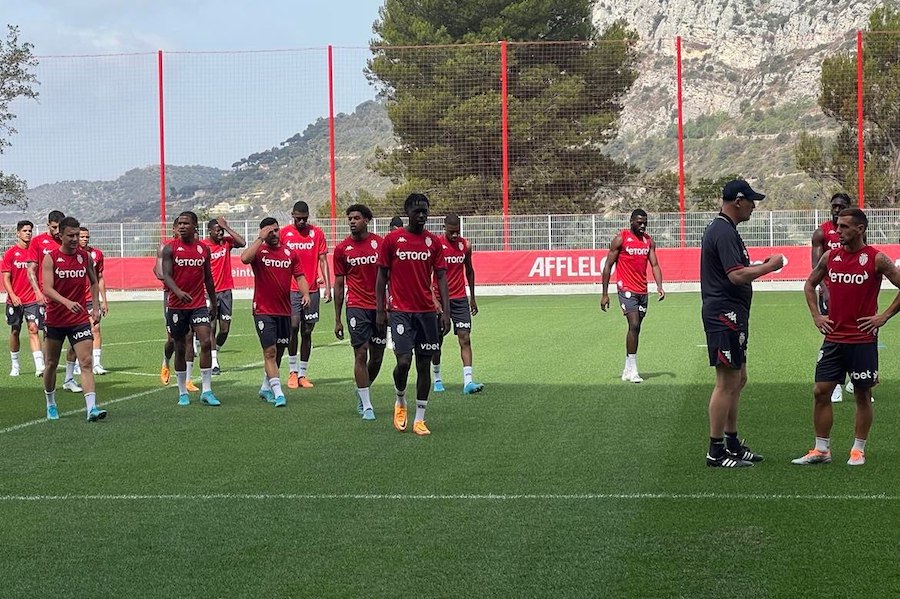 Having lost Cesc Fabregas, Djibril Sidibé and Vito Mannone, are you looking to replace their experience?
It's very much a question of balance. When I arrived a couple of years ago, we knew we had to bring in a younger dynamic into the club. We needed to create the ability to be sustainable and build players that could be exciting for the market, but always it's also about winning and it's a hard balance. We are looking at a more experienced profile of player to add to this talented young group. It's always about the individual. We have discussed a bit of a higher age demographic with regards to our recruitment this summer.
Cercle Brugge goalkeeper Thomas Didillon has been involved in training with the group. Could he potentially join the side?
We've said before about growing these continued synergies between the two clubs that our shareholder owns. This is another example of how seriously we're taking our relationship with Cercle. Thomas is a highly talented goalkeeper as we've seen the last two days, but also the last two seasons. We have five academy players training with Cercle, we have Thomas with us, so it's about using our resources to enhance everybody and everything. When we talk about everything, we're talking about Cercle Bruges and AS Monaco. Thomas has a unique experience to train with a great goalkeeper coach in Frederic De Boever and to train with some great goalkeepers such as Alexander Nübel and Radoslaw Majecki.
Monaco Life: Player sales and club success are often mutually exclusive elements. How does AS Monaco manage to achieve both on a yearly basis?
I can only speak for the last two seasons that I've been here. I think that balance is one of the most difficult things to find in modern football. We've seen a drastic change in strategy for many clubs, even some of the biggest in the world, in terms of recruiting younger and younger profiles to add a level of sustainability of sales, while also keeping that will and demand to win. That's definitely where we see ourselves – in that competitive market and space. It is difficult. Like I say, a couple of years ago we felt that we didn't quite have the talent pool at our disposal, so we made changes within our recruitment, within our talent ID, within our environment to harness more talented players and bring them to the next level. That was definitely a conscious strategy change for the club, and then by performing and creating a culture that can develop some of these guys, you see the bi-product is always higher valuations, which usually leads to higher player sales.
With the money from the Tchouaméni sale, are you able to be aggressive in the market?
I think we also have to remember we have some good players at this moment and time within the football club. We've lost an excellent young player in Aurélien, but for me I see that as an opportunity for other players to step into that position. We want to make sure as always that we're strategic in the market. We're trying to find the best value possible. We still have on our agenda stability and financial management. We take this very seriously like all clubs.
We will be aggressive but it will be strategic aggression. If we think that there is a good profile that can enhance our squad, as always, we'll move clearly and concisely. If it takes a little longer, we will also do this to make sure that we have the right squad come 1st September. We have a very exciting squad at this moment in time, a squad that has achieved two podium finishes, which is important to remember and we have our eyes, as always, on other profiles that can enhance us and keep us competitive in every competition.
What are the club's plans for pre-season friendlies?
The ambition this summer is to have as ambitious a games programme as we possibly can. We know we're going into the Champions League play-offs and we have a really exciting start to Ligue 1 as well. We're just finalising things, and hopefully then we can announce them. We'll try on average to play one game per week up until the play-offs, but there could be a couple of weeks where we put on an additional game just to heighten and make sure the squad is getting the holistic game time and minutes needed. As I've said, this season, especially the first part of it, is going to be very much a squad game.
What are the objectives of the club going into the 2022/23 season?
I know it's getting a bit like a broken record, but this squad has to be competitive in every competition. I think we've shown a real capability with a young group to be able to do that and deliver on that with two podium finishes, a final, a semi-final with heart-breaking penalties at the end of it and the last 16 of the Europa League. We'll always push to be better, every summer we'll try and add more quality but that's not just in recruitment, that's quality of development as well, being better in every single pre-season. We're pushing the team harder this summer to be more ready, to have a more competitive games programme in our camps. Every year we want to be competitive, in everything that we do on the pitch and off the pitch. That's always got to be the goal here.
Photo of AS Monaco Sporting Director Paul Mitchell (left) and Coach Philippe Clement (right) taken at a press conference earlier in the year by Luke Entwistle for Monaco Life