You don't have to be a shoe lover to appreciate the brilliance of the Grimaldi Forum's new summer exhibition. Every inch of the enormous space has been used to transport visitors on a fantastical journey through the mind, and extraordinarily creative career, of the world's most famous shoe designer, Christian Louboutin.
After the first edition at the Palais de la Porte Dorée in Paris in 2020, 'Christian Louboutin: L'Exhibition(iste), Chapter II' opened to the public on Saturday 9th July at the Grimaldi Forum Monaco. The exhibition, redesigned by curator Olivier Gabet, Director of the Musée des Arts Décoratifs, is devoted to the work and imagination of Christian Louboutin, a shoe designer and key figure in the world of fashion. It is based around themes that reveal Louboutin's eclecticism – couture, travel, the extremes of fantasy and innovation.
It is a fun and sophisticated odyssey through 30 years of prolific creativity, a journey in which emotion and expertise intermingle with his love for performance and a sense of humour.
But chapter two of this artistic venture goes one step further in Monaco. Louboutin the designer becomes Louboutin the curator as he showcases carefully selected art works and sculptures, and reveals his friendship with artists.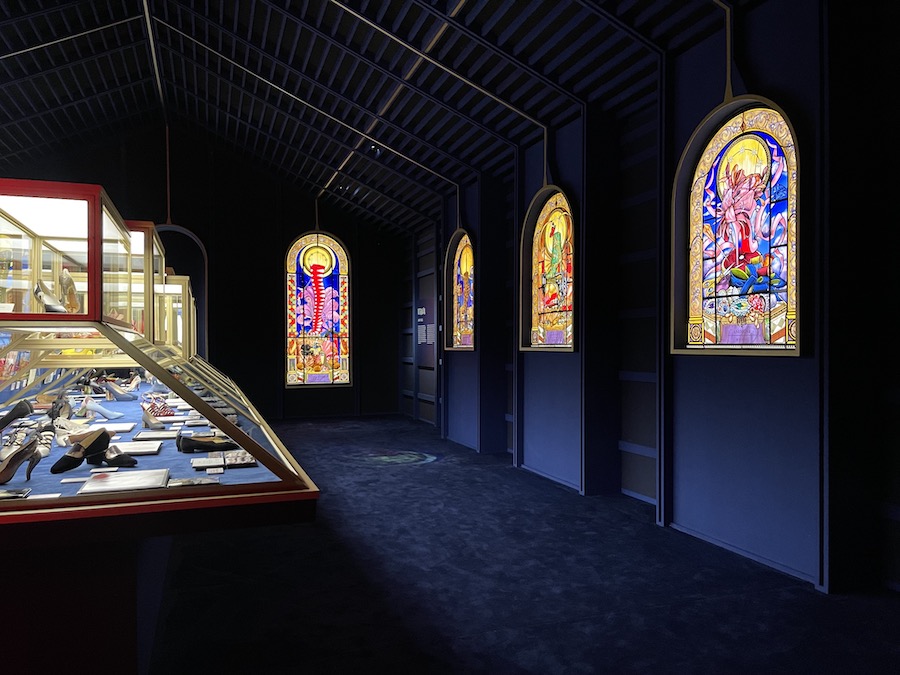 The journey begins in a room bathed in red, before moving onto a church-like space showcasing where it all began for Christian Louboutin. The black room, highlighted by incredible, large stained-glass windows specially designed by Louboutin, features the first shoes that he ever designed and made himself – ingenious, humorous shoes that reveal the boldness of those initial stages of his creative career, and that won clients over at Louboutin's first boutique in Paris, from Madonna to Princess Caroline of Monaco.
In inventing the red sole, Christian Louboutin found his signature that was to be recognised the world over.
Then, from room to room, visitors are taken on an elaborate journey through the artistic mind of the designer; they are given the opportunity to witness his most iconic creations, chosen from a corpus which today constitutes thousands of designs – some one-offs, others templates for series that would continue for decades.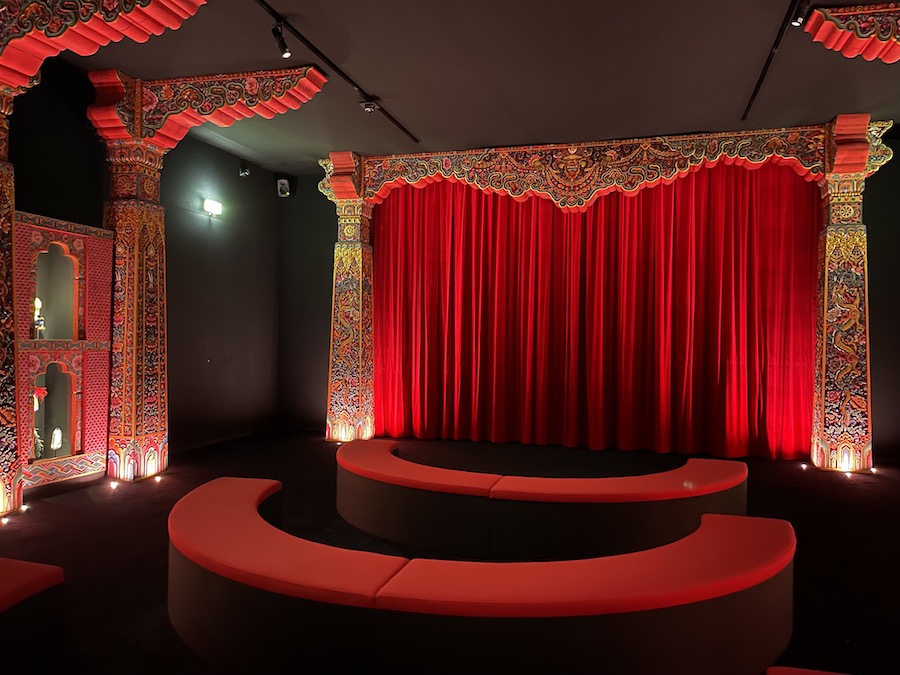 One room is a veritable treasure chamber, the circular space evoking a catacomb where the designer – who is still very much alive – becomes a deity, immortalised and revered, and sent to the gods surrounded by gold, silver, and his iconic creations. Is the blood splattered cavity with an apocalyptic pair of men's golden Louboutins a clue as to how he came to his demise?
The journey moves from genius imagination to fantastical reality, where whimsical videos feature a mini-Christian Louboutin following the process of handmade shoe making, before it reaches a charming old granny's house in a typical British street, in which the knick knacks, upon close inspection, reveal works of photographer Pierre Moliniere (1900-1976), who used to transform himself into a hypersexualised woman.
"This audacious 'period room' shows how much the ideas we have about shoes are shaped by projections and suggestions that are often a long way from reality, and sometimes more obvious," we are told in one of the written guides that accompany each room.
The exhibition also reveals Louboutin's love of music and dance, which he has had from an early age, being a child of the famous Paris nightclub Le Palace. A large number of pieces related to this domain have been brought together within a theatre set that has been specially created by Bhutanese artists in the grounds of the royal palace in Thimphu, including carved wooden elements that Louboutin devised in collaboration with the artisans.
The "imaginary museum" is a personal tribute to the artists and artworks that have been Christian Louboutin's constant companions since his teenage years, serving as the inspiration for his eclecticism, from queer culture and Gandharan art, to photography and contemporary African art.
The tour ends as it began – a Pop Corridor bathed in red, a "passageway between two worlds", where portraits of celebrities in music and cinema intertwine with magazine covers, extracts from television shows and social media posts, each serving as a reminder of how much Christian Louboutin's work has been embraced by the talents of our time, all making his name legendary in contemporary design and fashion culture.
Christian Louboutin: L'Exhibition(iste) is open at the Grimaldi Forum until 28th August.
Click on the gallery below for more pictures of Christian Louboutin: L'Exhibition(iste)…
Photos by Cassandra Tanti, Monaco Life…