Top sushi masters from all over the continent went knife-to-knife at Monaco's The Niwaki restaurant for the first ever European Sushi Championship. In the end, it was French chef Michael Pankar who stole the day.  
Sushi making is all about style. Sure, high-quality ingredients and savoir-faire are important, but it takes a skilled chef to create beautiful looking – as well as tasting – pieces. That's without the added element of time pressure, something all competitors at this week's European Sushi Championship felt, along with the gaze of an extremely discerning judge. 
Held on Monday 27th March at The Niwaki on Avenue Princesse Grace in Monaco, the inaugural European Sushi Championship attracted sushi masters from 10 European nations: Monaco, Italy, France, Poland, Romania, Sweden, Norway, Spain, Portugal and Belgium. Each had their knives at the ready for a rather gruelling two-hour competition that had the chefs demonstrate their technical skills along with fast-thinking approaches and creativity on a grand scale.  
View this post on Instagram
A competition in two parts
The participants had to pass two tests. The first was a 60-minute preparatory test, including having all the fish intended to be used in the second round cut in saku, the traditional blocks familiar to sushi eaters. The second test, also an hour long, was designed to let chefs show off their creative sides.
They were each asked to make 40 to 50 pieces of sushi – including nigiri, maki, uramaki, kazari-maki, kazari-sushi and vegetarian sushi – as well as 15 pieces of sashimi. Each competitor also made two signature dishes separately for judges to sample, including one vegetarian option using Koppert Cress products.  
As if this wasn't enough to consider, the judges heavily stressed the importance of hygiene and cleanliness, particularly with the handling of raw foods.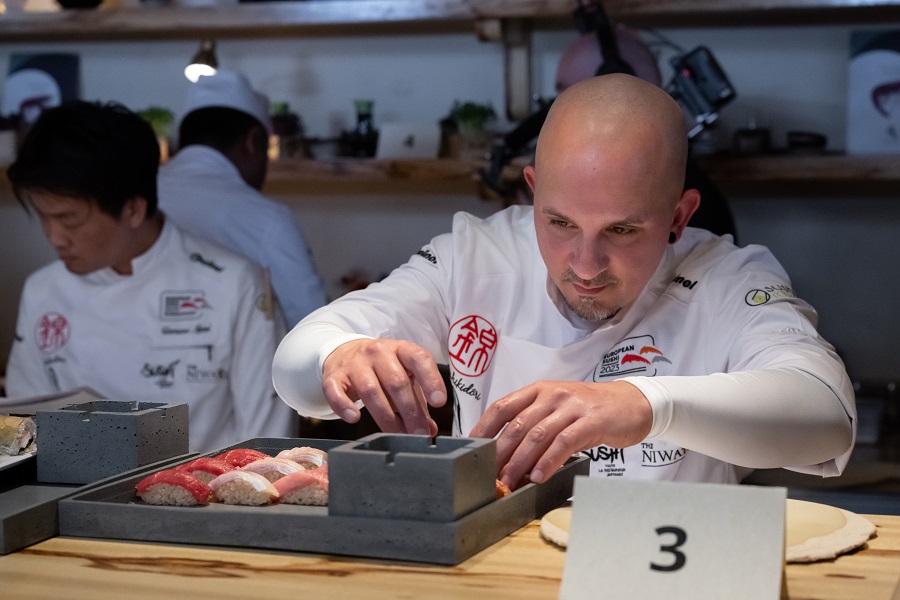 Though the rules on what to do were quite strict, when it came to how they did it, it was a different story. Organisers instructed chefs to colour outside the lines in terms of creativity, with an eye to presenting original, dazzling-looking fare.  
This tied in with technique; the judging category which earned chefs the most points. To get top marks here, the chefs had to have a light touch, for example, not crushing the rice and making sure their fish was perfectly sliced.
SUSHI MASTER OF THE YEAR
After the last cut was made, it was Michael Pankar of France who won the day. Second place went to Italian Diego Vianello and there was a tie for the bronze, which went to Romania's Sorin Zaharia and Shandhi Peter de Costa from Poland.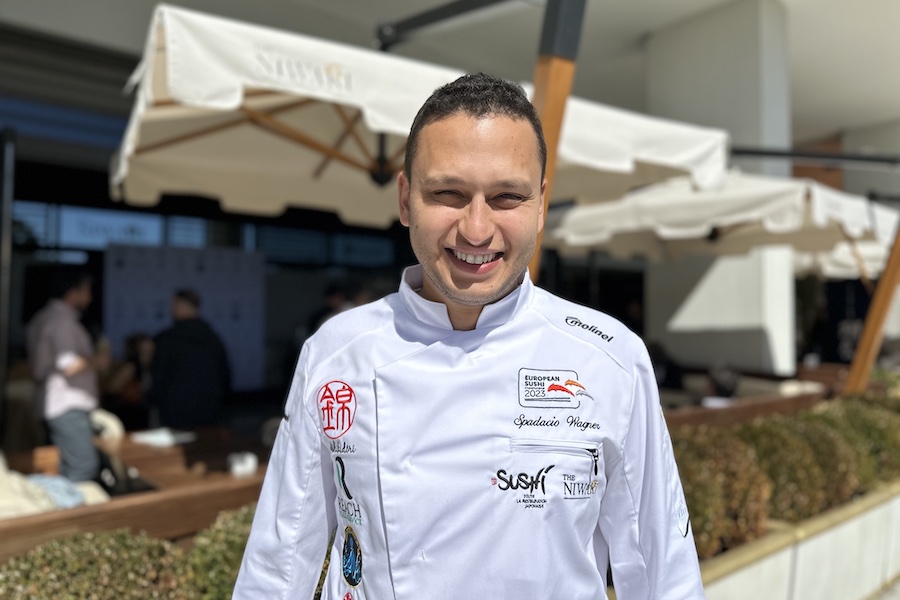 Interview with award-winning sushi Chef Wagner Spadacio at The Niwaki, specialist in "Japanese couture cuisine".
Monaco Life: Why do you think sushi is so popular in Europe?
Chef Wagner Spadacio: Sushi arrived in Europe no more than 30 years ago. It started as fast food in the beginning, and for the last 15 years we have seen very good restaurants emerge with super high quality sushi. I think that's why sushi is so popular here, because it touches on all the different ways to eat it, from fast food to high-class, like here at The Niwaki.
You are a Brazilian-born sushi chef. People wouldn't necessarily relate the two, but there is actually a huge Japanese community in Brazil…
Especially in San Paolo where I come from, where there is the biggest Japanese community in the world. When I was a kid, I was one of only three boys who were not Japanese in my school. So, I grew up next to Japanese people and their culture, and I think that is why I am doing what I am doing today.
Can you tell us about the sushi chefs who are competing today?
We organise the French sushi competition [as well as] one in Bucharest and in Poland. So, the chefs who are here today have already participated in competition for the World Sushi Cup, and we are sure they will be doing a very good job today.
What does it mean to these chefs to win the title of European Sushi Champion?
It is very easy for me to talk about this because I was the first ever French Sushi Champion in 2017. The following year, I was awarded Vice World Sushi Champion in Tokyo. It will change their life, they will pass from a good chef to a chef with an award, and everyone is interested in them. So, it will change the life of the winner as it changed mine.
What are the judges looking for today?
The competion here is very different [to] the one we do in Japan, which is very classic. All of our judges there are over 50-years-old, so they have this very traditional vision of sushi. Here, I instructed the judges not to think this way, but to see things differently and judge them as European chefs. So, they have been encouraged to use fusion and let their creativity flow.
Which is similar to the philosophy you apply here at The Niwaki…
We are not a traditional Japanese restaurant because the other chefs and I are giving our little touches to make something new, which you cannot find anywhere else.
Do you expect this to be the first European Sushi Championship of many in Monaco?
I hope we will do it every year, as you can see today it is a great competition. Perhaps we will arrange to have it at a bigger location as it grows every year.
CLICK ON THE GALLERY BELOW TO SEE MORE PHOTOS FROM THE EUROPEAN SUSHI CHAMPIONSHIP: