Prince Albert and Princess Stephanie headed a prestigious guest list for the Bal du Centenaire on Friday night at the Casino de Monte-Carlo, an exceptional evening that resurrected the grand balls of decades past held for Prince Rainier III and Princess Grace. 
It was on the steps of the emblematic Casino de Monte-Carlo where Prince Albert II and Princess Stéphanie, President of the Rainier III Centenary Commemoration Committee, accompanied by her children Louis and Marie Ducruet, and Camille Gottlieb, were welcomed by Stéphane Valeri, President-Delegate of Monte-Carlo Société des Bains de Mer (SBM).
For this special occasion on Friday 20th October, SBM had dug into its archives and brought together all the elements that had given these renowned evenings their unique character in the past, including a string orchestra.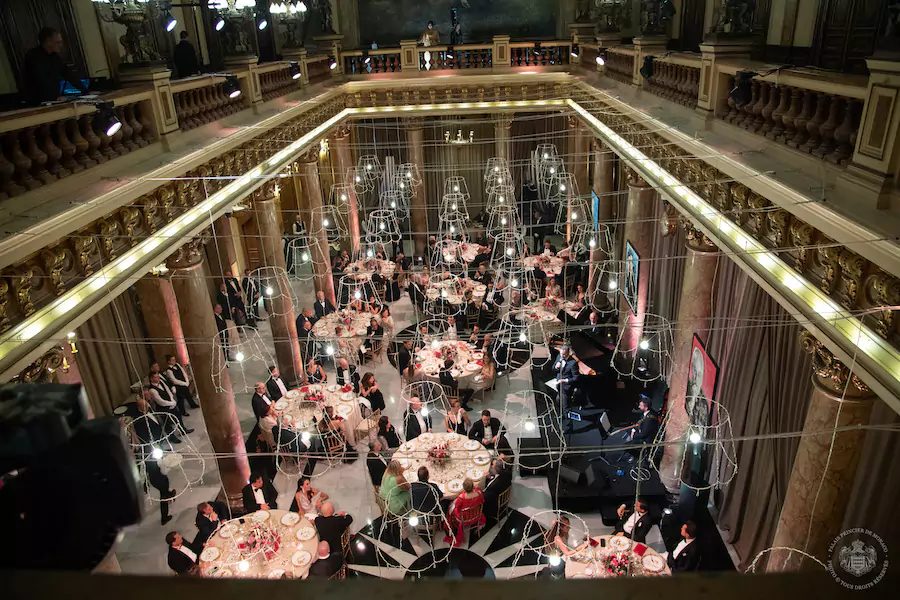 The Centenary Ball, organised as part of commemorations of the centenary of the birth of Prince Rainier III and coordinated by Marie Ducruet, was held in the Casino-de Monaco Carlo where many grand balls were hosted during the 1960s.
In the spectacular Atrium of the Casino, 140 guests, including Monaco Life, were treated to an exceptional six-course dinner prepared by Richard Rubbini, Executive Chef of the Casino de Monte-Carlo, and his team, accompanied by fine wines from the cellars of the Hôtel de Paris Monte-Carlo, including Taittinger, Comtes de Champagne 2012 grand crus.
Stories and anecdotes accompanied the dinner, with master of ceremonies Yann-Antony Noghe, journalist and producer of a moving documentary on Prince Rainier III,  highlighting the shared history of Monte-Carlo SBM, the Prince and Princess Grace.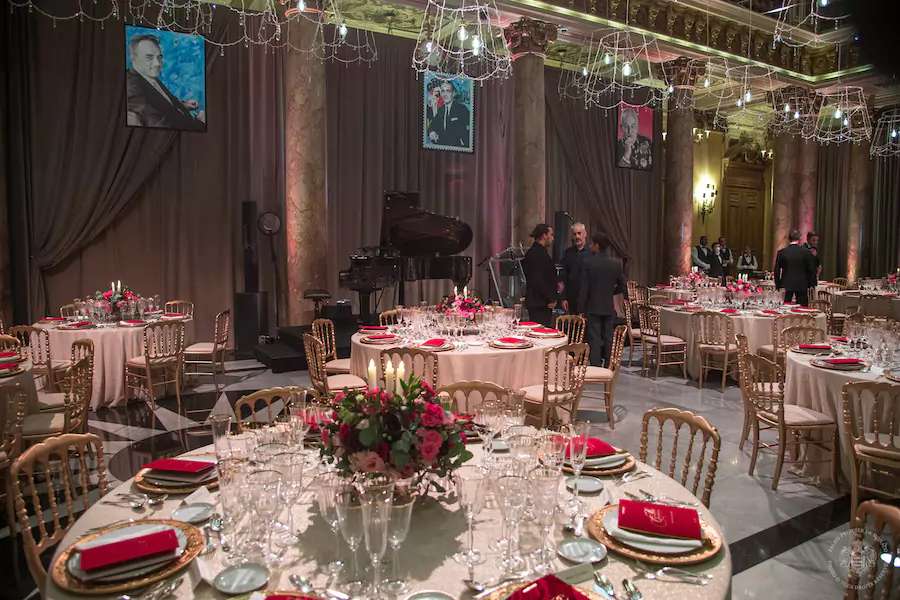 More than a social event
An inherent aspect of these renowned Monegasque evenings is their committment to charity, therefore a silent auction took place during dinner, where five works by local artist Lukas Avalon were sold for the benefit of the Fight Aids Monaco association.
A secret after party
The rest of the evening was kept secret until midnight, when guests were ushered on to the legendary stage of the Monte-Carlo Opera, one of the world's the most beautiful theatres since 1879 and the location of the Second Empire Ball held in 1966 for the 100th anniversary of Monte-Carlo.
The great art of celebration and the great way of living, on which the Monte-Carlo Société des Bains de Mer has built its reputation for 160 years, came together this night on 20th October.
The curtains opened to reveal British singer Leona Lewis who carried guests away with her captivating voice. Prince Albert and Princess Stephanie, in a dress she wore alongside her father Prince Rainier III at another grand ball of Monaco, launched this Centenary Ball with their first dance, and were later accompanied by other members of the Princely family and prestigious guests.
The string orchestra returned to the stage before guests danced the night away to a DJ as the champagne continued to flow.
"The history of our company has been closely linked to that of the Princes of Monaco for 160 years," said Stéphane Valeri, Deputy Chairman of Monte-Carlo Société des Bains de Mer. "Prince Rainier III gave Monte-Carlo Société des Bains de Mer its unique and privileged status, which today ensures it international influence. I would like to thank all the Monte-Carlo Société des Bains de Mer teams who mobilised to make this Centenary Ball a unique moment of memories, emotions and celebration, like Monte-Carlo has the secret."
See more in Monaco Life's Instagram video below and scroll down to see more images from the evening…
View this post on Instagram
Photos below by Monte-Carlo SBM…
Make sure you're never left out of the conversation.
Sign up for the Monaco Life newsletter, and follow us on Facebook, Twitter, Instagram and LinkedIn.