For one month only, three rooms of the Prince's Palace will house rare works of art by Pablo Picasso, revealing a little-known side to the great master of modern art.
It is "only natural" that this exhibition exploring the way Pablo Picasso reinvented the legacy of classical antiquity is displayed at the Prince's Palace, Bernard Ruiz Picasso tells Monaco Life. It is here, in the Mediterranean, where his grandfather would spend long summers alongside his wife Olga Khokhlova, a Russian ballerina who had performed in the Principality.
It is also only fitting that for this, the 50th anniversary of Pablo Picasso's death, Monaco hosts the exhibition in the Prince's Palace; a place where 16th century frescoes featuring long-lost images depicting ancient Greek mythology, a subject that Picasso had been fascinated with for most of his life, were recently uncovered and restored.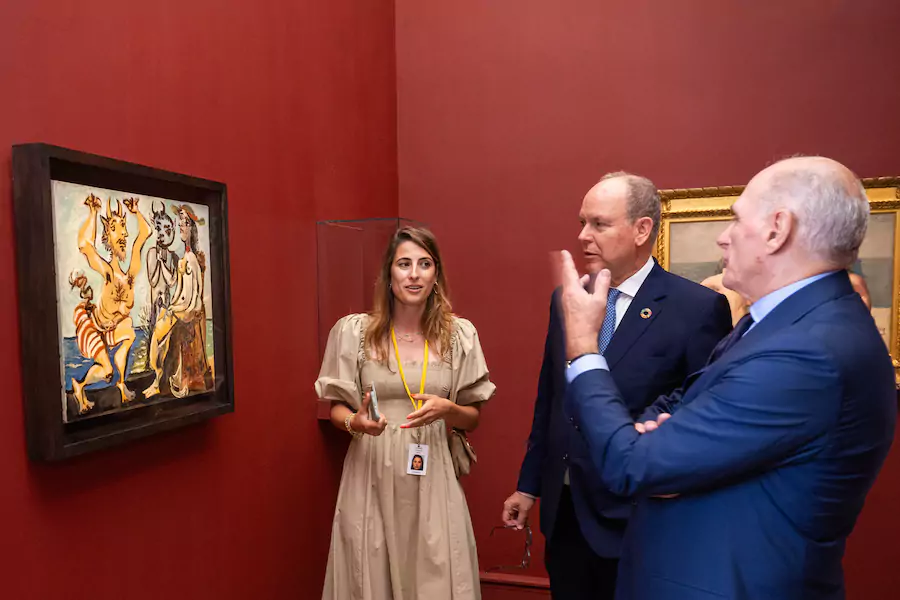 Picasso's insights into the survival of ancient artefacts
On Friday 15th September, Bernard Ruiz Picasso, who created the Fundación Almine y Bernard Ruiz-Picasso (FABA) from where all but one of the 30 works were sourced, guided the press, and then Prince Albert II, on a special tour of the private collection.
Curated by Francesca Ferrari, the exhibition shows another side to the Master of Cubism, who is most famous for his ability to break up subjects and objects, and rearrange the pieces in abstract form.
"We took the opportunity to explore a little-known facet of Pablo Picasso's work, but a very important one, which is his life-long engagement with the art of antiquity, especially Greek and Roman antiquity, which started with his academic training in Spain at the age of 12 when he was asked to copy artefacts from ancient sculptures and ancient mural paintings," explained Francesca Ferrari.
Picasso's focus became more intense after visiting the ancient cities of Rome and Naples, and the archaeological sites of Pompei and Herculaneum in 1917.
In this exhibition, we see photographs of a 36-year-old Picasso standing next to various artefacts in Pompei – a defining moment in his artistic career.
"Picasso saw antiquity and its cultural and artistic heritage not as a model to passively copy or evoke, but something that he could transform, revive and even distort sometimes," said the curator.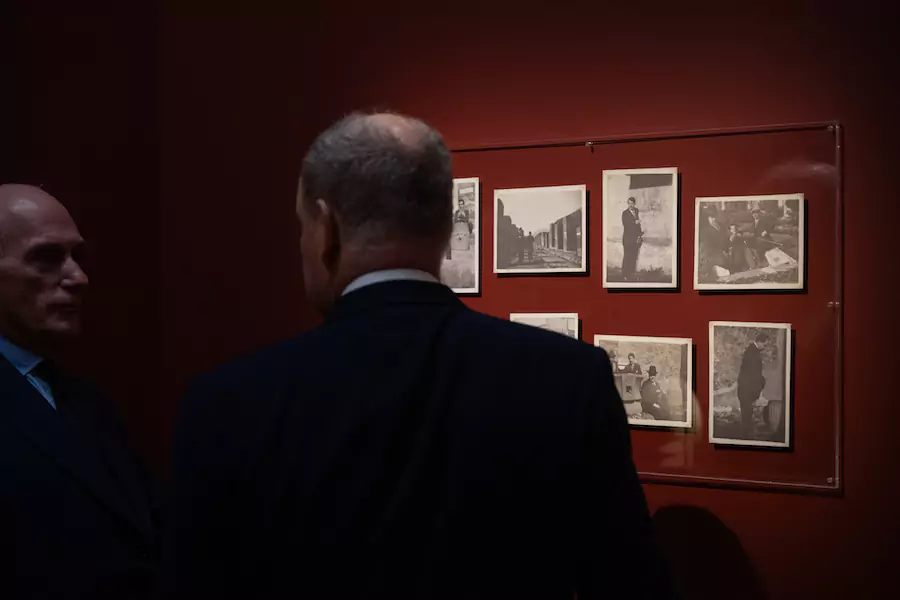 A multi-faceted exhibition
The exhibition features paintings on canvas, including one of his grandmother Olga, as well as bronze sculptures and ceramics. But it is his drawings that dominate the exhibition and shed light on the incredible talent of Pablo Picasso.
"One facet that we explore in the exhibition, which I think is quite a novelty, is his meditation about the material conditions in which the artefacts from the past reach us in the present – sometimes they are fragmented, sometimes they are in pieces, sometimes their surfaces are eroded or partially erased, sometimes they are hidden under layers and layers of sediment just like the Palace frescoes were here," said Ferrari. "Through all of these different lenses we consider Picasso's long engagement with antiquity and show that antiquity for him was a powerful force, through which modern artists could revive and innovate the art of the present in a very avant garde and cutting-edge way. For him, antiquity and modernity were two sides of the same coin, two different languages that he could switch between."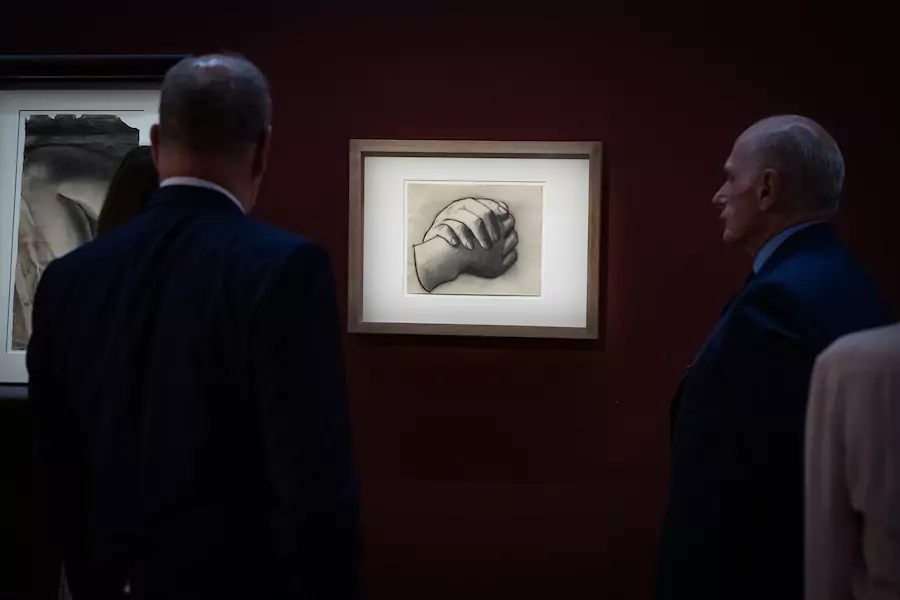 "He was just a sweet grandfather"
Alongside the curator's academic insights into Picasso's works, Bernard Ruiz Picasso also revealed some lesser-known facts about the most prolific genius in the history of art. Picasso's career spanned over a 78-year period, in which he created 13,500 paintings, 100,000 prints and engravings, and 34,000 illustrations. But he only signed the works he was to sell because "signing them all would have taken forever". Apparently, in every place that Picasso lived or visited, he would fill the rooms with his artworks. After his death in 1973, his family discovered in an unlocked apartment in Cannes hundreds of Picasso's art works.
Bernard Ruiz Picasso also divulged to Monaco Life the kind of person that Pablo Picasso was, beyond the artist.
"I was a little boy when my father passed away, so he was just a sweet grandfather who was always surrounded by other family members – on a beautiful beach in the Mediterranean, or going for lunch or dinner. He had a pretty positive energy that guy, and he was very tender, like a southern grandfather."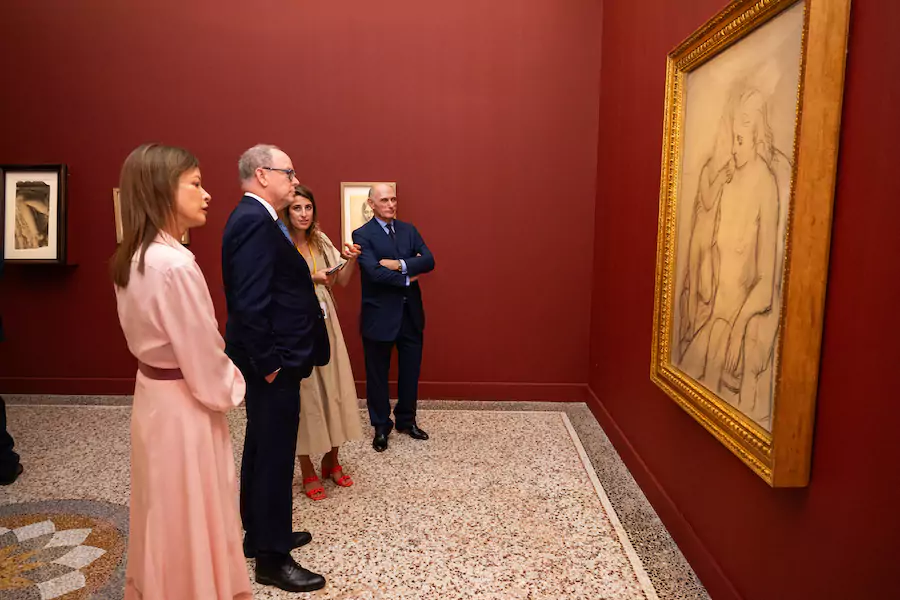 Accompanied by his wife Almine Rech, an art dealer and gallery owner, Bernard Ruiz Picasso – a resident of Monaco for five years – guided Prince Albert II of Monaco throuogh his grandfather's works.
"Picasso is an incredible artist who knew how to reinterpret the themes of antiquity, and use them in his artistic style," said Prince Albert. "This resonates in a completely unique way with the 16th century frescoes, which also deal with the heroes of antiquity, that were discovered and restored on the walls of the Palace. It's a beautiful link between the different eras."
The exhibition 'Pablo Picasso and Antiquity' will run until 15th October.
Main photo by Monaco Life: Bernard Ruiz Picasso standing in front of a painting by Pablo Picasso, Portrait d'Olga au col de fourrure, Paris, ca. 1923 Huile sur toile 73 x 60 cm, Fundación Almine y Bernard Ruiz- Picasso, Madrid, ©FABA Photo : Hugard & Vanoverschelde ©Succession Picasso 2023
Make sure you're never left out of the conversation. Sign up for the Monaco Life newsletter, and follow us on Facebook,  Twitter,  Instagram and LinkedIn.