Another thrilling comeback performance in the Euroleague keeps AS Monaco Basketball in the hunt for the end-of-season play-offs, this time bringing back a well-earned victory (80-91) from the Serbian capital.
It has been a hectic week for Sasa Obradovic's men. Having welcomed the Betclic Elite league-leaders on Sunday, they immediately jetted off to Greece for their ultimately rewarding fixture against Panathinaikos. Less than 48-hours later, the Roca Team were once again on court on Thursday, looking to secure consecutive victories on-the-road against Crvena Zvezda.
Monaco's first-quarter performance hinted at an element of jet-lag. The side's slack defending was duly punished by the home side, whose efficiency saw them tally 30 points in the opening 10 minutes. However, that would be the only quarter that they would lose as Monaco began to pick-up where they left off against Panathinaikos.
Obradovic's men would have to dig deep to take the victory, the fixture a test of his side's mental resilience. Mid-way through the second-quarter, Monaco had the daunting task of overturning a 20-point deficit (45-25). Dwayne Bacon and Alpha Diallo would come to the rescue of the Principality side, providing nine points each as the deficit was reduced, and creating impetus going into the second-half.
Donatas Motiejūnas, who had gone off the boil towards the end of Zvezdan Mitrovic's tenure, has been prolific in recent weeks. His finishing inside the key continues to be a reliable source of points for Monaco and so it was on Thursday, as he bagged 20 on the night.
The Lithuanian was an essential cog in a perfectly functioning Roca unit in the second half. The Principality side were simply unstoppable, unrecognisable to the side that looked so off the pace in the early stages.
The 20-point deficit was overturned in 25 minutes of madness inside the Belgradian hall, the Serbian side's lead was slashed as Monaco went on to construct their own healthy lead. Quite unbelievably given the game-state in the first-half, the match was finished as a contest before the final buzzer, Monaco in the end easing to the victory (80-91).
Although many teams around them have games in hand, Monaco now find themselves within the play-off places, and Obradovic dreams of staying there. "We still think and dream about being in the top eight. For a team that is in the Euroleague for the first time, that would be a great success."
Obradoivc will hope that his side can cement their position within the play-off places when Zalgiris visit the Salle Gaston Medecin next Tuesday. Before that, Monaco return to domestic action, welcoming Gravelines-Dunkerque on Sunday.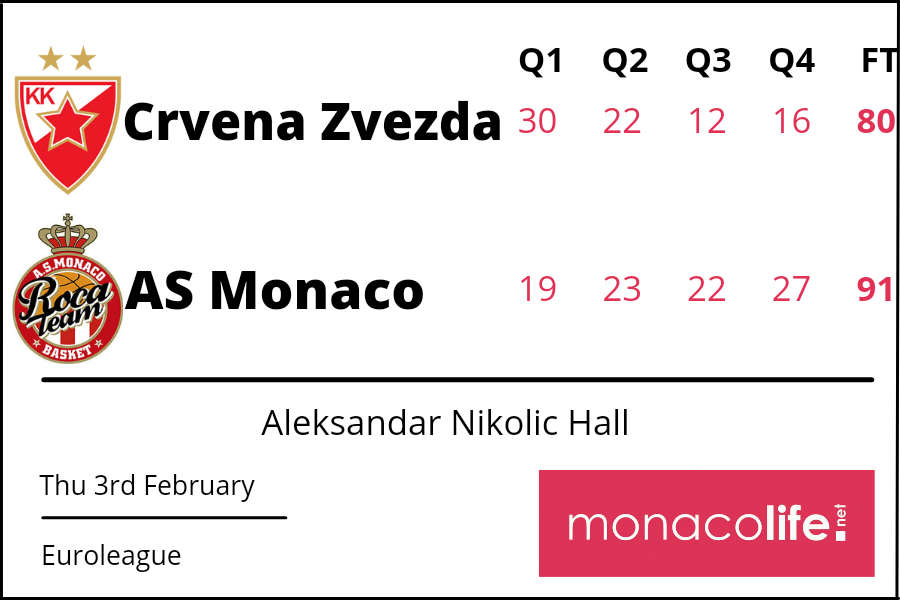 Photo by AS Monaco Basketball