The Italian Branch of the Prince Albert II of Monaco Foundation has organised a scientific conference on the theme of 'Smart cities, urban forests and water protection'. 
Prince Albert attended the conference and gala on 17th October, which was held in partnership with the City of Rome and the Sapienza di Roma University.
In the presence of 200 guests, gathered in the prestigious Salle degli Orazi e Curiazi of the Capitoline Museum, HSH Prince Albert II of Monaco spoke alongside Virginia Raggi, Mayor of Rome, Eugenio Gaudio, Rector of the University and Professors Carlo Blasi and Marco Petitta, on the challenges related to the development of our cities with greater respect for the environment, water and forests, particularly in the face of the urgency of climate change.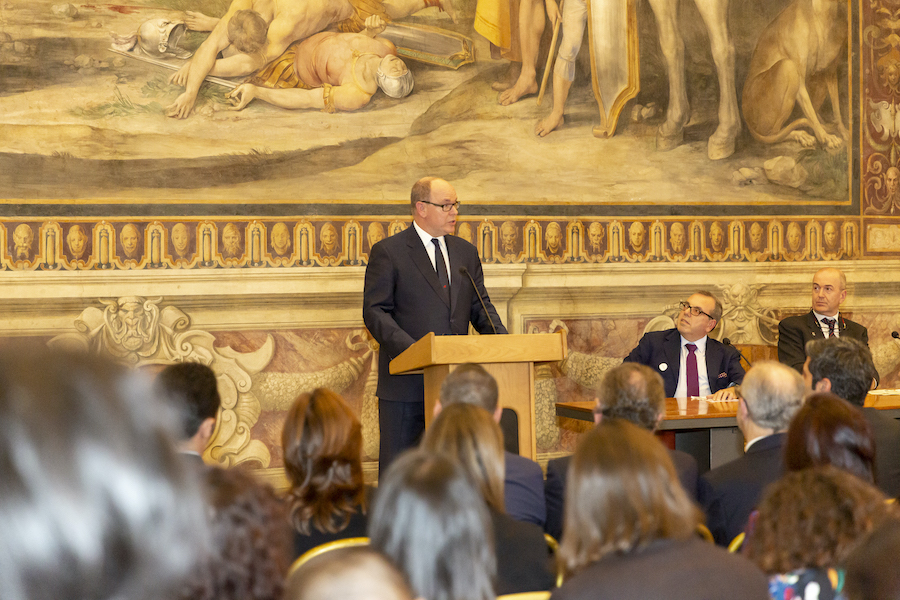 In His speech, after thanking the Vice-President of the Italian branch Marco Colasanti for this great organisation, the Sovereign Prince recalled, in the heart of this "eternal city", the ambivalent relationship that cities have always had with nature. "The way in which we design our cities, the links we create with the natural environment, whether this be water or forests, are testimony to the broader relationship we have with the environment, the planet, and our ability to accept its demands; demands which we cannot ignore. I am therefore delighted to see the return of such concerns today, pointing towards the return of lucidity," the Prince said.
He added that we must now face the devastating effects of climate change on biodiversity and populations, and it is essential to find a new approach to cities and the environment, based on the possibilities offered by the smart city, allowing more flexible and relevant management of infrastructure and uses. "Through forests, through water, through the opportunities offered by the smart city, we need to focus on reinventing ourselves as much as reinventing urban planning," said Prince Albert.
In her welcoming address, the mayor recalled that Rome was one of the only cities in Italy to have accepted a concrete action plan for the preservation of the environment. Professor Carlo Blasi spoke on the theme of urban forests, saying that green spaces made it possible to mitigate the effects of climate change, reduce heat in cities but also reduce CO2 emissions while providing ecosystem, environmental and social benefits. Meanwhile, Professor Marco Petitta spoke of the priority of optimising water needs and consumption, which must be based on careful assessment and conscious use of groundwater, as well as on an appropriate policy for preserving the resource.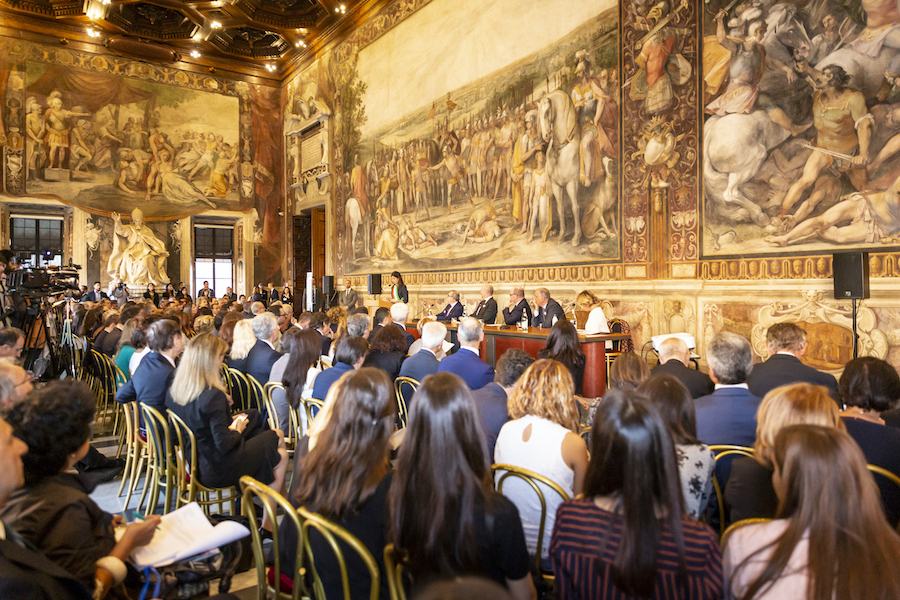 A gala dinner was held that evening at the capitol in the magnificent Protomoteca hall, bringing together all the members of the Italian branch, alongside the Sovereign Prince. Mayor of Rome Virginia Raggi and Minister of Education Lorenzo Fioramonti were among the guests of the evening, hosted by the Italian journalist and presenter Massimo Giletti.
Photo: Surrounding HSH Prince Albert II of Monaco (from left to right) Mrs. Mireille Fillon and HE Mr. Robert Fillon, Ambassador of Monaco in Italy, Mrs. Elizabeth Lanteri-Minet, Mr. Maurizio Codurri President of the Italian branch of the Foundation, Mrs. Virginia Raggi Mayor of Rome, Mr Marco Colasanti Vice-President of the Italian Branch, Ms Hélène El Missouri, Mr Olivier Wenden, Vice-President of the Prince Albert II of Monaco Foundation and Mr Emmanuel Calça © Black Alcapa Production