Prince Albert II of Monaco headed to the United States earlier this week for a speech on climate change, biodiversity and AI at the UN General Assembly, as well as to meet with President Joe Biden. 
Prince Albert II hit the ground running in New York City, where he spent three days between 18th and 20th September presenting the Principality at several conferences and meetings centred around Climate Week.  
One highlight was the Earthshot Summit on 19th September, which Prince Albert attended alongside other public figures such as philanthropist and former NYC Mayor Michael Bloomberg and Britain's Prince William, who founded the prize and was there in person to reveal the 2023 finalists. The winner will be announced in November.  
The Principality was also represented at the meeting by Isabelle Picco, Permanent Representative to the United Nations in New York, and Olivier Wenden, CEO of the Prince Albert II of Monaco Foundation, who took part in a 'Funding Solutions' panel discussion.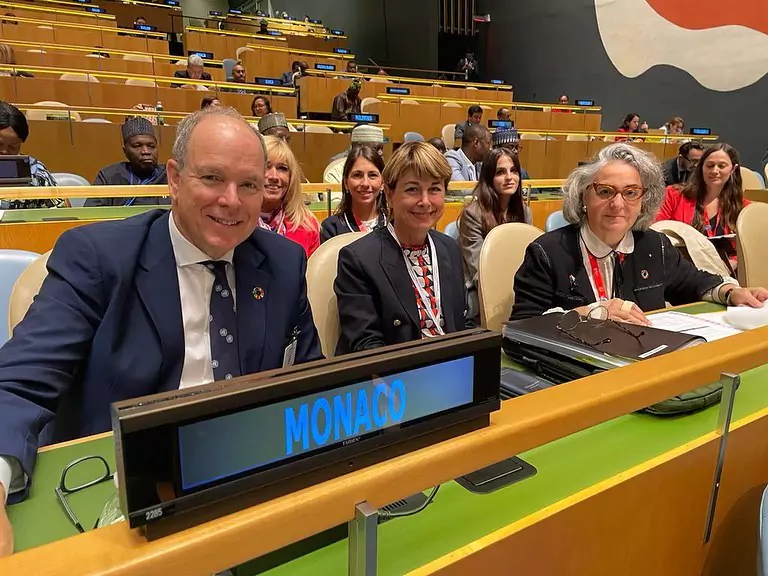 Later that evening, Prince Albert was welcomed by US President Joe Biden and his wife Jill at the Metropolitan Museum of Art for the traditional reception given to the Heads of State attending the United Nations General Assembly. 
"W
hat was a relentless commitment is now a duty for our survival"
The following day, the Monegasque Sovereign spoke at the 78th Session of the UN General Assembly, where he highlighted the Principality's commitments to the missions of this global entity in several ways.  
"Respect for the environment and wildlife on land and sea, and supporting science, were fundamental priorities for the Princes of Monaco throughout the centuries," he said during his speech. "Today, what was a relentless commitment is now a duty for our survival. Since our admission to the United Nations, we have been party to 50 international treaties covering a large spectrum of topics such as human rights, disarmament, the environment and law of the sea."  
His attention and discourse then turned to the oceans, a topic of significant interest and importance to the Monegasque figurehead.  
"The crucial role of seas and oceans for regulating climate is clearly recognised now and helps us to handle this challenge holistically," he said. "Because make no mistake, we will only be able to gain in the battle on climate if we work together." 
Make sure you're never left out of the conversation.
Sign up for the Monaco Life newsletter, and follow us on Facebook, Twitter, Instagram and LinkedIn.
Photo credits: Nicolas Saussier & Michael Alesi / Palais Princier de Monaco