Serbian President Aleksandar Vucic has made an official visit to Monaco where the Sovereign Prince bestowed upon him the Grand Cross of the Order of Saint-Charles, the highest award given in the Principality.
In October 2020, Prince Albert was invited to Belgrade, a trip to be remembered as the Prince's first official international outing since the pandemic and one where leaders of the two nations were able to discuss important issues, such as the start of stronger economic ties.
On Tuesday, almost a year and a half later, Monaco has returned the invitation, welcoming Serb President Aleksandar Vucic to the Prince's Palace on Tuesday.
During the visit, the Prince decorated President Vucic with the Grand Cross of the Order of Saint-Charles, rewarding merit and recognising the services rendered to the State or to the Prince personally.
Prince Albert received the Serbian equivalent on his 2020 visit, being offered the Order of the Republic of Serbia.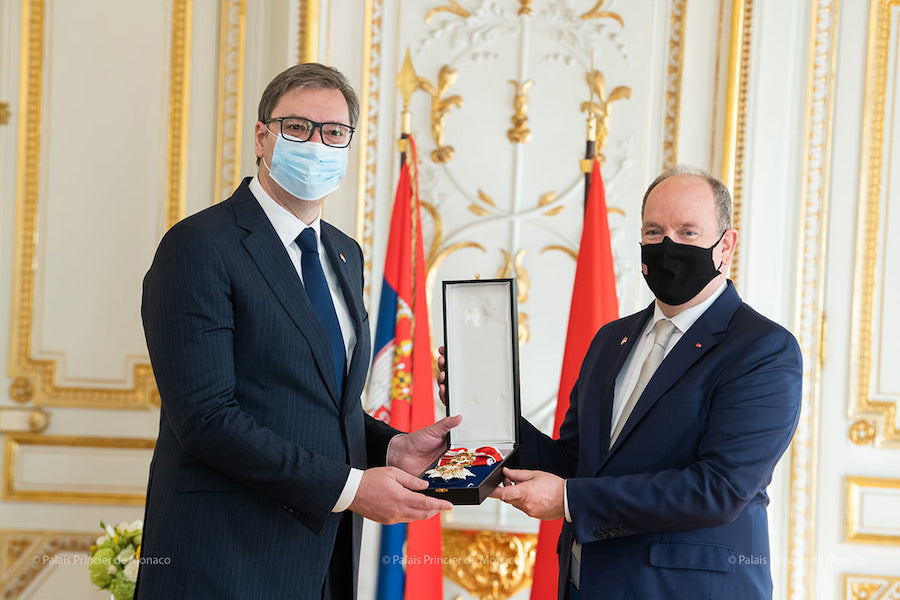 It has been 15 years since the countries began diplomatic relations, and on this occasion, the two signed a framework cooperation agreement that included themes important to both sides, including environmental concerns, the promotion of tourism, the preservation of the oceans, renewable energies, and the conservation of biodiversity. Of course, economic possibilities between the two countries were also on the agenda.
President Vucic was treated to a private trip to the Oceanographic Museum, followed by a performance of the lyrical opera Werther by Jules Massenet at the Opera de Monte-Carlo.  
The president was accompanied by an entourage that included his Minister of Foreign Affairs Nikola Selakovic and Ambassador of the Republic of Serbia to France Natasa Maric. Monaco resident and Serbian tennis superstar Novak Djokovic was not able to attend the meeting as he was playing in Dubai, but he was represented by his uncle, Goran Djokovic, honorary consul of the Republic of Serbia in Monaco.
Photos: Gaetan Luci, Axel Bastello, Eric Mathon / Prince's Palace