Following his sensational performance at the Winter Olympics, Monaco Life caught up with skier Arnaud Alessandria to discuss his experience in Beijing, what it meant to have Prince Albert's support, and his hopes for winter sports in the Principality.
Arnaud Alessandria returns from the Beijing Winter Olympics a record-breaker. His 13th place in the Men's Combined race cemented his place in the history books, becoming the highest ranked Monegasque skier at an Olympic Games. Between hoisting the Monegasque flag during the opening ceremony, and securing great results in the Men's Downhill (29th) and the Super-G (31st), it has been a hectic couple of weeks for this 28-year-old.
How did you feel arriving in China?
It was a bit complicated actually getting to the Olympic village. There were lots of controls, lots of documents to fill in as well as everyday tests. Once we were there in the village itself, I expected more constraints. But we only had one test a day, so it wasn't that disruptive. In the village we were completely free, we could move around as we wanted, around the training sites, which was good.
How did the restrictions surrounding Covid affect your everyday life?
It was a bit disconcerting, because we don't treat it the same over here. They disinfect everything all the time, for example after meals, which were consumed between plastic partitions. It was all done very quickly though. The only constraint was the daily test, but being free to take it at any point in the day allowed us to go about our business normally. It wasn't so constraining, which was something we were worried about, having lots more things to manage on top of the event and the competition itself, but it was actually very well managed. It allowed us to just concentrate on ourselves, and on what we needed to do.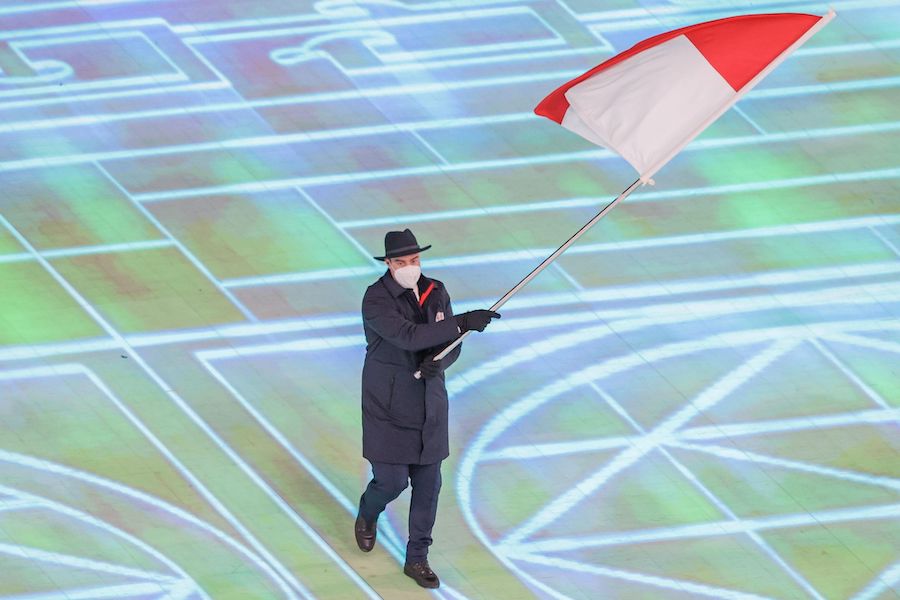 As a Monegasque athlete, what was it like to be the flag-bearer for your country?
It was just great! There were a lot of emotions entering the stadium with the flag. We were told that Prince Albert would be in the stands, so I concentrated on the flag and not messing up my footing. Because of that, I didn't even see him. It was great that he was in the stadium though. We, in the stadium, couldn't benefit from the spectacle as much as the viewers on the TV, but it's just magnificent that he was there.
The flag itself wasn't too heavy, but there was a bit of wind in the stadium so I was scared that the flag was going to move around me. I really had to concentrate!
What did it mean to have the support of Prince Albert II there, and what advice did he give you?
It was just great knowing that our Sovereign was there for us, there to encourage us. It was beautiful, really beautiful, because he's a head of state and has a lot of obligations and duties, but he took the time to come to us, which is magical.
The only thing he told me was to make the most of it, on a profound level, and to enjoy myself. He knows the Winter Olympic Games, he knows what they're about, and he said that I mustn't forget to make the most of the moment, which is a crazy experience. It's true that if we focus too much on our races, and what we have to do, then we forget to enjoy it. So, he reminded me to make the most of the event and to enjoy it.
Your event was initially postponed due to wind. How did you manage that?
When there are postponements like that, it uses up quite a bit of energy, because we were up there at 8:30am getting to know the track and warming-up. People think that because it's been cancelled or postponed that it's another day of rest, but it isn't, you've actually used up energy. It is something that we in skiing are used to. We're an outdoor sport so we rely a lot on the weather, and we often have long waits and postponements. The postponement didn't affect me though, we have learnt to manage that with experience, and it's the same for everyone else.
How was the course, the snow?
The course itself is really very pretty. I saw the images on the TV, and it looks great on there as well. The snow was just perfect. There were snow makers as well, and they said they were preparing the course four months in advance. The run didn't degrade at all over the course of the training sessions and the competitive runs, so that really gave a chance to everyone, making it a very equal course. It was a bit more complicated in terms of the wind, which we were warned about in advance, and of course that can't be managed.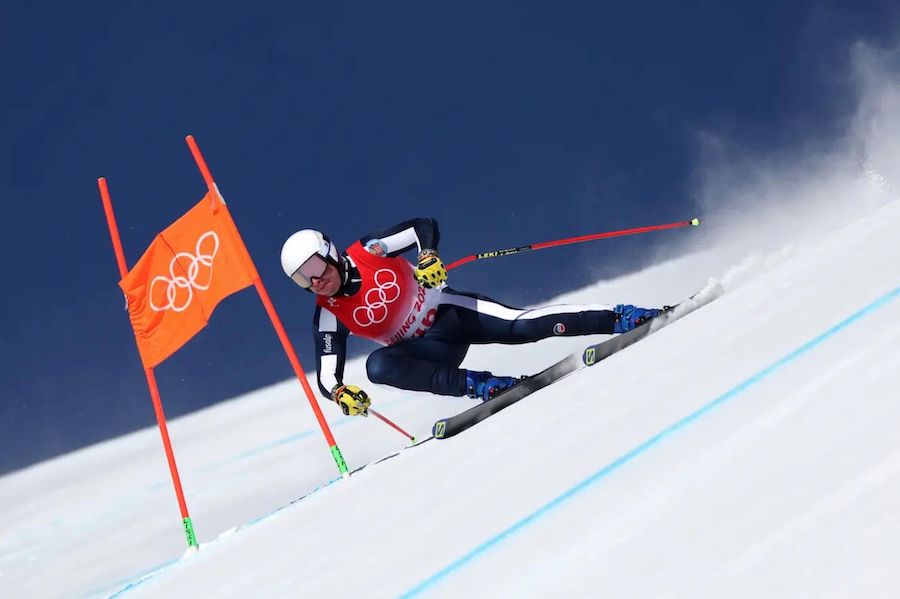 Did the weather impact your run?
From the inside, it's very hard to tell. When you're skiing downhill at 100km/h, if there's a bit of wind, you don't realise. When I watched back the video of the descent, I saw that I made an error in the top part of the run, and on the low part there was a bit more wind. It was a part of the course where I was quicker in training, and I lost nine tenths on the last intermediate. So that played a role to an extent, but that's how it is, it's sport, it's racing, it's skiing. Sometimes you need a bit of luck with the elements.
Were you happy to hit your pre-Games objective?
I was happy in terms of my ranking. At the lower part of the course, compared with what I had done in training runs in terms of time, I was a bit disappointed. I think I was two seconds off my first training time, and 1.20 seconds off my time in the second. I set myself a new target of being within 2.5 seconds, so I was a bit disappointed with the time when I crossed the line. Still, I finished in 29th when I had set myself the objective of being in the top 30, so that's cool.
And then – of course – came the record-breaking performance in the combined event.
In the downhill part, I was happy with regards to the objective that I set myself. I was 2.6 seconds off the Norwegian (Aleksandr Aamodt Kilde), so I was on target. It was a great run.
Slalom really isn't my cup of tea at all since I had a back operation three years ago. I really struggle with it and the pain it gives me in my back, so I can't really train for it. Just before the slalom run, we had a bit of time to practise, and it had been almost two years since I had put on some slalom skis. After the two rounds, my back was already causing me problems. The objective was just to finish the run.
When did you know that you had broken the record and attained the highest position of any Monegasque skier in an Olympic Games? 
I didn't know straight away. When I finished the slalom run, I was just exhausted and so I relaxed, because we hadn't really stopped for three days. I found out during the interviews afterwards. 13th is a great place, but the objective is always to improve my results.
Is that the objective for the 2026 Winter Olympics in Milan/Cortina then?
Of course, that is always the objective. 2026 is still a long way away, and this season isn't finished yet so I need to keep going. I went back to Monaco for three days, then I came back up into the mountains for training.  I restarted two days ago in preparation for my next event, which is the World Cup in Norway at the start of March. It's still at the back of my mind to continue performing to be able to go to Cortina in 2026.
What was it like spending time with Monaco's bobsledders Rudy Rinaldi, Boris Vain and Anthony Rinaldi? Have you spoken to them since their incredible sixth place finish?
We saw each other every day. We didn't have the same schedules, so we didn't spend all day together, but we still had time at the village. It was nice to spend time with them.
I spoke with them during their two days of racing in the evening when they were with the physical therapists. It was cool to speak after their great first day of racing. I've messaged them since the result as well. It was a great performance.
What do you think this Olympics will do for winter sports in the Principality?
I hope that it raises the profile, makes it more known, because at the end of the day, winter sports are practised by many in the Principality, but it isn't very mediatised. If these Olympics can do something for the sport in Monaco, then that would be great, and if it encourages kids to get into skiing or bobsledding then that's a huge win.
Top photo source: Monaco Olympic Committee