The Université de Sherbrooke in Canada has presented Prince Albert II with an honorary doctorate for his commitment to the environment and the promotion of sustainable development. The Head of State wore a traditional graduation robe and sash as he was handed the honour.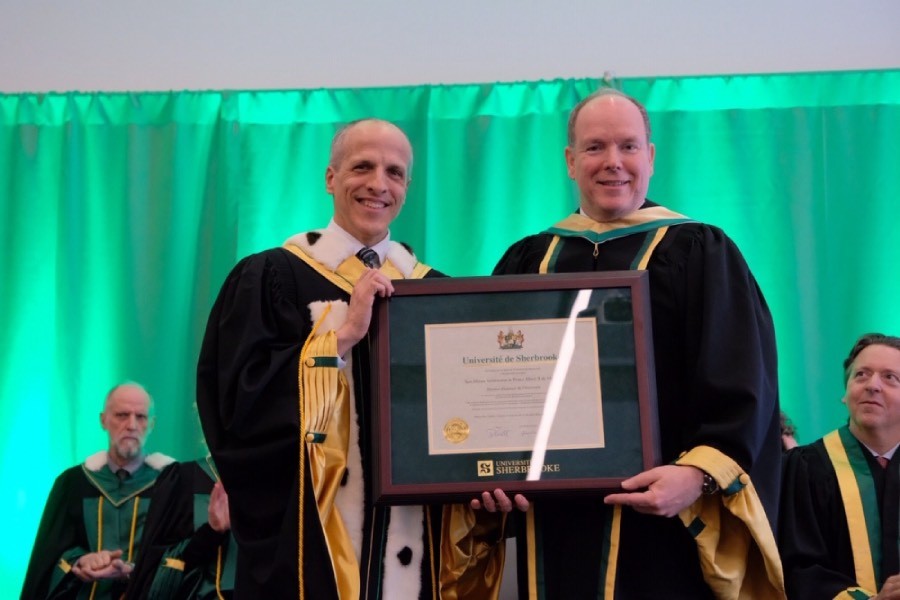 The ceremony took place at the Longueuil campus of the Université de Sherbrooke in Montreal on Tuesday 5th March. Rector of the University, Pierre Cossette, spoke about the great contribution of the Monegasque Head of State in the fight against climate change. "By awarding this institutional honorary doctorate, the Université de Sherbrooke wants to pay tribute to a man of heart and a visionary who devotes himself sincerely and actively, often discreetly, to the preservation of the environment and sustainable development. The achievements of His Serene Highness Prince Albert II of Monaco and the values ​​that underlie them inspire us."
In accepting the doctorate, Prince Albert told the crowd: "The future of man is at stake. It concerns us all, and I hope all responsible people join me in preserving our planet."
The Prince Albert II of Monaco Foundation, established in 2006, has supported over 400 projects and paid more than 51 million euros to a hundred organisations taking concrete action to address climate change. One of those is a Canadian branch dedicated to projects in the Arctic and Subarctic regions.
Rector Cossette drew a parallel between the actions of Prince Albert and the mission that the Université de Sherbrooke has set itself to put sustainable development and the preservation of the environment at the heart of its efforts.
During his visit, Prince Albert also attended an exhibition titled 'Grace of Monaco: a Princess in Quebec City', which documents his mother's first visit to Château Frontenac 50 years ago.